Rautispitz 2283 m
7488 ft.
---
Peak in

98 hike reports

, 580 photo(s). Last visited :

23 Jun 19


Geo-Tags: CH-GL, Oberseegruppe
Photos (580)
---
By Publication date · Last favs · By Popularity · Last Comment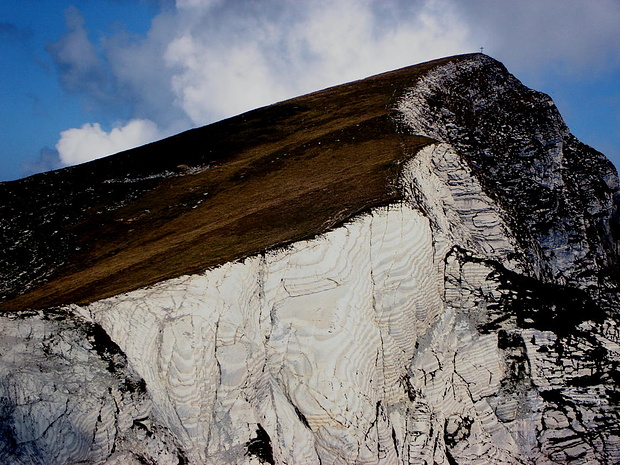 Die schräg angeschnittenen Mergelschichten des Rautispitz-Gipfels sehen bei entsprechender Beleuchtung aus wie Damaszenerstahl. © PStraub
---
Reports (98)
---

Durch die Rautispitz-Nordwand
Die Tour (R175) habe ich im Glarner Führer von P.Straub entdeckt, sie wurde hier auf Hikr noch nicht beschrieben, so wie es den Anschein macht, wurde sie in den letzten 30 Jahre auch nicht aktiv begangen. Da das Wetter am Vortag regnerisch war starte ich erst um 11:30, in der Hoffnung dass die Wand ein wenig trocknen kann....
Published by 24 June 2019, 21h45 (Photos:17 | Comments:6)

Rautispitz (2283 m) - snowshoe hike
This tour to Rautispitz was a mixed hike and snowshoe hike. There is still a lot of snow left above elevation 1700 m. The weather was not that great, with low clouds and fog lingering around the mountain tops. But at least it remained dry. I followed the wrw marked trail from Obersee to Grapplistafel and almost to Rautihütten....
Published by 26 May 2019, 20h44 (Photos:30 | Geodata:1)

Rautispitz - Wiggis
Trailrun an einem grauen Herbstmorgen auf die Paradegipfel des Obersee-Tals, mit ein paar Abstechern Es ist mehr als 15 Jahre her, dass ich das letzte Mal über den Geisschappel-Weg zum Rautispitz gewandert bin - für die dominierende Position des Berges und die gute Erreichbarkeit eigentlich viel zu lange her. Diesmal machte...
Published by 7 October 2018, 12h49 (Photos:11)

Rautispitz (2283m) & Wiggis (2282m)
der letzte Sommertag (aus damaliger Sicht ...)wollte genutzt werden. Das ist der Vorteil an Projekten, welche man einfach aus der Schublade ziehen kann: man kann spontan losziehen … Mehrere Optionen standen offen, ich entschied mich dann fürs Glarnerland. Den Rautispitz hatte ich auch mal als Schneeschuh-Tour vorgemerkt. Nach...
Published by 17 October 2018, 04h04 (Photos:26 | Comments:3 | Geodata:1)

Rautispitz NordOst Grat
Die Alpine Route zum Rautispitz via Nord/Ost-Grat habe ich schon mal unternommen. Nun wollte ich die Tour alleine also Freesolo unternehmen. Die Kletterstelle im 5a Bereich machte mir zwar etwas sorgen, aber mit guter Konzentration ging das gut. Start mit dem Bike von Näfels hoch zum Obersee. Ich ging zu Fuss von der Niedersee...
Published by 24 September 2018, 11h58 (Photos:16 | Comments:2 | Geodata:1)

Vom Talboden auf den Rautispitz direkt durch die Ostwand
Schon oft habe ich die Wände am Wiggis beim Vorbeifahren angeschaut. Als ich dann hier, auf Hikr, von "älteren Herren" gehört habe die erzählen sie seien in jungen Zeiten direkt durch die Wiggiswand, hat es mich gepackt. Mit Justus habe ich dann ein Gleichgesinnter gefunden der mich mit seinen gesammelten Bilder unterstützt...
Published by 21 September 2018, 11h44 (Photos:40 | Comments:15)
Rautispitz 2283 m
Heute gab's eine weitere Tour mit meiner Schwester zusammen und sogar wieder einmal in der Nähe. Der Rautispitz sollte es sein, ein Gipfel, den wir noch nicht kennen.   Noch vor halb Sieben in der Früh starten wir am Obersee, der Parkplatz ist noch leer, nur vereinzelte Lichter am Ufer verraten die anwesenden...
Published by 16 September 2018, 17h50 (Photos:19 | Comments:7)

Obersee - Rautispitz 2283 Meter - Rautialp - Obersee
Eine herrliche Rundwanderung mit abwechslungsreichem Gelände und tollen Aussichten! Wir starten in der Dämmerung am Morgen beim Restaurant Obersee. Nach dem wir die andere Seeseite erreicht haben steigen wir auf einem sehr steilen Fahrsträsschen durch den Grappliwald hoch. Nach Verlassen des Waldes führt das Strässchen...
Published by 10 September 2018, 23h40 (Photos:36 | Comments:3)

Rautispitz Biwak
Schon öfters bin ich auf den Rautispitz um oben zu biwakieren, wiedermal war es ein absolut lohnendes Unternehmen. Mit dem Auto bis nach Sulz gefahren um von dort auf der Alpstrasse nach Rautialp zu laufen. Ich schätze dass dies der schnellste Aufstieg ist. Ca. 2,5 Stunden hatte ich mit eher gemütlichem Laufen bis ich auf...
Published by 3 August 2018, 11h22 (Photos:10 | Comments:1)

Runde über den Rautispitz
Der Rautispitz liegt in bester Aussichtslage über dem Glarner Haupttal. Die Ortschaften Näfels, Netstal und Glarus liegen 1800 Höhenmeter direkt unterhalb des Gipfels. Man schaut hier runter wie vom Flugzeug, und es lassen sich alle Details erkennen. Der Kantonshauptort Glarus hat eine speziell interessante Struktur mit seinem...
Published by 26 June 2018, 21h40 (Photos:17 | Comments:3 | Geodata:1)