Wiggis 2281 m
7482 ft.
---
Peak in

64 hike reports

, 348 photo(s). Last visited :

28 Jun 19


Geo-Tags: CH-GL, Oberseegruppe
Photos (348)
---
By Publication date · Last favs · By Popularity · Last Comment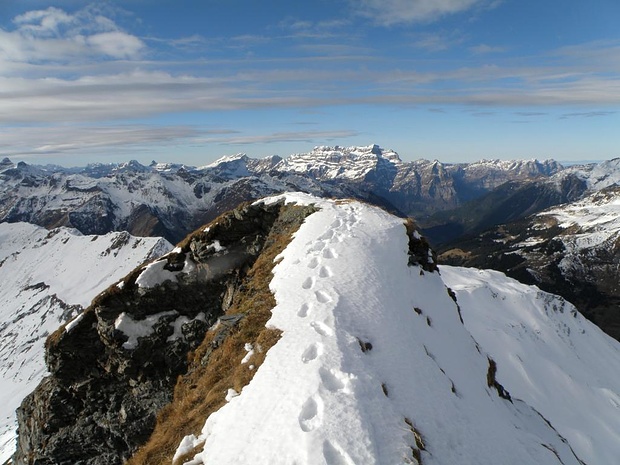 Blick Richtung Westen und somit auf schöneres Wetter. Vorne meine Fussspur, Fly ist geflogen © Flylu
---
Reports (64)
---

Im Nebel durchs Täli auf den Wiggis, und über den langen Grat zum Schijen
Vom Wiggis, hoch über Glarus, zieht sich ein drei Kilometer langer Grat nach Westen bis zum Schijen, der das Klöntal nordseitig begrenzt. Dieser Grat ist ein Highlight der Gegend: senkrecht nach rechts, stotzig nach links, mit zahlreichen T6-Stellen gespickt, und gekrönt mit einer fantastischen Aussicht hinunter zum...
Published by 18 July 2019, 16h02 (Photos:107)

Wiggis (2281 m) - hike from Klöntal via Pauliberg
Wiggis (2281 m) - hike from Klöntal via Pauliberg and Auerenalp Mittelstafel. Start of the hike at 7:45 AM. The temperature was around freezing. For the first hour I was in the shade, but after that it was sunny. The first half of the hike followed an unmarked but easily visible and very well maintained trail. The difficulty...
Published by 25 November 2018, 21h28 (Photos:29 | Geodata:1)

Wiggis ab Netstal - raus aus dem Nebel!
Nach doch ein paar Wochen Bergabstinenz werde ich gefragt, ob ich mich einer Wanderung ins schöne Glarnerland anschliessen will. Nebel in Zürich und nach Bergen zehrend, sage ich sofort zu. In Netstal angekommen, zeigt uns der Wegweiser 5h15min zum Wiggis an. Eher beeindruckt denken wir trotzdem, dass das Ganze nicht gar so...
Published by 19 November 2018, 22h01 (Photos:25 | Comments:1)

Rautispitz - Wiggis
Trailrun an einem grauen Herbstmorgen auf die Paradegipfel des Obersee-Tals, mit ein paar Abstechern Es ist mehr als 15 Jahre her, dass ich das letzte Mal über den Geisschappel-Weg zum Rautispitz gewandert bin - für die dominierende Position des Berges und die gute Erreichbarkeit eigentlich viel zu lange her. Diesmal machte...
Published by 7 October 2018, 12h49 (Photos:11)

Rautispitz (2283m) & Wiggis (2282m)
der letzte Sommertag (aus damaliger Sicht ...)wollte genutzt werden. Das ist der Vorteil an Projekten, welche man einfach aus der Schublade ziehen kann: man kann spontan losziehen … Mehrere Optionen standen offen, ich entschied mich dann fürs Glarnerland. Den Rautispitz hatte ich auch mal als Schneeschuh-Tour vorgemerkt. Nach...
Published by 17 October 2018, 04h04 (Photos:26 | Comments:3 | Geodata:1)

Rautispitz NordOst Grat
Die Alpine Route zum Rautispitz via Nord/Ost-Grat habe ich schon mal unternommen. Nun wollte ich die Tour alleine also Freesolo unternehmen. Die Kletterstelle im 5a Bereich machte mir zwar etwas sorgen, aber mit guter Konzentration ging das gut. Start mit dem Bike von Näfels hoch zum Obersee. Ich ging zu Fuss von der Niedersee...
Published by 24 September 2018, 11h58 (Photos:16 | Comments:2 | Geodata:1)
Durchs Hindertäli auf den Wiggis
Schon öfters habe ich diesen Einschnitt südlich der Höchnase mit dem Feldstecher ausgekundschaftet. Heute konnte ich der Versuchung nicht wiederstehen und habe mich auf den abenteuerlichen Weg Richtung Wiggis gemacht. Zufahrt-Auerenalp-Trosegg Mit dem Fahrrad zum Auli ob Riedern, dort fängt der Wanderweg zum Wasserschloss...
Published by 15 July 2018, 19h31 (Photos:15 | Comments:11)

360° Glarus: Glärnisch, Wiggis und Schilt
Als kleinste Hauptstadt der Schweiz wird Glarus ab und an bezeichnet. Doch was die Bergkulisse anbelangt, überragt das Städtchen wortwörtlich alle anderen Kantonshauptorte. Das Vrenelisgärtli beispielsweise thront knapp 2400 Höhenmeter über dem Landsgemeindeplatz. Einfach aus Freude an diesem wilden, oft verkannten...
Published by 26 June 2018, 18h30 (Photos:38 | Comments:10)
Wiggis aus dem Klöntal
Zuhause war ich unsicher ob die Tour heute möglich ist, oder ob noch zu viel Schnee liegt. Die ersten Schneefelder traf ich auf der Auerenalp an. Von dort durchs Bützi, welches ich rechts vom Wanderweg hoch bin.Es gab gelegentlich Steinschlag und rechts unter dem Felsen schien es mir sicherer. Nach dem Tor gab es nochmals ein...
Published by 12 May 2018, 19h32

Wiggis (2282 m) via Schlattberg - Vorder Planggen
Während der Wiggis-Aufstieg aus dem Rhodannenberg via Pauliberg - Steinplangge(n) noch recht häufig begangen wird, wissen nur noch wenige Eingeborene, dass es eine Variante von der Büttenenebene aus via Schlattberg(e) - Vorder Planggen gibt. Ich wollte heute überprüfen, ob man den Weg noch findet und in welchem Zustand er...
Published by 4 October 2017, 16h46 (Photos:12 | Comments:1 | Geodata:1)