Rossalpelispitz 2075 m
6806 ft.
---
Peak in

93 hike reports

, 367 photo(s). Last visited :

13 Sep 19


Geo-Tags: CH-GL, CH-SZ, Oberseegruppe
Photos (367)
---
By Publication date · Last favs · By Popularity · Last Comment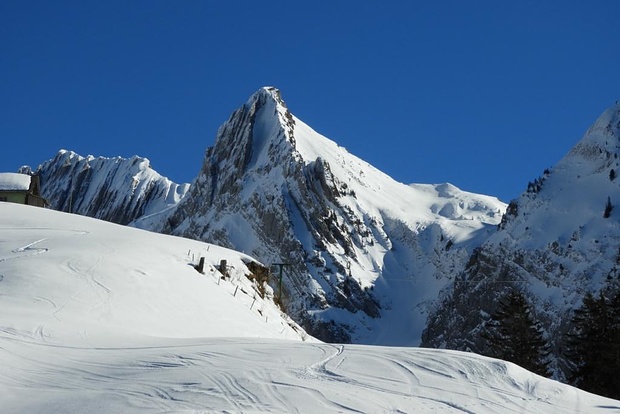 ... und die warmen Temperaturen brachten mich so richtig ins schwitzen. Ich war froh als ich den erlösenenden Almismattwald erreicht hatte © Flylu
---
Reports (93)
---

Zindlenspitz (2097 m) revisited
Auf dem Zindlenspitz war ich vor Jahrzehnten einmal mit meinem Freund Andi. Jetzt habe ich ihn wieder als Gipfelziel ausgewählt für eine Tour an einem schönen Spätsommertag. Einerseits möchte ich die Physis trainieren, andererseits auch die Psyche, weswegen ich den Weiterweg über Rossalpelispitz und Brünnelistock gewählt...
Published by 15 September 2019, 12h00 (Photos:19 | Geodata:1)

Wägital Rundtour 'Trailrun'
deltas Wägital Rundtour vom 15.06.2006 inspirierte mich damals, dies auch zu probieren. Am 01.07.2007 ist mir die Überschreitung gelungen. Am 22.06.2008 doppelte Mr. Wägital mit seiner Speedversion nach. Seither bin ich eigentlich fast nur noch im Winter im Wägital gewesen. Am 30.06.2019 habe ich mich erstmals mit der...
Published by 31 July 2019, 10h57 (Photos:18 | Comments:5)
Wägitaler Five
Inspiriert vom Bericht durch 3614adrianwollten wir das selbe heute auch angehen. Abgesehen von der Passage zwischen Plattenberg und Brünnelistock habe ich alle Grate schon begangen. Die Wegfindung war also kein Problem. Start um 8:30 beim See, die Sonne brannte bis zur Bockmattlihütte. Anschliessend kamen Wolken auf was das...
Published by 6 July 2019, 17h55 (Comments:2)

Wägitalklassiker im Trailrunformat
Mit beschränktem Zeitbudget sollte es eine zügige Trailrunrunde geben. So kommt es, dass ich einmal mehr ins Wägital fahre. Tatsächlich bin ich da die letzten Jahre eigentlich fast nur noch im Winter unterwegs gewesen. Die Wägitalrundtour ist mir aber natürlich immer noch präsent. Und auch die Brennaroute habe ich erst...
Published by 30 June 2019, 17h50 (Photos:13 | Comments:2)
Brünnelistock und Rossalpelispitz
Kaum zu glauben, dass nach der vergangenen Regennacht der Sonntag tatsächlich schön wurde. Schon bei meinem Start um 07:00 Uhr drückt das feuchtwarme Wetter, innert kürzester Zeit bin ich durchgeschwitzt, obwohl ich die Sonne durch den Nebel noch gar nicht gesehen habe. Der Aufstieg zum Mürli führt durch hohes, nasses...
Published by 23 June 2019, 14h38 (Photos:19)

Lachenstock, Zindlenspitz, & Rossälplispitz
The plan was to hike to Lachenstock (2026 m), and eventually go to Zindlenspitz afterwards. In the end I added Rossälplispitz to the hike as well. Lachenstock isn't much of a mountain peak, but it's simply one of the highest points on the ridge between Zindlenspitz and Rädertenstock. I had not been there before, so I wanted to...
Published by 12 August 2018, 21h11 (Photos:23 | Geodata:1)

Die eine Hälfte des Obersee
Ich wollte an diesem Samstag eine grosse Tour machen mit über 4300hm. Geplant war eine Rundtour um den Obersee. Das heisst auf den Tierberg aufsteigen und von dort alles über den Grat bis nach hinten zum Ochsenkopf. Von dort möglichst wenig Höhenverlust rüber zum Twirren-Dejenstock rüber zum Schijen und von dort zur...
Published by 17 July 2018, 15h17 (Photos:38 | Comments:8)

Zindlenspitz, 2097m mit Abstecher auf Rossälplispitz, 2075m
Endlich wieder eine Bergtour ohne grossen Schneekontakt... Die Schneegrenze liegt je nach Gebiet immer noch tief bei ca. 2000müM. Und endliche finden wir Zeit für eine tolle Bergtour: den Zindlenspitz, haben wir doch diesen Berg das letzte Mal im Oktober im 2010 bestiegen. Heute ist rund um dem Wäggitalersee was los -...
Published by 5 June 2018, 21h35 (Photos:28)

Vom Lachenstock bis zum Brünnelistock
Eigentlich sollte es eine leichte Tour werden heute, denn die Unihockeysaison startet gleich mit einem Paukenschlag. Vom Mittwoch bis Sontag jeden Tag Training oder Spiele (Testspiel, Cup, Benefiz). Doch aufs Wandern kann ich seit zwei Jahren nicht mehr verzichten, deshalb sollte es eine lockere Tour werden. Was mich gleich zum...
Published by 27 May 2018, 00h07 (Photos:34 | Comments:2)
Klassisches Wägitaler Trio
Eine der schönsten Sommertouren im Wägital führt über die drei Gipfel Zindlenspitz, Rossalpelispitz und Brünnelistock. Wer ein wenig mehr als minimale Wandererfahrung hat, schwindelfrei ist und sich in etwas unwegsamerem Terrain gut bewegt macht selbstverständlich die Überschreitung mit dem Ostabstieg vom Brünnelistock...
Published by 21 May 2018, 15h33 (Photos:18 | Comments:2)