Hohfläschenhütte 1368 m
4487 ft.
---
Hut in

100 hike reports

, 11 photo(s). Last visited :

20 Oct 19


Geo-Tags: CH-SZ
Photos (11)
---
By Publication date · Last favs · By Popularity · Last Comment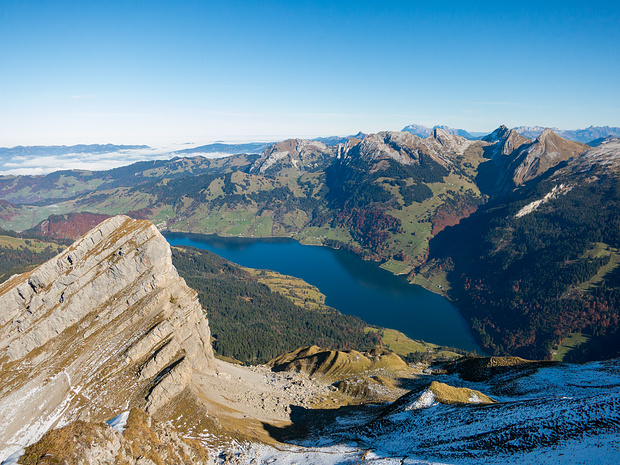 Schon vor Erreichen des Gipfels bietet sich ein schönes Panorama auf den Wägitalersee und das Wyss Rössli © Chrichen
---
Reports (100)
---

Schiberg (2044m) & Plattenberg (2081m)
A great autumn hike, full of emotions. The Brenna route has been described in many reports here (see the links below). My tour essentially replicates this one: https://www.hikr.org/tour/post109406.html The weather was OK, moderately windy, with medium-high clouds that occasionally broke apart letting the sun through. With...
Published by 22 October 2019, 00h11 (Photos:16 | Geodata:1)

Zindlenspitz (2097 m) revisited
Auf dem Zindlenspitz war ich vor Jahrzehnten einmal mit meinem Freund Andi. Jetzt habe ich ihn wieder als Gipfelziel ausgewählt für eine Tour an einem schönen Spätsommertag. Einerseits möchte ich die Physis trainieren, andererseits auch die Psyche, weswegen ich den Weiterweg über Rossalpelispitz und Brünnelistock gewählt...
Published by 15 September 2019, 12h00 (Photos:19 | Geodata:1)

Schiberg (2044 m) - start of the hiking season!
Yesterday while biking around Wägitalersee, I saw that most of the Schiberg south flank is already free of snow. So I decided to start the hiking season today. I brought my snowshoes for the upper part called Tschingel, but in the end they would not really have been needed. Start of the hike at 9:30 AM. I followed the wrw...
Published by 22 April 2019, 21h41 (Photos:24 | Comments:1 | Geodata:1)
Schiberg - Gesülze ...
… kann auch Spass machen! Selbstverständlich nicht das, was die Fachliteratur darunter versteht. Es ist die Rede vom Schneezustand, der in frühlingshaftem Ambiente und bei gutem Timing abfahrenden Skitourengängern nicht enden wollende Hochgefühle beschert - erkennbar am breiten Dauergrinsen, zeitweiliger...
Published by 24 February 2019, 18h29 (Photos:17)

Auf Schneeschuhen zum Schiberg 2043 müM
Einen Tag vor her war ich mit meiner Arbeitskollegin auch mit Schneeschuhen unterwegs. Als wir beim Bergrestautant Tierhag ankamen, trafen wir per Zufall auf Krokus und Campo Tencia die sich bereit für den weiter Weg machten. Wir kamen kurz ins Gespräch bevor sie weiter gingen. Das war eine freudige Überraschung. Für die...
Published by 16 February 2019, 15h42 (Photos:33 | Comments:2)
Schiberg Nord
Dass das Wetter heute nicht ganz so strahlend wie gestern sein würde war klar, aber kein Hindernis, früh aufzustehen, um der Skisucht zu frönen. Die hübsche Tour vom Wägitalersee via Hohfläschen, Almismattwald und durch die Fanenhöli ist eine gute Wahl, vor allem wenn man wieder einmal bis zur Strasse abfahren kann -...
Published by 20 January 2019, 17h05 (Photos:21)

Schiberg via Brennaroute und Abstieg Fanenhöli
Schiberg via Brennaroute, ein T-6 Klassiker im Wägital. Hinauf zu Pt. 1948 mit anschliessendem Abstieg durch die Fanenhöli. Die Route wird in diesem Bericht nicht beschrieben, ich gehe auf das persönliche ein. Das alpinwandern habe ich im Herbst 2016 entdeckt. Ambitioniert wie ich war, wagte ich mich nach ein paar T4 Touren...
Published by 23 September 2018, 15h25 (Photos:1)

Lachenstock, Zindlenspitz, & Rossälplispitz
The plan was to hike to Lachenstock (2026 m), and eventually go to Zindlenspitz afterwards. In the end I added Rossälplispitz to the hike as well. Lachenstock isn't much of a mountain peak, but it's simply one of the highest points on the ridge between Zindlenspitz and Rädertenstock. I had not been there before, so I wanted to...
Published by 12 August 2018, 21h11 (Photos:23 | Geodata:1)

Morning hike to Brünnelistock (2132 m)
This was a very nice hike to Brünnelistock (2132 m) in perfect weather. Start of the hike at 7:40 in the morning. I followed the wrw marked trail from Wägitalersee via Aberli to P.1592 (just before Hohfläschenmatt). From there I ascended off trail until I reached the unmarked path which goes up between Brünnelistock and...
Published by 30 July 2018, 17h00 (Photos:23 | Geodata:1)
Schiberg Nord und Süd
Nebelbänke waren prognostiziert für das Wägital, was dann auch zutreffen sollte - kaum verwunderlich nach den Regenfällen der letzten Nacht und der doch warmen Luft. Genauso wenig erstaunlich war, dass wir, meine Schwester begleitete mich heute, bereits bei der Alp Aberli eigentlich durchgeschwitzt waren. Die Luftfeuchtigkeit...
Published by 7 July 2018, 23h16 (Photos:9)