Innerthal 906 m
2972 ft.
---
Locality in

98 hike reports

, 27 photo(s). Last visited :

10 Jan 21


Geo-Tags: CH-SZ, Oberseegruppe
Photos (27)
---
By Publication date · Last favs · By Popularity · Last Comment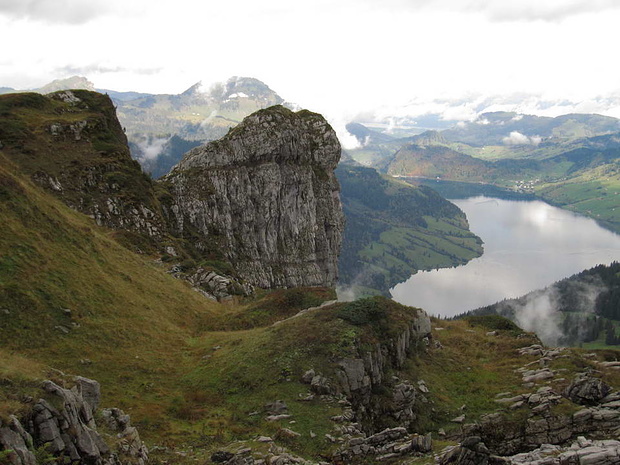 Gipfel 1878 müM der Schwalbenchöpf: über den linken Gipfel oder untendurch in den Sattel? Nachher wussten wirs: drüber ist besser. © KraxelDani
---
Reports (98)
---

Überschreitung vom Bockmattlistock (1931m) zum Tierberg (1989m) im Winter
Wer weit im Oberseetal auf einer Skitour zum Tierberg ist und das Bockmattli kennt, z.B. vom Klettern im Sommer, wird sich vielleicht fragen, ob eine Überschreitung im Winter möglich ist. Der Wegweiser auf dem Gipfel des Tierberges, der faktisch das Gipfelkreuz ist, insbesondere wenn das eigentliche Gipfelkreuz komplett...
Published by 23 January 2021, 12h16 (Photos:20 | Geodata:1)

Googleberg
Kurze Wanderung auf den Gugelberg (1148 m) beim Wägitalersee. Ich war bereits auf fast allen Gipfeln um den Wägitalersee, aber den Gugelberg habe ich vorher noch nie besucht. Ich folgte die Fahrstrasse von Innerthal, und nur zuoberst hatte es ein wenig Schnee. Trotzdem mit Trailrunning Schuhen gut machbar. Kurz vor dem höchsten...
Published by 23 December 2020, 13h16 (Photos:9 | Comments:5 | Geodata:1)

Brüschstockbügel (1488 m) - snowshoe hike
Afternoon snowshoe hike to Brüschstockbügel (1488 m) in foggy weather. The sun did not come out as I had hoped for, but it was still good to get outside. Only few people in the area, but according to the tracks, Brüschstockbügel had been reached both by skis and snowshoes earlier in the day. About half a meter of snow at the...
Published by 13 December 2020, 19h29 (Photos:7)
Brüschstockbügel 1'488m
Zugegeben, auch uns hat der besondere Name auf die Wanderung aufmerksam gemacht, wir haben aber diese Art der Werbung nicht bereut: vom gebührenpflichtigen Parkplatz in Innerthal SZ (CHF 5.-- für 5 Stunden) wanderten wir über Unterer und Oberer Heruboden bis zum Ende der asfaltierten Strasse und in Fortsetzung dieser über die...
Published by 15 September 2020, 18h57
Schwyz

T6-

III

PD

1 Jul 20

Schiberg via Brennaroute
Einleitung: Da dies nun der 6 Tag war, wo ich entweder Kletterte, eine Hochtour unternahm oder auf Bergtour ging, wollte ich etwas knackiges, dafür sollte es kurz sein. Deshalb bot sich mir die Brennaroute auf den Schiberg an. Der Nordgipfel ist der einzige, welcher mir noch fehlte zwischen Mutteristock und Tierberg. Für den...
Published by 3 July 2020, 17h52 (Photos:30)

Chöpfenberg
Auch bei unsicherem Wetter wollen N_Altitude und ich etwas unternehmen und steuern das Wägital an. ab Innerthal kann man dann recht spontan entscheiden, was beobachtetes Wetter, Meteoschweiz und eigene Laune so hergeben. Die kurze Anreise ab Zürich macht das Ziel nochmals attraktiver. So starten wir kurz vor neun Uhr Richtung...
Published by 28 April 2020, 10h16 (Photos:21)

Im Wägithal
Innerthal – Wägitalersee – Hohfläschen – Almismatt – Fanenhöli – Schiberg Starte inInnerthalgemütlich auf der Strasse demWägitalerseeentlang bis zur Abzweigung nachHohfläschen. Nun steil bergauf bis zur Berghütte. Weiter in einem Bogen zurAlmismatt.Ab hier weglos auf dem Grat westlich über...
Published by 27 April 2020, 23h06 (Photos:4 | Geodata:1)

Early spring hike to Brüschstockbügel (1488 m)
Nice afternoon hike to the summit of Brüschstockbügel together with my wife. The weather was perfect with mild temperatures. Hardly any snow on the way. This was my 6th visit to Brüschstockbügel.
Published by 1 March 2020, 20h41 (Photos:24 | Geodata:1)

Mit Haubitzen auf Böcke schiessen?
Nicht über's Kanonenrohr auf den Spatzenspitz, sondern über's Haubitzli auf's Bockmattli - wieder eine kleine Pendenz in der Nähe, die zum knappen Zeitbudget passt (9 - 16 Uhr inkl. Reise). In Anbetracht der geringen Höhe durchaus (vor-)alpin und zudem mit herrlichem Ausblick ins Mittelland garniert. Der Zustieg zur...
Published by 16 September 2019, 09h30 (Photos:10)

Bockmattli via Haubitzli
Seit der Tour Tierberg via Nordflanke und Bockmattli vor knapp drei Jahren hatte ich eine Rechnung mit dem Haubitzli offen, denn damals verpasste ich den richtigen Einstieg. Mit einer schönen Tour über den vergessenen Weg ist die Rechnung nun beglichen.   Den provisorisch angebrachten Hinweis bei Punkt 1103 ignoriere...
Published by 11 July 2019, 08h17 (Photos:16 | Geodata:1)