Plätz 853 m
2798 ft.
---
Other in

87 hike reports

, 2 photo(s). Last visited :

12 Jul 20


Geo-Tags: CH-GL
Photos (2)
---
By Publication date · Last favs · By Popularity · Last Comment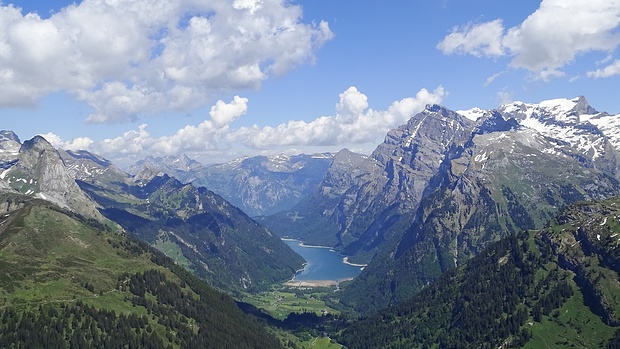 Klöntalersee. (the start and end of this tour was at the marked spot at the western shore of the lake). © Roald
---
Reports (87)
---

Gross Fürberg/Inner Füürberg (2627) - Aussichtskanzel auf den Glärnsich
Eigentlich wollten wir uns am Zustiegstag nur die Zeit bis zum Abendessen vertreiben, doch dann wurde der Inner Fürberg unverhofft zum Highlight des Wochenendes. Die am nächsten Tag geplante Besteigung des Vrenelis mussten wir wegen Schlechtwetter leider abbrechen. Gelohnt hat sich die Tour wegen des schönen Ausblicks auf den...
Published by 14 October 2020, 21h57 (Photos:15 | Geodata:1)

Klöntalersee Umrundung
Eine weitere Odyssee der Seeumrundungen stand uns bevor. Zumal der Klöntalersee nur südseitig über einen angenehmen Wanderweg verfügt. Über den Pragelpass traten wir die Anreise an. Bei Plätz parkierten wir unseren PW und starteten mit den Bikes die Fahrt Richtung Rhodannenberg, um über die Staumauer zum Campingplatz zu...
Published by 3 July 2020, 20h18 (Photos:17 | Geodata:1)

Milchplanggenstock (2108 m) via Heuzug
Milchplanggenstock ist mir vor fünf Wochen auf meiner Wanderung zum Näbelchäppler aufgefallen. Später habe ich noch den ausführlichen Bericht von Justus gelesen, und ich wollte dann auch die Route via Heuzug probieren. Das habe ich heute gemacht. Die Heuzug Flanke ist eine spannende Route, welche wohl äusserst selten...
Published by 13 June 2020, 22h25 (Photos:27 | Comments:5 | Geodata:1)
Glarus

T5

PD-

I

F

1 Jun 20

Usser Fürberg (2604 m) & Inner Fürberg (2627 m)
Die Fürberge südlich vom Klöntalersee sind eher unbekannt. Vor diesem Bericht gab es gerade mal fünf Hikr Berichte über Usser Fürberg, und neun Berichte über Inner Fürberg. Aber viele Bergsteiger gehen doch nahe vorbei auf dem Weg zum Vrenelisgärtli (127 Berichte). Ich bin um 7:15 in Klöntal Plätz mit dem Mountain...
Published by 2 June 2020, 19h26 (Photos:35 | Comments:1 | Geodata:1)

Lauiberg (2057 m) & Fläschenspitz (2073 m) - bike & hike from Klöntal Plätz
Bike & hike from Klöntal Plätz to Lauiberg, Biet, & Fläschenspitz in perfect weather! Start of the tour at 8:15 AM. First with the bike up to Schwelaui (500 m elevation gain), where I parked the bike. Then on the wrw marked trails up to Saaspass (T3). During the ascent I did not exactly follow the marked trail at the...
Published by 22 May 2020, 17h28 (Photos:36 | Geodata:1)

Näbelchäppler (2445 m) - hike from Hinter Klöntal (Plätz)
Näbelchäppler (2445 m) - hike from Klöntal Plätz via Klönstalden, Hinter Schlattalp, and Chamm. Start of the hike at 8:40 AM. The first 3 km of the hike followed the forest road past Klönstalden up to elevation 1150 m (T1). Next, I followed an unmarked but mostly visible and well maintained trail up to elevation 1840 m...
Published by 9 May 2020, 22h27 (Photos:24 | Comments:2 | Geodata:1)
St.Gallen

PD

II

27 Aug 19

Vrenelisgärtli 2905m.ü.M.
Um 01:45 starteten wir die Tour vom Parkplatz beim Klöntalersee. Nach etwa 2.5h erreichten wir die Glärnischhütte im Dunkeln und trafen dort auch auf die ersten anderen Berggänger. Als wir den Gletscher erreichten, fing die Morgendämmerung an. Dort zogen wir die Steigeisen, Klettergurt und das Seil an. Mit 15m Abstand...
Published by 4 November 2019, 21h28 (Photos:3)
Glarus

T5

PD-

II

4 Aug 19

Vrenelisgärtli, Ruchen und die Fürberge
Ein Morgen im Glärnisch-Massiv Die Glärnisch-Gipfel sehe ich von zu Hause aus jeden Tag (zumindest bei gutem Wetter). Während ich auf dem Vrenelisgärtli bis jetzt schon sieben Mal war, liegt mein letzter Besuch auf dem Ruchen mittlerweile 18 Jahre zurück. Ich hatte eigentlich geplant die Glärnisch-Trilogie (z.B. hier) zu...
Published by 5 August 2019, 08h30 (Photos:31 | Comments:7)

Glärnisch Ruchen
Wie schon das Wochenende zuvor ist der eigentliche Plan nicht ganz aufgegangen und der Plan B ist eingetreten. Nachdem mehrfach Züge nach Bern ausgefallen sind, haben wir extrem spontan umentschieden, ins Glarus zu fahren und den Glärnisch - Ruchen als Tagestour anzugehen. Der Länge der Tour entsprechend sind wir um viertel...
Published by 16 July 2019, 21h46 (Photos:16)
Glarus

T6+

AD+

III

F

29 Jun 19
Durch das chalte Täli auf das Vreneli
Schon lange wollte ich die Chalttäli Tour auf das Vrenelisgärtli machen. Bisher fehlte es mir aber an Erfahrung und Mut. Dieses Jahr konnte ich mich durchringen und traf mich mit dem Bergführer um 4:00 beim See. Am Vorabend um 19:00 ins Bett war relativ schwierig bei 30 Grad am Schatten :-) Die Route ist schon genügend...
Published by 1 July 2019, 20h10 (Photos:1 | Comments:2)