Lufthütte 1431 m
4694 ft.
---
Hut in

60 hike reports

, 2 photo(s). Last visited :

27 May 20


Geo-Tags: CH-SZ
Photos (2)
---
By Publication date · Last favs · By Popularity · Last Comment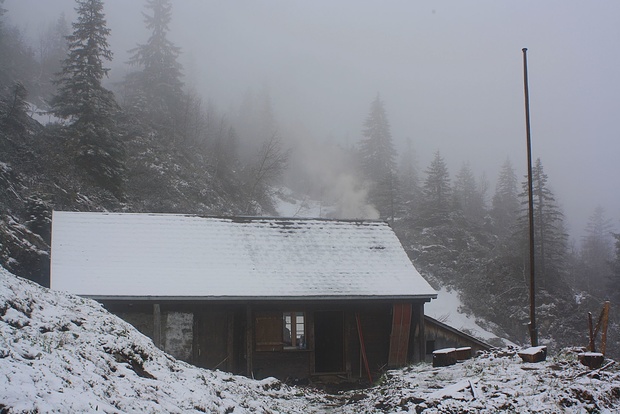 Foto vom ersten Besteigungsversuch am 4.5.2014: Die frisch eingeschneite Lufthütte auf 1431m. © Sputnik
---
Reports (60)
---

Noch viel Schnee am Mutteristock
Eine Woche zuvor hatte ich am Schwalmis auf vergleichbarer Höhe (2246) schneefreie Verhältnisse angetroffen. Am Mutteristock (2295) erwarteten mich jedoch noch zahlreiche Schneefelder. Ich traf gar Bergsteiger mit Pickel an, sodass fast Hochtourenfeeling aufkam :D Der Weg war jedoch auch ohne Alpinausrüstung gut zu meistern....
Published by 19 June 2020, 00h37 (Photos:15 | Geodata:1)

Redertengrat (2213 m) - (snow shoe) hike
Nice hike from Wägitalersee to Redertengrat. I barely used the snow shoes, only in the upper part. It would have been fine to go without them. The snow was hard in the morning, but not too hard. And in the afternoon it was soft, but not too soft. Good to get out in the fresh air and sunshine, and the starting place is only 45...
Published by 26 April 2020, 17h25 (Photos:30 | Geodata:1)

Bei herbstlichem aber schönem Wetter zum Mutteristock 2294müM
Nach fast auf die Woche genau vor fünf Jahren war ich mit Fly und meinem Schwager JP das letzte Mal auf dem Mutteristock. Heute gehe ich mit Bruno, Aron und Skip hoch, für die drei ist der Besuch des Mutteristock das erste Mal, ich hingegen war mit Fly vier Mal oben und dies zu jeder Jahreszeit. Wir starteten unsere Tour bei...
Published by 18 October 2019, 19h37 (Photos:28 | Comments:2)

Redertengrat (2213 m) - winter wonderland in May!
Great snowshoe hike to Redertengrat (2213 m) in early May! Start of the hike at 8:40 AM. At the parking lot I met a guy who had the same goal as me, but he took the shorter ascent directly through the forest up towards Rinderweid. He was later using snowshoes and carrying his snowboard on the back. Just 10 minutes into my...
Published by 7 May 2019, 21h23 (Photos:31 | Geodata:1)

Mutteristock 2294
Aufstieg Aumeindli - Ober Boden - Aberen - Rinderweid - Lufthütte - Mutteri - Torberglücke - Mutteristock Abfahrt Ab Rinderweid direkt via Fälleggen Verhältnisse Beste Verhältnisse, Pulverschnee wie im tiefsten Winter, Aufstieg via Schwantli momentan nicht empfehlenswert. Alle Parkplätze am Seeende waren besetzt....
Published by 21 March 2019, 08h44 (Photos:23)

Rädertenstock (2294 m) - hike from Wägitalersee
Nice hike to the summit of Rädertenstock, which is one of the two highest peaks around Wägitalersee. According to the online maps, both Rädertenstock and Mutteristock are 2294 m. Start of the hike shortly before 9 am in Hinter Bruch at the southern end of the lake Wägitalersee. The marked trail between Hinter Bruch and...
Published by 8 September 2018, 21h42 (Photos:25 | Geodata:1)

Redertengrat Traumtag
Nach Berichten von Delta und Djenoun war für mich klar, diese Woche werde ich mal ins Wägital gehen. Am Dienstag war es dann soweit. Ein Kollege kam mit von mir. Jedoch mit Schneeschuhen und dem Brett auf dem Rücken. Dies sollte sich schlussendlich auch als zu grosse Hypothekt herausstellen. Nach der Tour gestern Stockberg im...
Published by 9 April 2018, 12h59 (Photos:8)

Redertengrat und Mutteristock: Powder
Klassiker im Wägital bei ungewohnten Bedingungen für Ostern Die Lawinensituation legte es nahe heute wieder einmal die guten alten Klassiker im hinteren Wägital anzupacken. Die niederschlagsreichen Ostertage sorgten dabei für Bedingungen wie man sie sonst nur aus dem Hochwinter kennt - Pulver bis zum Abwinken! Wie nicht...
Published by 2 April 2018, 15h08 (Photos:14)

Mutteristock (ÖV)
Anreise Mit SBB bis Siebnen-Wangen, mit Mobility zum Wägitalersee, Hinterbruch Route Aufstieg via Schwantli, Abfahrt via Rinderweid - Fälleggen Verhältnisse Gebiet winterlich verschneit. Unten ca. 5cm Neuschnee auf harter Unterlage, oben waren es dann ca. 15cm Neuschnee auf harter Unterlage. Aufstieg über Schwantli...
Published by 23 March 2018, 08h44 (Photos:19)

Unterwegs im Wägital
Da war der Wurm drin wie noch nie bei einer Tour im Wägital... Touren in den Voralpen nach den Regenfällen bis 2200 m.ü.M. versprachen nicht einfach zu werden. Entsprechend suchte ich ein südexponiertes Tourenziel aus, wo der Schnee bald aufgefirnt wäre. Ernüchterung unter dem Schiberg im Wägital: Der Schnee ist weg!...
Published by 21 January 2018, 08h09 (Photos:4)