Rinderweid 1306 m
4284 ft.
---
Hut in

54 hike reports

, 14 photo(s). Last visited :

23 Jun 20


Geo-Tags: CH-SZ
Photos (14)
---
By Publication date · Last favs · By Popularity · Last Comment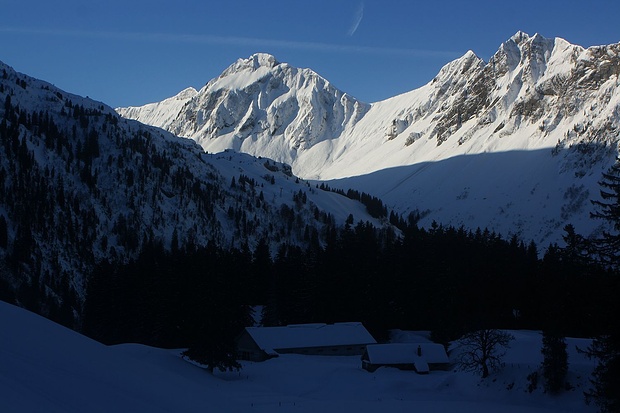 Traumhafter Winter! Aussicht über die Hütten der Rinderweid (1306m) zum Wänifirst (2004m), Gantspitz (1970m) und P.1944m. © Sputnik
---
Reports (54)
---

Überschreitung Wägital Ost
Endlich einmal wieder auf den Wägitaler Graten Einen ganzen Winter lang, gab's für mich keine einzige Skitour im Wägital - das ist mir wohl schon seit fast zwei Jahrzehnten nicht mehr passiert. Deshalb konnte ich an diesem glasklaren Dienstag Morgen nicht widerstehen eine "pre-work" Tour über die wohlbekannten Wägitaler...
Published by 23 June 2020, 23h00 (Photos:12 | Comments:3)

Noch viel Schnee am Mutteristock
Eine Woche zuvor hatte ich am Schwalmis auf vergleichbarer Höhe (2246) schneefreie Verhältnisse angetroffen. Am Mutteristock (2295) erwarteten mich jedoch noch zahlreiche Schneefelder. Ich traf gar Bergsteiger mit Pickel an, sodass fast Hochtourenfeeling aufkam :D Der Weg war jedoch auch ohne Alpinausrüstung gut zu meistern....
Published by 19 June 2020, 00h37 (Photos:15 | Geodata:1)
Schwyz

T6-

AD

III

WT4

15 Feb 20

Redertenstock (2295m) im Winter
Ich war schon lange nicht mehr im Wägital. Darum beschloss ich einen Gipfel aus der Gegend zu besteigen. Es soll, wie fast immer, etwas Ausgesetztes sein und somit entschied ich mich für den Redertenstock.   Wir starteten zu zweit um 6:30 Uhr zuhinterst am Wägitalersee. Die Morgenstimmung war fantastisch. Mühelos...
Published by 17 February 2020, 20h13 (Photos:17 | Comments:1)

Bei herbstlichem aber schönem Wetter zum Mutteristock 2294müM
Nach fast auf die Woche genau vor fünf Jahren war ich mit Fly und meinem Schwager JP das letzte Mal auf dem Mutteristock. Heute gehe ich mit Bruno, Aron und Skip hoch, für die drei ist der Besuch des Mutteristock das erste Mal, ich hingegen war mit Fly vier Mal oben und dies zu jeder Jahreszeit. Wir starteten unsere Tour bei...
Published by 18 October 2019, 19h37 (Photos:28 | Comments:2)

Redertengrat (2213 m) - winter wonderland in May!
Great snowshoe hike to Redertengrat (2213 m) in early May! Start of the hike at 8:40 AM. At the parking lot I met a guy who had the same goal as me, but he took the shorter ascent directly through the forest up towards Rinderweid. He was later using snowshoes and carrying his snowboard on the back. Just 10 minutes into my...
Published by 7 May 2019, 21h23 (Photos:31 | Geodata:1)

Fluebrig - Mutteristock
Schnelle Tour auf die Highlights im Wägital Die Kombination von Fluebrig und Mutteristock ist auf jeden Fall die Top-Tour im Wägital. Konditionell ist dies fordernd (>2500 Höhenmeter), doch bei Verhältnissen wie dieses Wochenende gut zu schaffen. Ich war durchaus überrascht am Fluebrig noch bis fast nach unten...
Published by 25 March 2019, 07h35 (Photos:18)

Mutteristock 2294
Aufstieg Aumeindli - Ober Boden - Aberen - Rinderweid - Lufthütte - Mutteri - Torberglücke - Mutteristock Abfahrt Ab Rinderweid direkt via Fälleggen Verhältnisse Beste Verhältnisse, Pulverschnee wie im tiefsten Winter, Aufstieg via Schwantli momentan nicht empfehlenswert. Alle Parkplätze am Seeende waren besetzt....
Published by 21 March 2019, 08h44 (Photos:23)

Pulverschnee im Wägital
Das Wägital war bis anhin auf meiner persönlichen Landkarte ein weisser Fleck. Und er bleibt "weiss": mit einer dicken, schönen, weissen Pulverschneeschicht bedeckt! :-) Herrlich! Wir wollten irgendwohin, wo die Lawinengefahr höchstens mässig war. Und entschieden uns fürs Wägital. Diese Entscheidung teilten wir mit...
Published by 22 January 2019, 19h13 (Photos:8 | Geodata:1)

Mutteristock (ÖV)
Anreise Mit SBB bis Siebnen-Wangen, mit Mobility zum Wägitalersee, Hinterbruch Route Aufstieg via Schwantli, Abfahrt via Rinderweid - Fälleggen Verhältnisse Gebiet winterlich verschneit. Unten ca. 5cm Neuschnee auf harter Unterlage, oben waren es dann ca. 15cm Neuschnee auf harter Unterlage. Aufstieg über Schwantli...
Published by 23 March 2018, 08h44 (Photos:19)

Mutteristock mit Nordabfahrt
Der Mutteristock war ein Berg, den ich bis vor kurzem nicht im Gedächtnis hatte. Seine Beliebtheit bedeutet nicht nur hohe Frequentierung, sondern auch, dass der Wägitalergipfel etwas zu bieten hat. Um 6.00 Uhr in Küssnacht losgefahren, um 7.40 am hinteren Ende des Wägitalersees gestartet. Zuvor kamen wir allerdings noch...
Published by 4 March 2018, 19h07 (Photos:16)