Geissflue 963 m
3159 ft.
---
Peak in

41 hike reports

, 17 photo(s). Last visited :

7 Feb 15


Geo-Tags: CH-SO, CH-BL
Routes (1)
---
Photos (17)
---
By Publication date · Last favs · By Popularity · Last Comment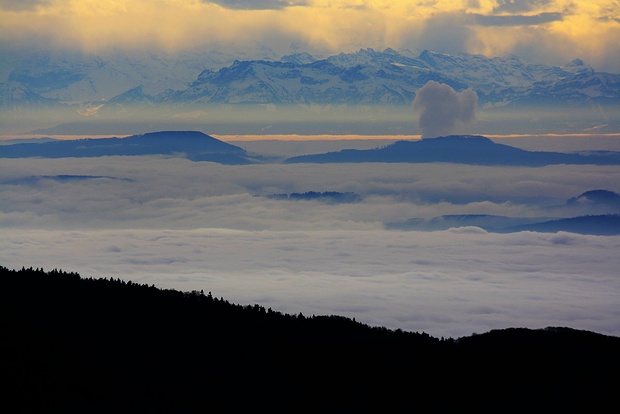 Blauen (1164,7m): Aussicht im Zoom zur Dampfsäule des Kernkraftwerks Gösgen das hinter dem Leutschenberg (925m) verseckt liegt. Rechts davon ist die Geissflue (962,9m) und im Hintergund sind die Alpen zu sehen. © Sputnik
Reports (41)
---

Aargauer Skisafari
Die Skitourenverhältnisse sind im Jura immer noch sehr gut. Wieso also weit weg fahren? Die untenbeschriebene Skitour habe ich dem Skitourenführer "Winterwelt Jura" von D. Silbernagel entnommen. Jedoch habe ich auf die Besteigung desWalmattberges verzichtet. Routenbeschreibung: Von der Staffelegg nach Osten zum...
Published by 8 February 2015, 17h38 (Photos:19 | Geodata:1)

Wasserflue - Geissflue : Aarau - Olten par le chemin des écoliers
Joli parcours de trail-running à la 1/2 journée (26.5km / +1050m) pour se consoler de l'absence de neige...allez, il y avait quand même 5cm de neige tassée tout en haut de la Geissflue ! L'itinéraire permet accessoirement de gravir le point culminant du canton, il est tout le long plutôt paysager, voire même presque sauvage...
Published by 16 December 2014, 10h25 (Photos:1 | Geodata:1)

Geissflue - Gälflue - Egg
Eine Tour mit vielen Höhepunkten und Aktivitäten: erste Anwendung der (SAC-)Gratiskarte "Aarau" Wanderung durch zwei Kantone Besteigung des höchsten Aargauers einen persönlich neuen Gipfel im AG bestiegen wieder mal einen tollen Juragrat begangen eine Ruine besichtigt Wanderung am...
Published by 31 August 2014, 18h25 (Photos:12 | Geodata:1)

Von der Staffelegg nach Trimbach - Etappe 3 Jura Höhenweg
Wie bei den beiden letzten beidenEtappen ist das Wetter auch dieses Mal nicht über alle Zweifel erhaben. Wir wagen es trotzdem. In Rüti steigen wir plaudernd ein und vergessen die Billete abzustempeln. So erleben wir im Zug bange Minuten, weil an der nächsten Station jemand aussteigen und die Fahrkarten abstempeln muss....
Published by 18 October 2015, 16h14 (Photos:24 | Geodata:1)

Wasserflue und Geissflue
Nachdem das Wochenende mit eher wenig Sonne aufwartete, können wir uns heute wieder über Sonne und milde Temperaturen freuen. Der Schnee, der ohnehin nicht so reichlich in unseren Breiten war, ist weiter auf dem Rückzug und hat dem Frühling Platz gemacht. Nun kann ich bald die Schneeschuhe bis zum nächsten Winter verstauen....
Published by 18 March 2014, 20h01 (Photos:22)

An invitation to dive into the (your e-Mail)-history
Immersion is an invitation to dive into the history of your email life in a platform that offers you the safety of knowing that you can always delete your data. Und da halten wir uns auf über Flusswasserkühlungen von AKWs, brüsten uns mit post-industriellen Fussabdrücken und formulieren Rankings, wer weltweit am saubersten...
Published by 10 December 2013, 22h40 (Photos:24)

Geissflue- Rohrerplatte
Heute sollte es zur Geissflue und der Rohrerplatte gehen. Eine herrliche kurze Wanderung gleich durch drei Kantone, AG, SO und BL. Da wir mit dem Ferienhund von Lilly Pink unterwegs waren wollte ich nicht allzu weit fahren, zumal es eine kürzere Wanderung geben sollte. Zugleich kombinierte ich die Wanderung mit einem Cache, den...
Published by 13 November 2013, 22h09 (Photos:2)

der höchste Aargauer
Was tun, wenn man nicht zu viel Zeit für eine grössere Wanderung hat? Ein Blick in meine Hikr-Homepage liefert einige Vorschläge. Ich unternahm eine verkürzte Version meiner Wanderung der Geissflue. Route: Von Salhöhe (779 m) der Beschilderung folgend hinauf zum Geissfluegrat. Diesen weiter nach Westen folgend. Einige...
Published by 29 October 2013, 21h08 (Photos:2)

Regen, Schnee und Sonnenschein auf drei Kantonshöhepunkten
Aprilwetter, Zug und Busfahrten durch die Provinz und drei Kantonshöhepunkte: Eine Tour durch die unbekannten Seiten Basels und des Aargaus. Was will man machen, wenn die Wetterprognosen für den sonst schon miserablen Frühling immer noch schlechter werden und man keine Lust mehr hat untätig Zuhause herumzusitzen? Man...
Published by 25 May 2013, 20h17 (Photos:32)

Jura Höhenweg, Etappe 3: Staffelegg - Hauenstein
Fünf Pässe und drei Kantone erwarten uns auf der heutigen Etappe. Dazwischen viel Wald, manche Weiden, majestätische Vögel, kaum Leute und... Schnee! Jawohl, ihr habt richtig gelesen - am heutigen Ostermontag scheint sich der Winter nochmals aufzubäumen. Bereits am Bahnhof Aarau ist es ungemütlich frisch und auf der...
Published by 14 April 2012, 12h16 (Photos:7 | Comments:3 | Geodata:1)