Druesberg 2282 m
7485 ft.
---
Peak in

69 hike reports

, 461 photo(s). Last visited :

6 Jul 14


Geo-Tags: Nördliche Muotataler Alpen, CH-SZ, Zürcher Hausberge
Routes (2)
---
Photos (461)
---
By Publication date · Last favs · By Popularity · Last Comment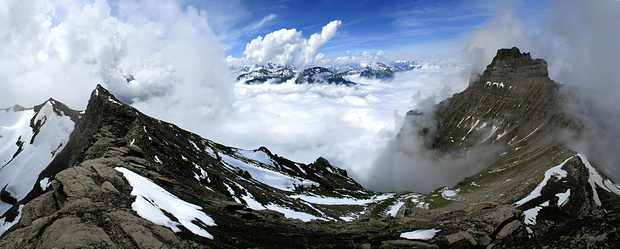 The view from Höch Hund. On the right Druesberg. (I actually wanted to make a 360, but because of the fog the rest of the panorama would have been white :-) © 360
Reports (69)
---

Höch Hund Nord / Druesberg Süd
Der Alpinwanderklassiker im Hinteren Sihltal - ein Highlight der Ostschweizer Voralpen Berge wie Höch Hund und die Chläbdächer, oder die Südkante am Druesberg haben sich in den letzten Jahren zum Klassiker gemausert. Zu recht, denn die Routen zählen zum besten, was die Ostschweizer Voralpen zu bieten haben. sglider...
Published by 8 July 2014, 20h15 (Photos:14)

Druesberg
"You know that the Hoch Ybrig cable cars are still closed, right?" inquires the bus driver when we board the bus to Weglosen. Well, we didn't know, but we had planned to start walking from the valley in Weglosen anyway. The fact that the cable cars are still closed, should mean that it's going to be nice and quiet in the Hoch...
Published by 16 June 2014, 19h18 (Photos:23)
Forstberg Überquerung - Druesberg und Höch Hund als Zugabe
Die markante Westflanke vom Forstberg Ist im Ybrig sehr gut zu sehen. Im Sommer zieht sich der Wanderweg mit Ketten gesicherter zwischen die Felsbänder und weiter über dem Grat via Gross Sternen zum Ybrig. Eine schöne Wanderung im T4 Bereich. Im Winter da hoch? Ja es ging, wenn auch sehr anstrengend. Die Ketten und die...
Published by 15 March 2014, 14h33 (Photos:26 | Comments:2 | Geodata:1)

Ybriger Quartett – oder ein Sechser im Lotto
Das Ybriger Quartett hatte ich von einer Sommerbegehung in bester Erinnerung. Die Routenführung im Winter verläuft ganz ähnlich, mit Ausnahme der anspruchsvollen Druesberg Südkante natürlich. Doch der Kombination aus Pulverschnee, Sonnenschein und stahlblauem Himmel kann kaum ein Sommerprojekt das Wasser reichen. Besonders...
Published by 23 February 2014, 12h35 (Photos:32 | Comments:1 | Geodata:1)

Druesberg plus
Aller guten Dinge sind Drei: Druesberg, Forstberg, Twäriberg Heute durften es gleich drei Gipfel sein. Die Schneebedingungen sind für die zurzeit mageren Schneeverhältnisse tipp topp. Und wenn das Wetter so wie heute passt, muss das genutzt werden. Zudem, vor den Feiertagen noch an der Kondition arbeiten schadet auch...
Published by 21 December 2013, 21h57 (Photos:17 | Comments:3)

Druesberg mit nördlichem Forstbergband
Der Schnee in den Nordhängen immer noch Pulvrig. Man muss nur wissen wo. Mit Renée und Greschi lösten wir eine Einzelfahrt in den Hoch-Ybrig Sternen. Danach hoch zum Tisch. Die Abfahrt hatte ich schon am Dienstag gemacht, so wusste ich wo der gute Pulver sich befindet. Am Fuss vom Forstberg wieder anfellen und bald mit...
Published by 22 December 2013, 16h25 (Photos:23)

Forstberg und Druesberg
Am Freitag-Abend machte ich eine Sonnenuntergangs-Tour auf den Grossen Mythen. Dabei sah ich, dass der erste Schnee dieses Spätherbstes auf dem Drues- und Forstberg wieder geschmolzen war. Darum entschloss ich mich, am Samstag eine Tour auf diese beiden Berge zu machen. Ich ging kurz nach sieben Uhr von Weglosen aus über den...
Published by 27 October 2013, 19h13 (Photos:13)

Mürläloch mit Forst- und Druesberg...eine spannende Rundreise aus und zurück ins Tal der Muota
Die Wildheuerplanggen am Heuberig sind spätestens seit Erich Langjahrs Film "Das Erbe der Bergler" vielen Menschen ein Begriff. Aber nicht nur die Wildheuer halten sich in diesen steilen Grashalden hoch über dem Muotathal auf, sondern auch begeisterte Alpinwanderer, so wie wir oder aber auch Bergamotte, der uns mit seinem...
Published by 29 October 2013, 18h44 (Photos:66 | Comments:20 | Geodata:1)

Ybrig - doch noch was neues
Eigentlich kenne ich den Ybrig wie kein anderer. Gerade nach 19 Jahre Wintersport fast jeden Tag am Unterrichten, ist mir dieses Gebiet natürlich ans Herz gewachsen und kenne so viele Winkeln. Im Winter so gut wie alle Flanken schon runtergefahren, was uns auch nur annähernd Fahrbar erschien. Aber eben doch noch nicht alles. Zum...
Published by 26 July 2013, 11h26 (Photos:32 | Geodata:1)

Ybriger Quartett
Das Ybriger Dreigestirn Twäriberg, Druesberg und Forstberg begeistert Wanderer und Skitürler gleichermassen. Im Sommer lassen sich die drei Gipfel mit vernünftigem Aufwand zu einer Rundtour kombinieren, vor allem bei direkter Linienführung. Konkret bedeutet das: Twäriberg Westflanke, Druesberg Südkante, Forstberg Nordflanke....
Published by 23 July 2013, 20h38 (Photos:20)