Druesberg 2282 m
7485 ft.
---
Peak in

98 hike reports

, 908 photo(s). Last visited :

15 Sep 20


Geo-Tags: Nördliche Muotataler Alpen, CH-SZ, Zürcher Hausberge
Routes (2)
---
Photos (908)
---
By Publication date · Last favs · By Popularity · Last Comment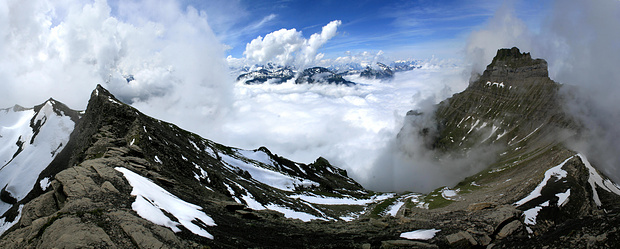 The view from Höch Hund. On the right Druesberg. (I actually wanted to make a 360, but because of the fog the rest of the panorama would have been white :-) © 360
---
Reports (98)
---
Druesberg (2282m) & Forstberg (2215m)
Nach wie vor muss ich noch ein paar Überstunden abbauen – was mir bei diesem schönen Herbstwetter nicht allzu schwer fällt … ;-) Bei den bis dato immer noch phantastischen Bedingungen wäre durchaus noch eine grössere Unternehmung möglich gewesen (d.h. 3000 – 4000m). Aber ich hatte heute keinen Bock auf eine lange...
Published by 1 October 2020, 07h55 (Photos:39 | Comments:2 | Geodata:1)

Druesberg 2282 m.
Venerdì non avendo avuto molto tempo a disposizione decido per sabato qualcosa di poco impegnativo, ma che dovrebbe essere panoramicamente bello. Regione Hoch Ybrig. Da Fuederegg seguiamo il sentiero fino a Oberloch poi a piede libero raggiungiamo lo Spirstock. Proseguiamo verso Nühütti e Chli Stärnen, qui iniziamo ad...
Published by 23 September 2019, 23h23 (Photos:33)

Saisonabschluss am Druesberg
Der Druesberg stand als gut erreichbarer Alpinwandergipfel schon ein paar Jahre auf meiner Liste und da für das betreffende Wochenende gutes Wetter angesagt worden war und sich ein Kollege bereit erklärt hatte, den Gipfel zusammen zu besteigen, stand dem Ganzen nichts mehr im Wege. Einzig bei der Frage, ob wir den Forstberg auch...
Published by 26 October 2019, 13h17 (Photos:14)

Druesberg (2281m) und Forstberg (2215m) ab Weglosen
Howdy, Vom Vorder Glärnisch sieht man den Blick nach Westen gerichtet ganz klein in der Ferne so etwas wie eine stumpfe Haiflosse: den Druesberg. Er gehört schon länger zu meinen Zielen und ist kombiniert mit dem Forstberg ein richtiger Alpinwanderklassiker im Kanton Schwyz. Startet man die Wanderung ab Weglosen, kommen doch...
Published by 21 July 2019, 18h00 (Photos:48)

Forstberg und Druesberg - wohl eine der letzten Touren am Ende eines langen Bergsommers, ...
... an dem ich mehr auf Tour war als mir Zeit blieb, Berichte darüber zu verfassen ;-) Auf meiner Projektliste hatten Forst- und Druesberg ja schon länger gestanden. Jetzt schien mir ein guter Zeitpunkt gekommen zu sein, dieses Vorhaben auch umzusetzen   Allerdings hatte ich mich dafür noch nicht mit allen...
Published by 6 November 2018, 01h28 (Photos:68 | Comments:7)

Druesberg via Gämsstafel
Bei Schluecht staune ich über den schönen Weg. Es muss eine Heidenarbeit gewesen sein, die Steinplatten entsprechend zu platzieren. Den Wanderweg verlasse ich beim Guetentalboden und folge dem Feldweg, der den Hang hochführt. Über Weiden gelange ich unter die wilden Abbrüche südlich des Gämsstafels und entdecke mit dem...
Published by 26 November 2018, 20h56 (Photos:24 | Geodata:1)

Chläbdächer - Druesberg - Forstberg
Heute bin ich mit meinen Bergfreunden unterwegs. Gemütlich in Diskussionen verwickelt, fahren wir hoch zum Gribschli, wo ein Dutzend Parkplätze zur Verfügung stehen. Unser Ziel: Druesberg & Forstberg.   Die ersten Höhenmeter werden im Wald über eine längere Baumstammtreppe zurück gelegt. Hat man diese...
Published by 18 October 2018, 19h01 (Photos:32 | Geodata:1)

"Muotathal's Finest" is fine indeed!
Mit der Besteigung des Druesbergs (2282) von Muotathal aus (Ich habe mir sagen lassen, dass das Tal Muotatal heisst, während die dortige Gemeinde Muotathal geschrieben wird) via Gämsstafelchopf (2030), Höch Hund (2215), Chläbdächer (2175) und Abstieg über den Forstberg (2215) via Tritt und Sprengzugweg (wobei das Wort Weg in...
Published by 15 October 2017, 01h47 (Photos:17 | Comments:2)

TDF im Hoch-Ybrig
Seit diesem Jahr regelmässiger Besucher auf hikr, könnte ich ja auch mal einen Bericht verfassen. Die Tour über den Twäriberg, Druesberg Südgrat und Forstberg ist aber schon von diversen Tourgängern sehr hilfreich und detailliert beschrieben. Vielen Dank an dieser Stelle an die Autoren für die Idee zur Tour sowie die...
Published by 6 September 2017, 22h34 (Photos:11 | Comments:1)

über die einsame Südkante auf den Druesberg
Von Alpinist wurde zu dieser Tour ein gut bebilderter Bericht erstellt. Darum verzichten wir auf genaueste Details und zeigen die momentane Situation. Neu ist jedoch der Abstieg von den Heubrighüttli. Dieser wurde in der Zwischenzeit neu errichtet. Von den Hüttli aus gesehen, beginnt er Einstieg bei der markanten zweier...
Published by 18 June 2017, 19h29 (Photos:43)