Turner 2069 m
6786 ft.
---
Peak in

62 hike reports

, 208 photo(s). Last visited :

9 Jan 21


Geo-Tags: CH-SZ, Östliche Sihltaler Alpen
Photos (208)
---
By Publication date · Last favs · By Popularity · Last Comment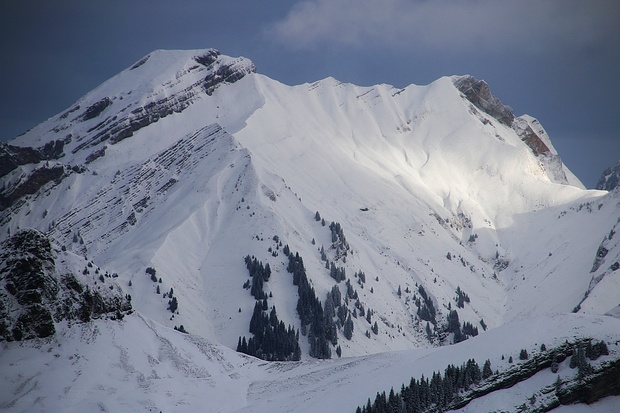 Aussicht vom Gross Sternen / Gross Stärnen (1968,4m) auf Diethelm / Fluebrig (2092,7m) und Turner (2068,7m). © Sputnik
---
Reports (62)
---

Sunrise@Diethelm
Top Kurztour am frühen Morgen im eisig kalten Wägital "Sunrise@Diethelm?" so lautete die Nachricht von 3614adrian um 21 Uhr am Vorabend. Wenige Minuten später schrieb ich zurück: "isch guet!". Definitiv die richtige Entscheidung an diesem eisig kalten Samstagmorgen im immer noch eher spärlich mit Schnee gesegneten...
Published by 10 January 2021, 21h43 (Photos:24)

Zweimal Fluebrig: Diethelm (2099) & Turner (2068)
Wenn man vom Sihlsee so auf den Fluebrig zufährt, ist es kaum zu glauben, dass dieses schroffe Massiv gar kein eigenständiger Berg ist, sondern nur ein Nebengipfel des Druesbergs. Mit einer Schartenhöhe von 275 m schrammt der Diethelm ganz knapp am Status Berg vorbei. Naja egal, die Aussicht auf die zahlreichen Seen von...
Published by 19 November 2020, 21h32 (Photos:22 | Geodata:1)

Fluebrig
Départ du terminus de bus d'Ochsenboden (928m). Le panneau donne 3h50 pour le sommet du massif de Fluebrig, puis 3h15 quelques minutes plus tard, à l'entrée du golf, alors que le chemin s'engage dans la forêt. Après environ 45min de marche sur ce chemin ombragé et agréable, le sommet est indiqué à 2h15. Il y a...
Published by 22 August 2020, 08h41 (Photos:10 | Geodata:1)

Wägital Rundtour 'Trailrun'
deltas Wägital Rundtour vom 15.06.2006 inspirierte mich damals, dies auch zu probieren. Am 01.07.2007 ist mir die Überschreitung gelungen. Am 22.06.2008 doppelte Mr. Wägital mit seiner Speedversion nach. Seither bin ich eigentlich fast nur noch im Winter im Wägital gewesen. Am 30.06.2019 habe ich mich erstmals mit der...
Published by 31 July 2019, 10h57 (Photos:18 | Comments:5)

Sihltal-Rundtour als Trailrun
Ein Morgen in einer der schönsten Ecken der Ostschweizer Voralpen Früher war ich immer wieder im Hinteren Sihltal unterwegs. Ja, das war fast schon meine Muttermilch in Sachen Alpinwandern. Doch die Frequenz meiner Besuch in dieser wunderschönen Region hat nachgelassen, das wurde mir spätestens mit den letzten Berichten auf...
Published by 24 July 2019, 20h39 (Photos:24 | Comments:3)

Fluebrig von Norden
Interessiert an einem Tourenbericht über Fluebrig und dem bislang unerreichten Gipfel des Diethelm, dessen Aufstieg ich vom Wägitaler See aus zu Beginn diesen Jahres abbrechen musste, fiel mein Entschluss der Wegbeschreibung von Carpintero zu folgen. Danke an dieser Stelle. Da es seinem Tourenbeschrieb kaum etwas hinzu zu...
Published by 1 October 2018, 10h12 (Photos:24 | Comments:1 | Geodata:1)

Versteckte Wege beim Fluebrig
Hoch via Chli Sienen über den direkten Nordgrat zum Vorgipfel vom Wyss Rössli mit Andi und Pädi. Abstieg via Gross Sienen auf der Suche nach neuen Abstiegen :-) Am Morgen um 09:00 Uhr starteten wir beim Ochsenboden Richtung Chalchboden hoch via Chli Sienen. Der Einstieg in die Rinne ist steil. Abseilstelle wäre vorhanden...
Published by 4 July 2018, 20h59 (Photos:40 | Geodata:1)

Fluebrig Diethelm (2098 m) & Turner (2068 m)
Bike & hike to Fluebrig Diethelm and Turner from Ochsenboden. Start of the hike at 7:00 in the morning. I brought my mountain bike along, but I just walked the bike. The main purpose of bringing the bike was to shorten the descent... I left the bike at the end of the forest road at approx. 1300 m elevation. Next, I followed...
Published by 3 June 2018, 19h12 (Photos:33 | Geodata:1)

Fluebrig und Turner
Wägital-Klassiker bei harten Verhältnissen Der Winter war lang und schneereich. Doch irgendwann - man will es gar nicht für wahr halten - kommt der Frühling. Nachdem ich vor nur 12 Tagen massenweise Schnee und Pulver am See-Ende vorgefunden hatte, kam es erstaunlich (nein, nach den warmen Wochen eigentlich nicht...), dass...
Published by 14 April 2018, 19h52 (Photos:18)

Fluebrig vom Wägital ins Sihltal (ÖV)
Anreise Mit Bahn und Bus nach Innerthal, Staumauer (an 7.51 Uhr) Rückreise Mit Bus und Bahn von Studen, Ochsenboden (ab 15.28 Uhr) Route Staumauer - Au - Schlänggen - Turner - Diethelm - Obergross - Stafelwand - Studen Ochsenboden
Published by 6 October 2017, 08h43 (Photos:75)