Wägitalersee - P.931m 931 m
3054 ft.
---
Other in

72 hike reports

, 5 photo(s). Last visited :

20 Oct 19


Geo-Tags: CH-SZ
Photos (5)
---
By Publication date · Last favs · By Popularity · Last Comment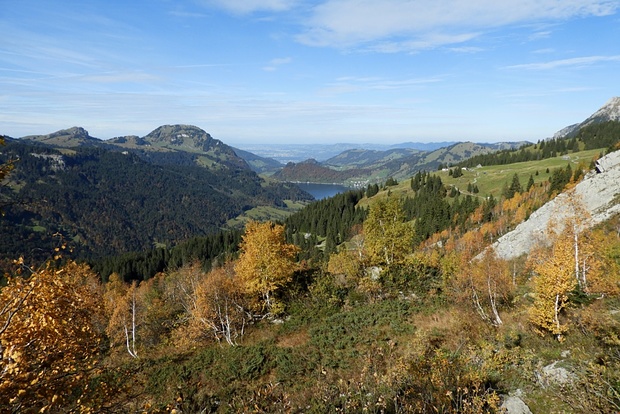 ... einem verwilderten Wanderweg runter zur Lufthütte und bei der Rinderhütte weiter nach Abern Oberalp © Flylu
---
Reports (72)
---

Schiberg (2044m) & Plattenberg (2081m)
A great autumn hike, full of emotions. The Brenna route has been described in many reports here (see the links below). My tour essentially replicates this one: https://www.hikr.org/tour/post109406.html The weather was OK, moderately windy, with medium-high clouds that occasionally broke apart letting the sun through. With...
Published by 22 October 2019, 00h11 (Photos:16 | Geodata:1)
Schiberg ...
... als Trailrun. Obwohl ich nachdem gestrigen Lauf über Schnebelhorn und andere Gipfel nicht so sicher war, ob das funktioniert heute. Die Lust darauf war aber zu gross, zudem wollte ich den neuen Schuh einweihen... Ein Merkmal des Wägitals ist die Tatsache, dass es kein gemütliches Einlaufen gibt, es geht immer gleich...
Published by 18 August 2019, 14h12 (Photos:13 | Comments:2)
Wägitaler Five
Inspiriert vom Bericht durch 3614adrianwollten wir das selbe heute auch angehen. Abgesehen von der Passage zwischen Plattenberg und Brünnelistock habe ich alle Grate schon begangen. Die Wegfindung war also kein Problem. Start um 8:30 beim See, die Sonne brannte bis zur Bockmattlihütte. Anschliessend kamen Wolken auf was das...
Published by 6 July 2019, 17h55 (Comments:2)

Morning hike to Zindlenspitz (2097 m)
Since the weather forecast was better for the morning than for the afternoon, I chose to do a relatively quick and early morning hike to Zindlenspitz. Start at Wägitalersee at 6:15 AM. I followed the white-red-white marked trail past Alp Zindlen. There are only two snowfields you need to cross on the way, but neither is in the...
Published by 9 June 2019, 14h48 (Photos:20 | Geodata:1)

Schiberg (2044 m) - start of the hiking season!
Yesterday while biking around Wägitalersee, I saw that most of the Schiberg south flank is already free of snow. So I decided to start the hiking season today. I brought my snowshoes for the upper part called Tschingel, but in the end they would not really have been needed. Start of the hike at 9:30 AM. I followed the wrw...
Published by 22 April 2019, 21h41 (Photos:24 | Comments:1 | Geodata:1)

Auf Schneeschuhen zum Schiberg 2043 müM
Einen Tag vor her war ich mit meiner Arbeitskollegin auch mit Schneeschuhen unterwegs. Als wir beim Bergrestautant Tierhag ankamen, trafen wir per Zufall auf Krokus und Campo Tencia die sich bereit für den weiter Weg machten. Wir kamen kurz ins Gespräch bevor sie weiter gingen. Das war eine freudige Überraschung. Für die...
Published by 16 February 2019, 15h42 (Photos:33 | Comments:2)

Räderten- und Mutteristock
Im Bericht Redertenstock south ascent von pave findet der geneigte Leser einen hervorragenden Beschrieb des Südaufstiegs auf den Rädertenstock. Besonders hilfreich sind die Bilder mit eingezeichneter Route.   Nebst mir steigen nur zwei weitere Personen aus dem Postauto. Ein Herr, dessen Ziel der Ochsenchopf ist, und...
Published by 10 November 2018, 21h22 (Photos:32 | Comments:2 | Geodata:1)

Lachenstock, Zindlenspitz, & Rossälplispitz
The plan was to hike to Lachenstock (2026 m), and eventually go to Zindlenspitz afterwards. In the end I added Rossälplispitz to the hike as well. Lachenstock isn't much of a mountain peak, but it's simply one of the highest points on the ridge between Zindlenspitz and Rädertenstock. I had not been there before, so I wanted to...
Published by 12 August 2018, 21h11 (Photos:23 | Geodata:1)
Zindlenspitz zum Geburtstag ...
...der Schweiz. Eigentlich war ja ein Faulenzertag mit einer optionalen Runde im Tössgebiet geplant, was soll man mehr bei diesen Temperaturen. Eine SMS-Mitteilung meiner Schwester, sie würden auf den Zindlenspitz gehen, liess mich meine Pläne überdenken. Nach reiflicher Evaluation aller Vor- und Nachteile entschied ich...
Published by 1 August 2018, 16h08 (Photos:12)

Morning hike to Brünnelistock (2132 m)
This was a very nice hike to Brünnelistock (2132 m) in perfect weather. Start of the hike at 7:40 in the morning. I followed the wrw marked trail from Wägitalersee via Aberli to P.1592 (just before Hohfläschenmatt). From there I ascended off trail until I reached the unmarked path which goes up between Brünnelistock and...
Published by 30 July 2018, 17h00 (Photos:23 | Geodata:1)