Bargis 1549 m
5081 ft.
---
Locality in

56 hike reports

, 37 photo(s). Last visited :

15 Sep 19


Geo-Tags: CH-GR
Photos (37)
---
By Publication date · Last favs · By Popularity · Last Comment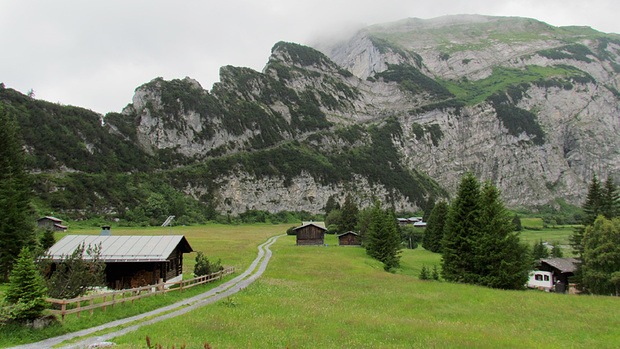 In Bargis - heute bin ich mit dem Bike unterwegs. In der Felswand sieht man den Wanderweg, welcher von der Alp Flimserstein hinunter führt. © D!nu
---
Reports (56)
---

Crap Mats, Morchopf und Piz Tschep - von Trin nach Flims
Auf dem Tschep-Grat war ich in den letzten Jahren schon mehrfach gewesen. Nur mit der Fortsetzung der Tour zum Crap Mats hatte es aus unterschiedlichen Gründen leider nie geklappt. Heute wollte ich es erneut versuchen, allerdings in entgegengesetzter Richtung und dabei zumindest bis zum Crap Mats kommen.   Als...
Published by 17 September 2019, 12h14 (Photos:90)

Im Banne des Ringelspitz
Ausschlaggebend zu dieser Wanderung war der Bericht « Ringelspitz & Crap Mats» von D!nu. Denn die Bilder von dieser Gegend, die er fotografiert hat, faszinieren mich und ich wollte mir das in Natura ansehen. Da es bereits einige Wegbeschreibungen von HiKr's ab Fidaz gibt und ebenfalls auch der Abstieg über die...
Published by 5 September 2019, 14h15 (Photos:39 | Comments:7)

Flimserstein
A cause de chutes de pierres dans le couloir menant à Fil de Cassons depuis Naraus, une partie des chemins est temporairement fermée. Je me suis du coup posé un moment la question car le contournement par la cabane de Segnas rallonge de plusieurs kilomètres la montée sur le Flimserstein. Comme il fait beau et que ce serait...
Published by 7 September 2019, 09h32 (Photos:20 | Geodata:1)

Ringelspitz
Nebst zwei anderen Zweierseilschaften brechen wir um halb 6 Uhr auf. Die Wegspur ist im Schein der Stirnlampe meistens gut zu erkennen. Es ist schon hell, als wir am unteren Ende des Taminser Gletschers mit den anderen Seilschaften eine kurze Pause einlegen. Anschliessend steigen wir über Schutt und Schnee auf den Rücken des...
Published by 11 September 2019, 11h41 (Photos:32 | Geodata:1)

Fil de Cassons (2694 m) - bike & hike from Flims
Cassonsgrat/Fil de Cassons is the highest area of Crap da Flem aka Flimserstein. The aerial cablecar to Cassons stopped operating a few years back, so now you either have to hike from Naraus or Bargis to get up there. I started off with the mountain bike around 10:15 AM in Flims, heading up towards Fidaz and then Bargis. At the...
Published by 25 August 2019, 09h21 (Photos:38 | Geodata:1)
Surselva

T5

AD-

III

17 Aug 19

Ringelspitz & Crap Mats
Den Ringelspitz habe ich vor 5 Wochen wegen Restschneefeldern im Tschepband verschoben. Heute sollte es nun klappen! Mit dem PW fahre ich bis zum Waldrand bei Fidaz. Der Strasse entlang Richtung Bargistal findet man diverse zahlungspflichtige Parkplätze, bevor dann Schlussendlich ein Fahrverbotsschild am Strassenrand steht....
Published by 18 August 2019, 20h53 (Photos:40 | Comments:5 | Geodata:1)
Terra Incognita

T5+

II

11 Aug 19

Glaserhorn
Auf meiner To-do-Listestand schon lange das Glaserhorn. Anhand der vorhandenen Berichte lässt sich vermuten dass dieser Berg nur sehr selten bestiegen wird.Zwei Tage zuvor spenglerte ichselber ein Buchbehälter und kaufte ein Buch um es auf dem Gipfel zu deponiere, wobei ich mir nicht sicher war ob es schon ein Gipfelbuch oben...
Published by 1 September 2019, 14h32 (Photos:16)

Bargistal
Meine Kinder gehen im Sommer jeweils ins Sommerlager der Jungwacht / Blauring. Eine gute Gelegenheit, mich nach dem Besuch in der Region um den Zeltplatz auszutoben. Als wir vor wenigen Jahren in Laax in den Ferien waren, entdeckte ich in einem Prospekt die Kathedrale Bargis, welche ich heute besuchen möchte. Mit dem PW fahre...
Published by 15 July 2019, 22h49 (Photos:27 | Geodata:1)

Cassonsgrat - Segnesboden - Rheinschlucht
Ein wunderbarer Tag in den Bündner Bergen: Die heutige Wanderung bietet landschaftlich imposante und abwechslungsreiche Eindrücke, fordert einiges an Kondition, ist aber dafür technisch gesehen eher leicht. Ursprünglich will ich an diesem wunderbaren Oktober-Tag eigentlich von Elm über den Segnespass nach Flims wandern. Da...
Published by 15 October 2018, 14h21 (Photos:20)

Historischer Klettersteig Pinut, Flims
Luxus-Klettersteig am Flimserstein Der im Jahre 2007 mit grossem Aufwand und 16 Tonnen Material erstellte bzw. vollständig sanierte Klettersteig Pinut ist ein Bijou eines Klettersteigs, leicht begehbar und sehr abwechslungsreich mit ganz tollen Ausblicken. Er ist absolut perfekt abgesichert und kann auch mit schwindelfreien...
Published by 16 September 2018, 22h48 (Photos:15)