Fidaz 1178 m
3864 ft.
---
Locality in

32 hike reports

, 5 photo(s). Last visited :

27 Sep 19


Geo-Tags: CH-GR
Photos (5)
---
By Publication date · Last favs · By Popularity · Last Comment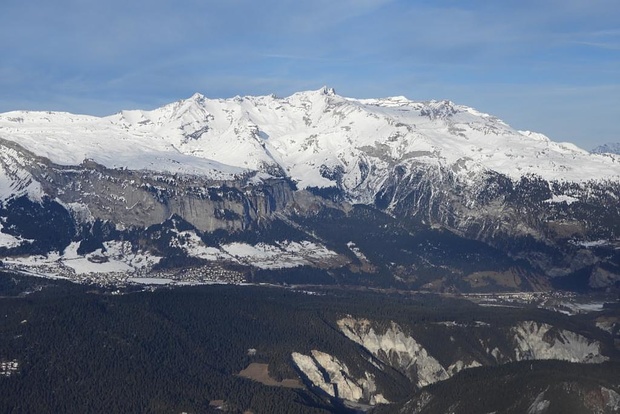 Schöne Erinnerungen an meine zwei Touren zum Ringelspitz und der Klettersteig Pinut im letzten Jahr © Flylu
---
Reports (32)
---

Klettersteig Pinut bei Flims-Fidaz dann via Fuorcla Raschaglius zurück nach Fidaz
Nach dem ich vor drei Monaten meinen ersten Klettersteig den Diavolo mit Susanne gemeistert habe, wollte ich heute einen weiteren versuchen und danach eine Wanderung unternehmen. Bruno die Hunde und ich sind nach Fidaz gefahren und wollten beim Parkplatz, der in der Nähe des Aufstiegs zum Klettersteig liegt, parkieren. Mein...
Published by 28 September 2019, 13h10 (Photos:48)

Crap Mats, Morchopf und Piz Tschep - von Trin nach Flims
Auf dem Tschep-Grat war ich in den letzten Jahren schon mehrfach gewesen. Nur mit der Fortsetzung der Tour zum Crap Mats hatte es aus unterschiedlichen Gründen leider nie geklappt. Heute wollte ich es erneut versuchen, allerdings in entgegengesetzter Richtung und dabei zumindest bis zum Crap Mats kommen.   Als...
Published by 17 September 2019, 12h14 (Photos:90 | Comments:6)

Fil de Cassons (2694 m) - bike & hike from Flims
Cassonsgrat/Fil de Cassons is the highest area of Crap da Flem aka Flimserstein. The aerial cablecar to Cassons stopped operating a few years back, so now you either have to hike from Naraus or Bargis to get up there. I started off with the mountain bike around 10:15 AM in Flims, heading up towards Fidaz and then Bargis. At the...
Published by 25 August 2019, 09h21 (Photos:38 | Geodata:1)

Historischer Klettersteig Pinut, Flims
Luxus-Klettersteig am Flimserstein Der im Jahre 2007 mit grossem Aufwand und 16 Tonnen Material erstellte bzw. vollständig sanierte Klettersteig Pinut ist ein Bijou eines Klettersteigs, leicht begehbar und sehr abwechslungsreich mit ganz tollen Ausblicken. Er ist absolut perfekt abgesichert und kann auch mit schwindelfreien...
Published by 16 September 2018, 22h48 (Photos:15)
Surselva

T4

PD-

21 Aug 17

K2 Pinut
Nur so viel: Es ist ein K2 Steig und ohne Set aus meiner Sicht leichtsinnig. Mit dem ÖV in Fidaz Pinut an um 11.08 Uhr. Hier einige Meter zurück und über die Brücke zum Wegweiser rechts hoch. Gehgelände zwischen den 3 Felsstufen ist T4. Ankunft in Bargis um 15.45 Uhr. Dazwischen eine Pause von 30 Minuten. Bilder der...
Published by 23 August 2017, 00h34 (Photos:1)
Surselva

T2

PD-

21 Jul 17

Pinut Klettersteig in Flims
Laut Wetterberich würden im Verlauf des Nachmittags Gewitter aufziehen. Wenn wir früh genug abfahren würden am Morgen, sollte es also für den Klettersteig in Flims gut reichen. Der Plan ging nur bedingt auf. Das Positive: Weder Gewitter noch Regen machten uns das Leben im Steig schwer. Aber die Verbindung in die Ostschweiz...
Published by 24 July 2017, 12h15 (Photos:15)

Pinut - Flimserstein (2694) - Am Südrand des UNESCO-Welterbes
Das eigentliche Ziel der heutigen Wanderung war das südliche Ende des UNESCO-Weltnaturerbes "Tektonikarena Sardona". Da dieses wenige hundert Meter vom Ausstieg des Pinut-Klettersteiges (siehe hier oder hier) entfernt liegt, war die Aufstiegsroute gesetzt. Mit Bahn und Bus via Flims nach Fidaz-Pinut. Anscheinend reisen nicht...
Published by 9 June 2017, 08h42 (Photos:24)

Piz Tschep (2943 m) und Tschepgrat - ausgedehnte Runde von Trin nach Flims
Der Aufstieg zum Piz Tschep und von dort die Runde über den Morchopf zum Crap Mats stand heute erneut auf dem Programm. Bereits im letzten November hatte ich dazu einen ersten Versuch unternommen, den ich wegen des Starkwinds in der Höhe damals auf dem Piz Tschep leider nicht realisieren konnte. Heute also der zweite Versuch,...
Published by 5 October 2016, 11h12 (Photos:50)

Von Flims zum Piz Tschep (2943 m) und Panoramaweg Lavadignas - Alp Mora mit Abstieg nach Trin
Eigentlich war heute garnicht der Piz Tschep das Ziel, sondern die Überschreitung von dort zum Crap Mats. Einige Tage zuvor war der Versuch von der anderen Seite her aus Zeitmangel leider nicht von Erfolg gekrönt gewesen. Drum nun ein erneuter Versuch, diesmal über den Tschepgrat, obwohl mir klar war, dass dort noch Schnee...
Published by 22 November 2015, 19h14 (Photos:51 | Comments:2)

Rundtour zum Cassonsgrat (il Fil 2694 m) ab/bis Flims an einem Traumtag im November
Bei meiner Tour zum Piz Tschep zwei Monate zuvor hatte der gegenüberliegende mächtige Flimserstein mit seinen jähen Abstürzen bereits mein Interesse geweckt. Dass es noch in derselben Saison möglich sein würde, ihn näher zu erkunden, damit hatte ich eigentlich nicht mehr gerechnet. Dass zur Zeit so gut wie sämtliche...
Published by 11 November 2015, 10h34 (Photos:75)