Ringelspitz / Piz Barghis 3247 m
10650 ft.
---
Peak in

42 hike reports

, 903 photo(s). Last visited :

31 Aug 19


Geo-Tags: CH-GR, CH-SG
Photos (903)
---
By Publication date · Last favs · By Popularity · Last Comment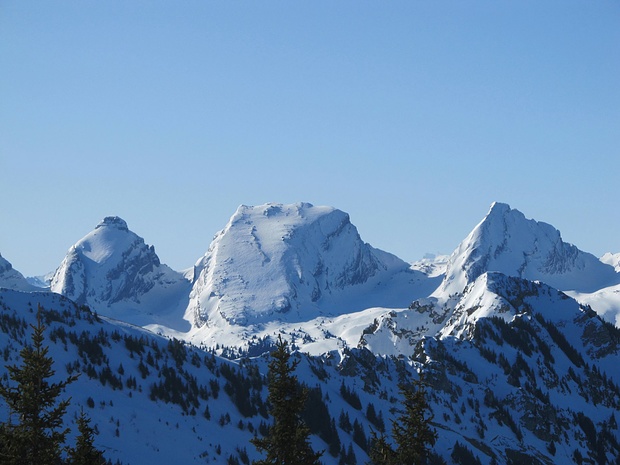 WoW - Drei Churfirsten in ihrer ganzen Pracht. Der Gipfel im Hintergrund scheint der Ringelspitz zu sein © alpstein
---
Reports (42)
---

Ringelspitz
Nebst zwei anderen Zweierseilschaften brechen wir um halb 6 Uhr auf. Die Wegspur ist im Schein der Stirnlampe meistens gut zu erkennen. Es ist schon hell, als wir am unteren Ende des Taminser Gletschers mit den anderen Seilschaften eine kurze Pause einlegen. Anschliessend steigen wir über Schutt und Schnee auf den Rücken des...
Published by 11 September 2019, 11h41 (Photos:32 | Geodata:1)
Surselva

T5

AD-

III

17 Aug 19

Ringelspitz & Crap Mats
Den Ringelspitz habe ich vor 5 Wochen wegen Restschneefeldern im Tschepband verschoben. Heute sollte es nun klappen! Mit dem PW fahre ich bis zum Waldrand bei Fidaz. Der Strasse entlang Richtung Bargistal findet man diverse zahlungspflichtige Parkplätze, bevor dann Schlussendlich ein Fahrverbotsschild am Strassenrand steht....
Published by 18 August 2019, 20h53 (Photos:40 | Comments:5 | Geodata:1)

Crap Mats und Ringelspitz (Trailrun)
Schon länger wollte ich wieder einmal auf den Ringelspitz. Bei meinen letzten Versuchen zu Fuss im Winter bei wenig Schnee (29. Dez. und 01. Jan) war dies aufgrund der Verhältnisse etwas illusorisch. Heute plane ich leicht unterwegs zu sein. Einzig das Tschepband macht mir etwas Sorgen, da ich nicht weiss wieviel störender...
Published by 1 July 2018, 21h59 (Photos:16)

Die 26 Kantonshöhepunkte (CH)
Dies ist mein 300-ster Bericht :-D Am30. April 2013 habe ich meinen ersten Bericht hier auf hikr.org verfasst. Der Bericht war noch kurz, so wie die Wanderung mit meinen drei Kindern. In den fünf Jahren habe ich 442 Gipfel bestiegen. Alle mit grossem Respekt vor der Natur. Immer wieder beeindruckt von der grandiosen Natur...
Published by 15 October 2017, 11h35 (Photos:21)
St.Gallen

T3

AD

III

31 Oct 16

Ringelspitz
Bergfreund Werni hatte zum 50igsten einen Gutschein für einen Bergführer erhalten. Fast genau 10 Jahre danach löst er ihn ein. Ein Toptag sollte es sein und so wurde es auch. Das Schöne dabei: Ich durfte ihn auch begleiten. So machten wir uns am Sonntag auf zum Kunkelspass, wo das Auto parkiert wurde ( Bewilligung in den...
Published by 2 November 2016, 00h28 (Photos:48)

Ringelspitz, Piz Tschep und Morchopf - gross(artig)e Runde über Trin
Geplant war das als ÖV-Tour. Ich wollte für die Fahrt auf die Alp Mora ein Taxi organisieren. Doch die Angefragten waren demonstrativ desinteressiert an dieser Fuhre. So bin ich halt selber hochgefahren (Fahrbewilligung Fr. 20.-, muss vorab bei der Gemeindeverwaltung bezogen werden). Jetzt weiss ich, warum sie nicht wollten:...
Published by 14 September 2016, 19h50 (Photos:17 | Comments:6)
St.Gallen

T2

III

AD+

6 May 16

Ringelspitz 3247m - Top of SG
Ringelspitz 3247m Abschluss der Skitourensaison. Die Planung über Auffahrt sollte uns eigentlich ins Wallis ziehen. Doch da waren einige bei der Hüttenreservation schneller gewesen. Aber warum auch in die Ferne schweifen, wenn das schöne so nahe liegt! Wir wussten, dass die geschlossene Schneedecke erst nach der Waldgrenze...
Published by 8 May 2016, 19h24 (Photos:32)
Calanda

III

AD-

12 Mar 16

Top of St. Gallen: Ringelspitz 3247m
Von einer besonders lohnenden Skitour kann man beim Ringelspitz wohl nicht sprechen. Das beginnt beim langen Flachstück zwischen Vättis und Kunkelspass. Dieses darf man zum Tourabschluss dann über weite Strecken stöckeln. Anschliessend folgen bis zum Gipfel Süd- und vereinzelt Osthänge, welche wohl nie durchgehend guten...
Published by 17 March 2016, 17h42 (Photos:29)
St.Gallen

T3

AD-

III

29 Aug 15

Top of SG - Ringelspitz
Anregende Hochtour bei besten Bedingungen auf den höchsten Sankt Galler Die Jagd auf die höchsten Kantonshauptgipfel ging weiter. Mit dem Top of Sankt Gallen konnten wir nun den letzten hohen Gipfel abhaken. Klettertechnisch ist der Ringelspitz der wohl schwierigste Kantonshauptpunkt, aber wer den Tourenbericht von Nobis...
Published by 30 August 2015, 22h02 (Photos:43 | Comments:5)
St.Gallen

T4-

AD

III

8 Aug 15

Ringelspitz 3247m via Mittelgrat als Tagestour
Ringelspitz 3247m als Tagestour Aufgrund des eher wagen Wetterberichts war die Tourenplanung nicht einfach. Wir beschlossen als Tourenziel den Ringelspitz als Tagestour anzugehen. Also Bike n Hike. Früh am Morgen machten wir uns auf nach Vättis 1063m, wo wir unser Auto beim letzten Parkplatz parkierten. Anschliessend...
Published by 9 August 2015, 11h35 (Photos:27)