Flims / Flem 1081 m
3546 ft.
---
Locality in

34 hike reports

, 17 photo(s). Last visited :

8 Aug 20


Geo-Tags: CH-GR
Photos (17)
---
By Publication date · Last favs · By Popularity · Last Comment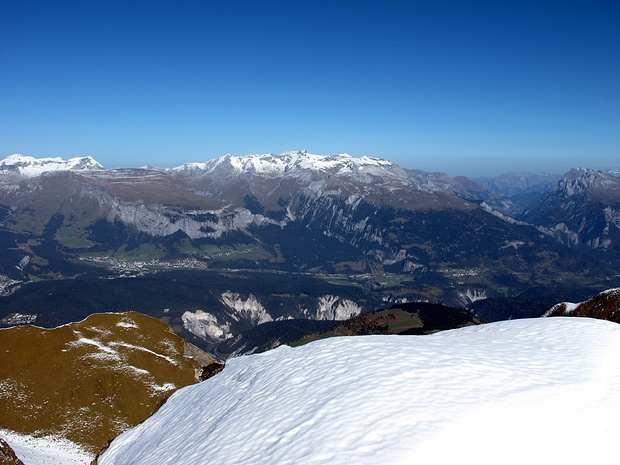 Blick hinüber auf die Sonnenterrasse von Flims An den Felswänden über Flims erkennt man gut die Abrisskannte des Flimser Bergsturz , dem grössten bekannten Bergsturz der Alpen der sich vor ca. 10.000 Jahren ereignete. Die mehreren Milliarden Kubikmeter Fels haben das darunterliegende Rheintal zugeschüttet und sind heute von Wald bedeckt. Der dadurch aufgestaute Vorderrhein musste sich erst wieder einen Weg durch die hunderte Meter dicke Gesteine bahnen - und formte die Rheinschlucht unterhalb von Flims, gut erkennbar an den weissen Kalkwänden. Looking at the rock faces above Flims one can see the break-off edge where large parts of the mountain broke and slided away for about 10.000 years ( Flims Rockslide ), forming the largest known rockslide in the Alps. Several billions of cubic meters slided into and covered the downstream Rhine valley. These parts are hidden by the forest today. The Vorderrhein River was impounded and had to path its new way through layers of several hundreds meters of debris - it formed a gorge which can be identified by the white rock faces. © Schneemann
---
Reports (34)
---

Trutg dil Flem - Flimser Wasserweg
Seit unseren Sommerferien in Laax im Jahre 2015 ist derTrutg dil Flem auf unserer ToDo Liste. Während wir Jungs dazumal den historischen Pinut Klettersteig kraxelten, begab sich meine Partnerin mit ihrer Mutter auf denTrutg dil Flem und brachte supertolle Erinnerungen in Form von Photos zurück ins Ferienhaus am wunderschönen...
Published by 10 August 2020, 18h49 (Photos:39 | Geodata:1)

Piz Dolf von Flims im Sturm
Später Start in die Skisaison mit einer langen, stürmischen Tour bei stahlblauem Himmel über Flims Obwohl in den hohen Bergen schon lange Schnee liegt, fand der Start in die Tourensaison für 3614adrian und mich beide spät statt dieses Jahr - zu wenig Schnee im Norden, und zu wenig Zeit. Nach dem feucht-warmen...
Published by 27 December 2019, 13h15 (Photos:24)

Rheinschlucht, Aussichtsplattform Il Spir
zu Besuch und das erste Mal in Flims, dawar ein Abstecher zur Aussichtsplattform Il Spir fast ein "Muss" Beim PP Caumasee starten wir und folgen dem Wanderweg Richtung Conn. Bei P.1033verlassen wir diesen und folgen dem Weg Richtung Uaul da Crusch. Dieser trifft dann später wieder auf den Wanderweg der zur Aussichtsplattform...
Published by 22 October 2019, 19h51 (Photos:13)

Crap Mats, Morchopf und Piz Tschep - von Trin nach Flims
Auf dem Tschep-Grat war ich in den letzten Jahren schon mehrfach gewesen. Nur mit der Fortsetzung der Tour zum Crap Mats hatte es aus unterschiedlichen Gründen leider nie geklappt. Heute wollte ich es erneut versuchen, allerdings in entgegengesetzter Richtung und dabei zumindest bis zum Crap Mats kommen.   Als...
Published by 17 September 2019, 12h14 (Photos:90 | Comments:6)

Fil de Cassons (2694 m) - bike & hike from Flims
Cassonsgrat/Fil de Cassons is the highest area of Crap da Flem aka Flimserstein. The aerial cablecar to Cassons stopped operating a few years back, so now you either have to hike from Naraus or Bargis to get up there. I started off with the mountain bike around 10:15 AM in Flims, heading up towards Fidaz and then Bargis. At the...
Published by 25 August 2019, 09h21 (Photos:38 | Geodata:1)

Vorab Pign (2897) und Crap Masegn (2516) - Aufstieg ab Siat und hinab über Crap Sogn Gion nach Flims
Tags zuvor auf einer Wanderung über den Fil da Rueun war mir der Vorab Pign aufgefallen, oder besser gesagt sein Südgrat: schmal und geradlinig zum Gipfel führend, dazu bereits vollkommen schneefrei.   Wie ich am Abend dann bei meiner Recherche feststellen musste ist diese Gegend bei hikr aller­dings kaum...
Published by 28 June 2018, 01h16 (Photos:55)

Fil de Cassons
Until 2015, a cable car made the Fil de Cassons accessible to skiers in the Flims-Laax area. There are already big plans for a futuristic replacement cable car. However, in the meantime, the superb south-southwest slopes of the Fil de Cassons are much quieter, making them an interesting goal for a ski tour. Though there is snow...
Published by 4 December 2017, 23h44 (Photos:51 | Comments:2 | Geodata:1)

von Elm nach Flims durch's Martinsloch
Unsere "Durchschreitung" des Martinsloch... Das Martinsloch oberhalb Elm ist ein 22 m hohes und 19 m breites Felsenfenster und liegt auf zirka 2600 m ü.M. im grossen Tschingelhorn. Die Entstehung dieses Lochs ist auf die Glarner Hauptüberschiebung zurückzuführen.   Jeweils zweimal im Jahr, im Frühling (12./13....
Published by 23 July 2017, 16h08 (Photos:31 | Comments:1)

Piz Tschep (2943 m) und Tschepgrat - ausgedehnte Runde von Trin nach Flims
Der Aufstieg zum Piz Tschep und von dort die Runde über den Morchopf zum Crap Mats stand heute erneut auf dem Programm. Bereits im letzten November hatte ich dazu einen ersten Versuch unternommen, den ich wegen des Starkwinds in der Höhe damals auf dem Piz Tschep leider nicht realisieren konnte. Heute also der zweite Versuch,...
Published by 5 October 2016, 11h12 (Photos:50)

Flims - Bargis - Alp Mora - Trin; Mischwetter-Tour knapp an der Schneegrenze
Rundwanderung von Flims über Bargis - Alp Mora - Trin zurück nach Flims Die Wetterprognosen sprechen wieder einmal zu unseren Gunsten, wenn auch nur für ein paar Stündchen...So unternehmen wir die abwechslungsreiche Rundtour wie beschrieben, welche wir in anderen Jahren bereits mit SchneeSchuh und Bike durchgeführt haben....
Published by 19 June 2016, 13h27 (Photos:28)