P.1852m 1852 m
6075 ft.
---
Other in

36 hike reports

, 6 photo(s). Last visited :

18 Nov 18


Geo-Tags: CH-SG
Photos (6)
---
By Publication date · Last favs · By Popularity · Last Comment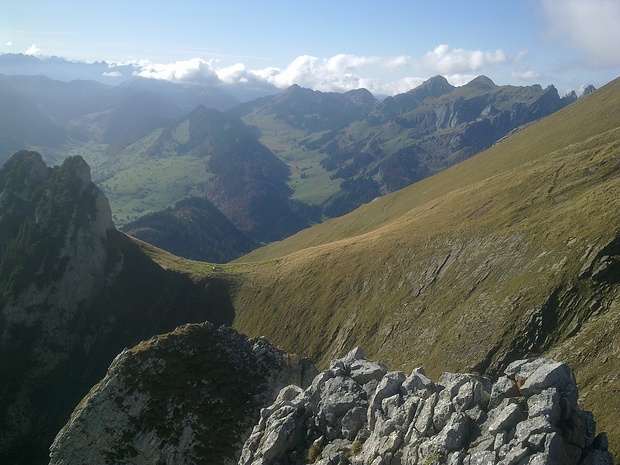 Westlich des Gipfels sehr stark verwitterter Fels. Blick über die Senke (Pt.1852) hinunter auf den Stein und ins Oberlaui (Gräppelensee, im Schatten). Westlicher Alpstein mit Gamschopf (ganz knapp ersichtlich rechts), Schwarzchopf, Stöllen und Lütispitz. © Ychthus
---
Reports (36)
---

Wildhuser Schafberg
Erst bei Gamplüt kriege ich an diesem Tag die Sonne zu Gesicht. Bei der Schäferhütte lege ich dann eine erste Pause ein, um das Nebelmeer zu bewundern. Meinen ursprünglichen Plan, den kecken Zehenspitz zu besteigen, werfe ich im Sattel unter der Schafbergwand über den Haufen. Es pfeift ein eisiger Wind durch die Gegend. Zu...
Published by 8 December 2018, 16h31 (Photos:16 | Comments:1 | Geodata:1)
Wildhuser Schafberg via Ostwandrinne
Kurz entschlossen packten meine Frau und ich unsere Sachen zusammen und gingen am Sonntag Abend mit dem Zelt los. Wir biwakierten bei meinen Eltern auf dem Hügel, den der Bauer hatte frisch "gheued". So war mir klar das ich nicht am frühen morgen auf eine Tour kann. Zudem sollte es nochmals ein sehr warmer Tag werden mit...
Published by 2 July 2018, 22h59 (Photos:21)

Wildhuser Schafberg (2373 m) - zum Sonnenaufgang mit Biwak
Schon wieder langes Wochenende, schon wieder Alpstein, schon wieder mit Zelt. Wildhauser Schafberg, Jöchli und Altmann sollten auf dem Programm stehen, hat dann allerdings nicht ganz so funktioniert. Tag 1: Wildhaus - Gamplüt T2; 20 min: Erst recht spät am Abend treffen wir uns in Wildhaus und machen uns auf in...
Published by 9 June 2018, 15h37 (Photos:38)
Wildhuser Schafberg
Der Wildhuser Schafberg ist einer der sanften im Alpstein, aber trotzdem bietet er einen knackigen Aufstieg und ein herrlicher Ausblick auf Säntis und den Alpstein. Die Tour ab Wildhaus kann mit der Bahn nach Gamplüt noch um einige Höhenmeter gekürzt werden. Ich entschied mich wie immer keine Bahn zu nehmen :) Der Aufstieg...
Published by 4 June 2017, 09h09 (Photos:6)

Wildhuser Schafberg 2373m (ÖV)
Anreise mit Bahn und Bus nach Wildhaus Dorf Aufstieg zum Wildhuser Schafberg via Gamplüt - Schäferhütte (8.30 bis 10:30 Uhr) Abstieg via Wildhuser Schafboden - Flürentobel Rückreise wieder von Wildhaus Dorf (ab 15.00 Uhr) Sehr schöne Tour, im Aufstieg nur teilweise Schnee, im Abstieg im Oberen Wildhuser...
Published by 12 December 2016, 09h20 (Photos:45)
St.Gallen

T3+

PD+

7 Dec 16

Rundwanderung zum Wildhuser Schafberg (2373m) mit Ostwandrinne
Der Wildhuser Schafberg (oder Wildhuser Schofberg) lässt sich aufgrund seines südexponierten Normalaufstiegs relativ spät / früh im Jahr besteigen und ist quasi prädestiniert für die Übergangszeit. Dank des schneearmen Dezembers konnten wir sogar den als Alpinwanderweg markierten Aufstieg via Wildhuser Schafboden einplanen...
Published by 23 December 2016, 19h10 (Photos:64 | Comments:2)
Wildhuser Schafberg (2373m)
Der Wildhüter Schafberg wurde hier schon öfters beschrieben und ich beschränke mich auf die Sonderheiten meiner Tour. Wir sind mit der ersten Gondel um 08:30 zum Gamplüt hochgefahren und um etwa 09:00 losgelaufen. Der Aufstieg über die Schäferhütte ist durchgängig steil und die erste Verschnaufpause gibt es erst beim...
Published by 5 August 2016, 22h22 (Photos:17)

Schafberg (2373 m) über Schafboden, Wildhaus, Toggenburg
Der Schofberg ist ein 2373 m hoher Berg mit einem langen grünen Grasrücken und ist vom Rheintal her am Anfang vom Toggenburg in Wildhaus. Ich habe mir den schwierigeren blau markierten Weg über das Flürentobel und den Schofboden ausgesucht. Es war ein herrlicher sonniger Tag im Sommer 2016, dass ich Heute auf diesem Weg auf...
Published by 3 December 2016, 17h29 (Photos:58 | Geodata:1)

Wildhuser Schafberg (2373 m) via south ridge
I started this hike in Wildhaus, and went up to the summit of Wildhuser Schafberg via the south ridge. From Schäferhütte (1552 m) I followed the ridge on the left side, and not the marked trail. There are some rather steep grassy sections, which were now even more difficult due to sheep poop... I would say it's better to follow...
Published by 24 June 2016, 08h43 (Photos:29 | Geodata:1)

mal wieder auf den Wildhuser Schafberg (2373 m)
marmotta und zaza hatten mir mit ihren aktuellen Berichten den Wildhuser Schafberg wieder in Erinnerung gerufen: ein idealer Berg für die derzeit herrschenden Bedingungen.   Start wie üblich im Zentrum von Wildhaus und dann nicht wie viele andere dies tun, von der Talstation der Seilbahn aufwärts, sondern über den...
Published by 1 January 2016, 14h05 (Photos:31)