Naz 1747 m
5730 ft.
---
Locality in

52 hike reports

, 2 photo(s). Last visited :

21 Sep 19


Geo-Tags: CH-GR
Photos (2)
---
By Publication date · Last favs · By Popularity · Last Comment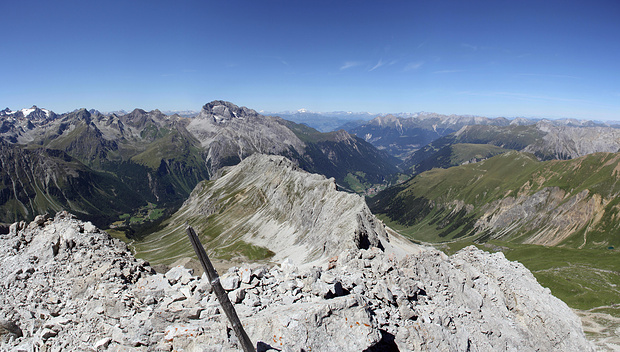 Der Ausblick vom Gipfelstock des Piz Zavretta ist schon ziemlich imposant und später wird es noch besser... © 360
---
Reports (52)
---
Piz Bleis Marscha 3128 m - Bei toller Fernsicht
Der Piz Bleis Marscha ist längst einer unserer Lieblingsberge geworden. Was kann man sich schöneres vorstellen, als einen abwechslungsreichen Aufstieg beginnend in einem herrlich duftenden Arvenwald und anschliessend einer gemütlichen Fortsetzung durch ein malerisches Tal hinauf zu einem herrlich gelegenen, tiefblauen Bergsee...
Published by 21 September 2019, 21h38 (Photos:32)
Albulatal

T5

II

25 Jul 19

Piz da Peder Bucs (3001 m) - hike from Naz
Piz da Peder Bucs (3001 m) is a mountain peak between Piz Salteras and Piz Bleis Marscha. So far it had only one hikr report, and I think it's rarely visited. It is also fairly difficult to get up there. Start of the hike shortly before 8 AM near the vacation home village of Naz. I followed the wrw marked trail up through Val...
Published by 26 July 2019, 07h27 (Photos:49 | Geodata:1)
Murtels da Fallò 2558 m - Ein Hauch von Frühling
Die Murtels da Fallò ist ein schönes Gipfelplateau, hoch über dem einsamen Val Tschitta in den Albulaalpen. Dank ihrer nach Süden ausgerichteten Hänge ist sie verhältnismässig früh im Jahr von Naz aus erreichbar. Früh heisst in diesem Jahr: Mitte Juni, denn es herrschen zur Zeit etwa Verhältnisse vor, wie sie hier...
Published by 8 June 2019, 19h30 (Photos:32)
Albulatal

F

AD+

23 Feb 19

Piz Bial (3061m)
Start in Naz. Nach ca. 200m rechts über die Brücke und entlang des Wanderweges bis zu P1955. Von hier nach Süden zur Alp Mulix. Die felsabbrücher der Sur la Crappa rechts liegen lassen und unter das Nordcouloir queren, welches an P.2907 endet. Das Couloir ist bis 40 Grad steil. Vom Couloir zunächst leicht abfallend über den...
Published by 23 February 2019, 17h42 (Photos:10)

Val Tschitta
Einleitung: Der Plan von uns war das Wochenende im Engadin zu verbringen. Deshalb wollten wir früh losfahren und fanden in der Route Tschimas da Tschitta 2745 m - Die Gratüberschreitung vor dem Piz Ela zum Zweiten von Ivo 66 die perfekte Wanderung. Nicht ganz sicher waren wir, ob meine Frau diese Wanderung wirklich packen...
Published by 7 November 2018, 19h25 (Photos:9)
Piz Bleis Marscha 3128 m - Ein Traumtag auf dem wilden Trümmerberg
Ein traumhafter Berg ist er, der Piz Bleis Marscha. Er liegt in den Albulaalpen auf dem Grenzkamm zwischen dem Albulatal und dem Oberhalbstein. Landschaftlich ist diese Gegend an Schönheiten ohnehin nicht zu überbieten. Fernab von Bergrestaurants und Bahnen kann man hier eintauchen in eine heile Bergwelt und wird den Gipfel in...
Published by 1 October 2018, 09h30 (Photos:32)
Tschimas da Tschitta 2745 m - Die Gratüberschreitung vor dem Piz Ela zum Zweiten
Die Tschimas da Tschitta sind eine unberührte Bergkette, welche das Val Tschitta nördlich begrenzt und etwas dem Piz Ela und seinen Gratausläufern vorgelagert ist. Begangen wird die anspruchsvolle Gratüberschreitung äusserst selten. Die Verhältnisse heute waren besonders in den schiefrigen Passagen nicht ganz...
Published by 3 June 2018, 20h53 (Photos:40 | Comments:2)

Piz Bleis Marscha und Piz Bial
Einsame Skitour über drei 3000er im Val Mulix - der Winter neigt sich dem Ende zu Mittlerweile gibt es für mich unter den Bündner 3000ern nicht mehr allzu viele tief hängende Früchte. Zwischen Julier und Albulapass konnte ich aber die selten bestiegenen Gipfel des Piz Bial und Piz d'Alp Val noch nie besuchen. Nachdem ich...
Published by 6 May 2018, 16h53 (Photos:17)

Haute Route Graubünden nonstop
Die Strecke Ich habe lange überlegt, ob es zulässig ist, diesen Bericht wirklich mit "Haute Route Graubünden" zu betiteln. Denn ganz auf der Originaldistanz war ich ja nicht unterwegs. Aber ohne folgende Anpassungen hätte ich die 5-Tagestour nicht an einem Tag durchziehen können: Gestartet bin ich nicht auf dem...
Published by 23 April 2018, 18h39 (Photos:5 | Comments:3 | Geodata:1)
Piz Bleis Marscha 3128 m - Doch noch in diesem Jahr!
Seit wir im Jahre 2013 auf dem Piz Bleis Marscha ein Gipfelbuch deponiert haben, gehört er zum festen Tourenplan - einmal im Jahr sollten wir diesen tollen Gipfel schon besteigen und bisher hat es immer geklappt. In diesem Jahr war die Hoffnung schon fast verloren - lange machte der seit anfangs September gefallene Schnee keine...
Published by 22 October 2017, 09h49 (Photos:32)