Bergün / Bravuogn 1367 m
4484 ft.
---
Locality in

47 hike reports

, 10 photo(s). Last visited :

27 Sep 19


Geo-Tags: CH-GR
Photos (10)
---
By Publication date · Last favs · By Popularity · Last Comment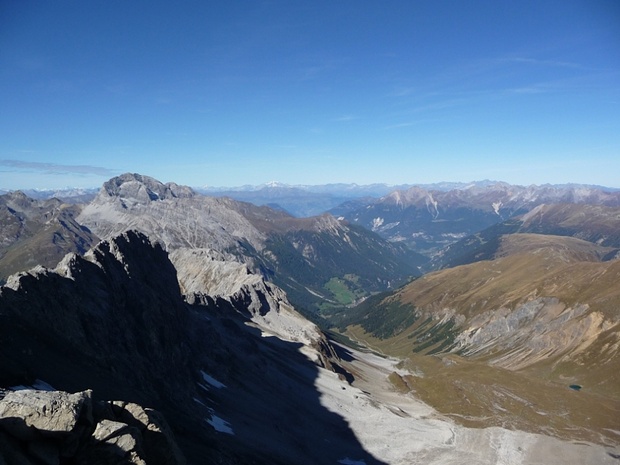 Blick vom Piz Alvra zum Piz Ela. Im Vordergrund der schattenwerfende Piz Zavretta. Rechts die Val Tisch, die nach Bergün hinunterzieht. © engadiner
---
Reports (47)
---

Herbst Rot über Monstein
Davos Monstein - Bodmen - Büelenhorn - Fil da Stugl - Stulsergart - Muchetta - Curtins - Runsolas - Stugl - Bergün - Bravuogn Digitale Schweizerkarte Wie das Postauto in Monstein wendet ist spektakulär. Die Hinterachse steht ein Meter vom Abgrund, die letzten vier Sitzreihen hängen so in der Luft... Kein Problem auch heute...
Published by 29 September 2019, 03h17 (Photos:6 | Geodata:1)

Kesch-Trek: Cna d'Es-cha CAS bis Bergün
Wegen der vielen Leute am Wochenende und der fehlenden Fenster aufgrund des Umbaus ist die Nacht in der obersten Etage des Massenschlags nicht gerade erholsam. Wir kommen deshalb schon etwas früher aus den Federn und geniessen die Morgenstimmung vor der Hütte. Nach dem Frühstück wandern wir zum Albulapass und gönnen uns im...
Published by 8 September 2019, 20h08 (Photos:16 | Geodata:1)

Piz Forun (3051 m) - bike & hike from Bergün
Piz Forun (3051 m) is a mountain peak NW of the Kesch hut. The peak is not visited very often. The summit book is already 33 years old, but it still has one third of the space available! This tour was a bike & hike, and I started off with my mountain bike in Bergün. After 1 hour 15 min I reached Chants where I parked my...
Published by 3 August 2019, 22h26 (Photos:33 | Geodata:1)

Kesch-Trek (3/3) Kesch-Hütte 2627m - Höhenweg via Alp Muotta Sur - Alp Darlux - Bergün
Kesch-3-Day-Trekmit Übernachtung in der Cna da Grialetsch nach der Etappe 1 und in der Kesch-Hütte nach der Etappe 2; Ende der 3. Etappe in Bergün / Tag 3: von der Kesch-Hütte nach Bergün Unsere letzte Etappe steht an: wir wählen den Höhenweg ab Alp digl Chants via Alp Muotta Sur nach Bergün und je nach Ankunftszeit...
Published by 3 October 2018, 20h42 (Photos:23)

Keschhütte
La Keschhütte, que je n'avais pas encore visitée dans ce massif, est assez facilement accessible. Pour rendre une randonnée de 2 jours un peu plus attrayante, j'ai proposé de rejoindre Bergün en faisant un détour. Ce fut une excellente idée ! PREMIER JOUR ↑800m - ↓200m - 4h - 12km Après 30 minutes de bus le long...
Published by 4 October 2018, 16h23 (Photos:30 | Geodata:2)
Albulatal

AD-

II

16 Aug 18

Piz Ela 3339 m - Alleingang über die Mittelrippe
Der Piz Ela ist der höchste und schwierigste Gipfel der Bergüner Stöcke. Von vielen Gipfeln aus hatte ich schon hinübergeschaut, ein Jahr zuvor vom Tinzenhorn und erst ein paar Tage vorher vom Piz Üertsch. Es stand absolut fest, dass ich dort einmal hinaufmusste. Die wesentliche Frage war nur, ob ich einen Bergführer...
Published by 19 August 2018, 23h36 (Photos:61 | Comments:6)
Albula II, Preda bis Filisur
Es folgt der zweite Teil der Albula. Ich beginne meine Wanderung beim Bahnhof in Preda. Es geht vorerst abwärts zum Fluss, den ich bei Naz erreiche. Weil es von Naz aus keinen direkten Weg dem Fluss entlang geht, gehe ich gezwungenermassen auf der Strasse nach unten. Nach etwa 500 Metern geht ein Fussweg weg in Richtung Punt...
Published by 16 September 2017, 09h42 (Photos:64)
Albulatal

AD

IV

22 Aug 17

Bergüner Stöcke
dem Schaftobelbach entlang und über den Bot digl Uors in die Ela-Hütte: das ist ein abwechslungsreicher und schöner hüttenzustieg. anfangs Schaftobel allerdings findet man eine tafel dass angeblich der weg aus Sicherheitsgründen gesperrt sei. also gesperrt war überhaupt nichts. wir konnten gut durchgehen. die erste...
Published by 3 September 2017, 21h47 (Photos:51)
Auf wilden Pfaden in die Mulde Tranter Ela
Tranter Ela ist eine riesige Mulde, ähnlich einem halboffenen Vulkankrater, am Fusse des Piz Ela.Dieser landschaftlich traumhaft gelegene Kessel, welcher von Dolomitfelsen umgeben ist, kann auf einem spektakulären Anstieg über wilde Pfade von Bergün aus mit etwas Trittsicherheit erreicht werden. Es ist kaum für möglich zu...
Published by 11 June 2017, 18h26 (Photos:24)
Oberhalbstein

T4

I

16 Oct 16

Von Bergün via Pizza Grossa 2939müM nach Preda
Da wir eine Woche Herbstferien vor uns haben aber die Wetteraussichten für die kommende Woche eher trüb sind, am Sonntag aber perfektes Wanderwetter angesagt wurde nutzen wie diese Gelegenheit beim Schopf. Nach einer stressfreien Fahrt am frühen Sonntagmorgen sind wir, Bruno, Fly und ichkurz nach sieben Uhr im Bergün bei...
Published by 17 October 2016, 15h32 (Photos:50 | Comments:6)