Unter Erbs / Unter Büel 1261 m
4136 ft.
---
Other in

45 hike reports

, 3 photo(s). Last visited :

28 Mar 19


Geo-Tags: CH-GL
Photos (3)
---
By Publication date · Last favs · By Popularity · Last Comment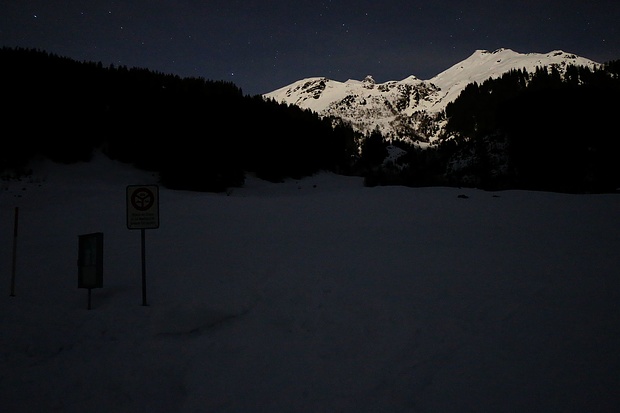 Beim P.1261m in Untererbs beginnt der eigentliche Aufstieg mit Schneeschihen. Bis hierher eintönig musste ich 4,4km auf einer Strasse von Elm Station laufen. © Sputnik
---
Reports (45)
---

Chli Chärpf
Aufstieg und Abfahrt auf Normalroute via Obererbs - Rotstock - Chärpfscharte Die Skis können gleich beim Parkplatz angezogen werden. Generell ist noch viel Schnee vorhanden. Beste Frühlings-Skitourenbedingungen. Tolle Abfahrt in schönstem Sulz.
Published by 29 March 2019, 09h09 (Photos:11)

Viel Schnee, viel Volk - Chli Chärpf (2699 m)
Nachdem ich in diesem Winter schon einige Male auf dem Schilt oder dem Schwarzstöckli war, sollte es heute einmal etwas anderes sein. Mein intellektueller Höhenflug führte mich zum Kärpf - und geschätzte Tausend andere Tourengänger hatten die gleiche Idee. Etwa um neun Uhr bin ich in Untererbs gestartet....
Published by 14 February 2019, 10h36 (Photos:5 | Comments:4)

Chli Chärpf 2700m
Chli Chärpf 2700m - auch heute wieder top! Zugegeben, meine Erwartungen für die heutige Tour waren tief, zumal der Chli Chärpf vergangene Woche wohl von Hunderten von Skienthusiasisten besucht wurde. Die gemessenen Neuschneemengen der letzten beiden Tage liessen ebenfalls nicht gerade grosse Hoffnung auf unverspurte Hänge...
Published by 18 December 2018, 18h07 (Photos:15 | Geodata:1)

Gross Chärpf (2793 m) - zweiter Versuch
Am 03.07.2018 bin ich am Kärpf in Nebel und Regen stecken geblieben. Beim nächsten Versuch hat es, mit einigen "Umwegen" und Verhauern, doch noch geklappt. Wie beim letzten Mal bin ich mit dem Bike in Untererbs gestartet und bis zur Skihütte hochgefahren. Ab dort alles den blau-weissen Markierungen nach Richtung...
Published by 29 July 2018, 15h15 (Photos:6 | Comments:2)

Berglauf aufs Chalchstöckli 2504m
Das Kärpf-Gebiet kenne ich mittlerweile fast in- und auswendig. Noch nie begangen bin ich jedoch die Ostseite vom Richetlipass. Grund genug, an meinem letzten Ferientag im Rahmen eines Berglaufs auf dem Erbser Stock und dem Chalchstöckli vorbeizuschauen. Erst um halb eins laufe ich von Unter Erbs (1261m) los. Für einen...
Published by 17 July 2018, 11h45 (Photos:19 | Comments:1 | Geodata:1)

Statt Kärpf Nebel und Gewitter
Gemäss Prognose soll das Wetter trotz labiler Luftmassen bis in den späten Nachmittag halten. So mache ich mich auf, wieder einmal den Kärpf (P. 2792) zu besteigen. Wie schon öfter fahre ich mit dem Bike ab P. 1261 / Unter Erbs bis zur Skihütte Ober Erbs. Ab hier folge ich heute für einmal konsequent dem blau-weiss...
Published by 5 July 2018, 09h08 (Photos:7)

Foto-Start - Skitour Chli Kärpf (2700 m)
Schon in Näfels zeigte das Thermometer am Morgen sehr frostige Werte. Und beim Start der Tour in Unter Erbs dürften es gegen -20° gewesen sein. Doch Wichlen ist ein Kälteloch, sobald man bei Ober Erbs an die Sonne kommt, wird es richtig kuschelig. Obwohl der (Chli-)Kärpf mit über 1400 Hm eine ernstzunehmende Tour ist,...
Published by 13 February 2018, 17h29 (Photos:8 | Comments:1)

Chli Chärpf, descent via Bischofalp
After last week's rain and mild temperatures, it was clear that we would need to go fairly high to find decent snow. Our choice fell on Chli Chärpf. Since we were thinking of taking on of the alternative decent routes (Filetsch or Bisschofalp) we park the car at the layby slightly below P. 1261 (Büelhütte), rather than on the...
Published by 28 January 2018, 16h28 (Photos:54 | Comments:2)

Chli Chärpf (ÖV)
Anreise Mit ÖV nach Elm Steinibach (an 8.07 Uhr) Rückreise Ab Elm Sportbahnen (ab 14.55 Uhr) Aufstieg (8.10 - 11.05 Uhr) und Abfahrt über Normalroute, Ski tragen von Elm Steinibach bis Pt 1261, ab Alp Obererbs erstaunlich viel Schnee vorhanden, Bedingungen wie im Frühling
Published by 23 November 2017, 08h26 (Photos:15)

Skitour oder Wanderung - am besten beides!
Nur ein Bericht über die derzeit ausgezeichneten Verhältnisse. Die jeweiligen Routen sind ja schon vielfach beschrieben worden. Gestern bin ich per Bike & Hike aufs Hirzli;per Bike bis ins Morgenholz, dann zu Fuss. Ausgezeichnete Verhältnisse, ab der Ahornhütte teilweise Schnee im Weg, aber überall gute Spuren. HD...
Published by 16 March 2017, 15h58 (Photos:13)