Chärpfscharte 2649 m
8689 ft.
---
Pass in

58 hike reports

, 44 photo(s). Last visited :

23 Jan 20


Geo-Tags: Chärpfgruppe, CH-GL
Photos (44)
---
By Publication date · Last favs · By Popularity · Last Comment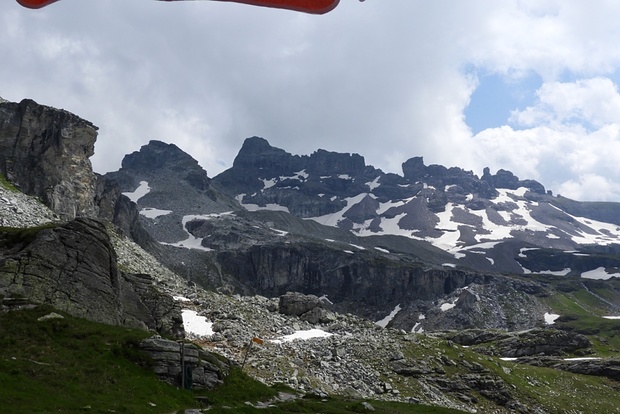 Auf der Terrassse der Leglerhütte. Der Abstieg vom Chli Chärpf wäre so einfach und schnell gewesen ohne dieses Intermezzo mit Skip, dass uns sicher eine Stunde in Anspruch nahm © Flylu
---
Reports (58)
---

Kleiner Kärpf (ÖV)
Anreise mit Bus nach Elm Steinibach Aufstieg Auf der Strasse ein paar Minuten Ski tragen bis ca. 1230 müM Danach auf der normalen Skitourenroute via Obererbs zum Gipfel Abfahrt via Bischofalp - Bischofbach Genügend Schnee vorhanden, Aufstiegsspur teilweise eisig, alle möglichen Schneearten angetroffen
Published by 24 January 2020, 08h33 (Photos:12)

Chärpf 2794 m und Chli Chärpf 2700 m
Lange habe ich mit mir gerungen, wie ich an diesem Wochenende eine sinnvolle Kurztour (= 2 Tage) hinbekommen würde. Meine Wahl fiel auf den Chärpf, der von uns aus noch halbwegs schnell erreichbar ist und der eben in der Kategorie, nicht so leicht, aber auch nicht wirklich schwer liegt. Um den Aufstieg etwas aufzupeppen,...
Published by 24 July 2019, 14h29 (Photos:77 | Comments:1)

Chli Chärpf mit ungewollter Route als Abstieg zur Leglerhütte
Der Chli Chärpf ist auch einer der Berge die ich vor 13 Jahren mit meinem Wanderfreund Sepp besteigen wollte und ich mich damals wieder einmal nicht zutraute. Zu dieser Zeit hatte es allerdings noch keine Ketten oder Eisenbügel wie heute. Den Aufstieg machten wir damals von Ober Erbs her, der mir damals allerdings nicht so...
Published by 21 July 2019, 12h50 (Photos:41 | Comments:4)

Zuviele Stögge verderben den Chärpf
Überschreitung der Gipfel vom Gandstogg bis zum Chli Chärpf. Eine wunderbare Überschreitung: Beste Aussichten, alpine Einsamkeit, geheimnisvolle Einblicke in die Glarner Bergwelt, jede Menge Wild, grosszügige alpine Rasen, ein paar knifflige Gipfelanstiege. Gandstogg über die Gandfurggele (T3): Start nach dem...
Published by 24 August 2019, 09h46 (Photos:16 | Comments:1)

Chli Chärpf
Aufstieg und Abfahrt auf Normalroute via Obererbs - Rotstock - Chärpfscharte Die Skis können gleich beim Parkplatz angezogen werden. Generell ist noch viel Schnee vorhanden. Beste Frühlings-Skitourenbedingungen. Tolle Abfahrt in schönstem Sulz.
Published by 29 March 2019, 09h09 (Photos:11)

Chli Chärpf 2700m
Chli Chärpf 2700m - auch heute wieder top! Zugegeben, meine Erwartungen für die heutige Tour waren tief, zumal der Chli Chärpf vergangene Woche wohl von Hunderten von Skienthusiasisten besucht wurde. Die gemessenen Neuschneemengen der letzten beiden Tage liessen ebenfalls nicht gerade grosse Hoffnung auf unverspurte Hänge...
Published by 18 December 2018, 18h07 (Photos:15 | Geodata:1)

Kärpf Rundtour
Die Kärpf-Rundtour ist bei guten Verhältnissen eine super Tour mit viel Abfahrtsmeter. Dennoch müssen trotz anfänglicher Liftunterstützung die gut 1100hm in Angriff genommen werden. Die SAC Legglerhütte in knapp der Hälfte der Tour, ist eine gern genommene Pause, speziell bei dieser Hitze. Natürlich waren heute viele...
Published by 25 March 2018, 20h09 (Photos:28 | Geodata:1)

Foto-Start - Skitour Chli Kärpf (2700 m)
Schon in Näfels zeigte das Thermometer am Morgen sehr frostige Werte. Und beim Start der Tour in Unter Erbs dürften es gegen -20° gewesen sein. Doch Wichlen ist ein Kälteloch, sobald man bei Ober Erbs an die Sonne kommt, wird es richtig kuschelig. Obwohl der (Chli-)Kärpf mit über 1400 Hm eine ernstzunehmende Tour ist,...
Published by 13 February 2018, 17h29 (Photos:8 | Comments:1)

Chli Chärpf, descent via Bischofalp
After last week's rain and mild temperatures, it was clear that we would need to go fairly high to find decent snow. Our choice fell on Chli Chärpf. Since we were thinking of taking on of the alternative decent routes (Filetsch or Bisschofalp) we park the car at the layby slightly below P. 1261 (Büelhütte), rather than on the...
Published by 28 January 2018, 16h28 (Photos:54 | Comments:2)

Chli Chärpf (ÖV)
Anreise Mit ÖV nach Elm Steinibach (an 8.07 Uhr) Rückreise Ab Elm Sportbahnen (ab 14.55 Uhr) Aufstieg (8.10 - 11.05 Uhr) und Abfahrt über Normalroute, Ski tragen von Elm Steinibach bis Pt 1261, ab Alp Obererbs erstaunlich viel Schnee vorhanden, Bedingungen wie im Frühling
Published by 23 November 2017, 08h26 (Photos:15)