Fil de Cassons - Bergstation 2637 m
8649 ft.
---
Other in

46 hike reports

, 14 photo(s). Last visited :

27 Sep 19


Geo-Tags: CH-GR
Photos (14)
---
By Publication date · Last favs · By Popularity · Last Comment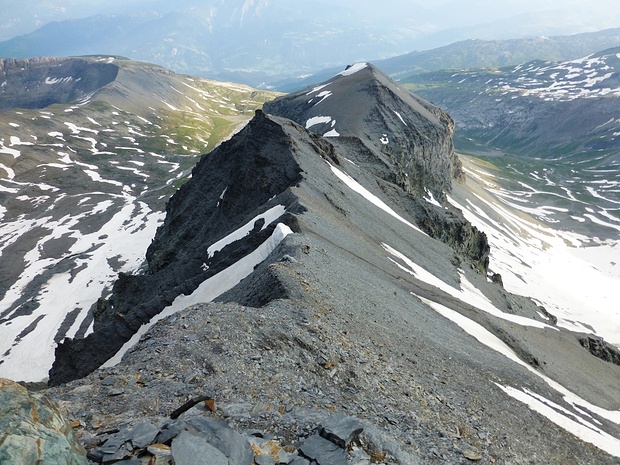 Hinunter geht es kurz über den Südgrat, dann auf der hier deutlich sichtbaren Wegspur nach rechts in die Flanke. © Schlomsch
---
Reports (46)
---

Klettersteig Pinut bei Flims-Fidaz dann via Fuorcla Raschaglius zurück nach Fidaz
Nach dem ich vor drei Monaten meinen ersten Klettersteig den Diavolo mit Susanne gemeistert habe, wollte ich heute einen weiteren versuchen und danach eine Wanderung unternehmen. Bruno die Hunde und ich sind nach Fidaz gefahren und wollten beim Parkplatz, der in der Nähe des Aufstiegs zum Klettersteig liegt, parkieren. Mein...
Published by 28 September 2019, 13h10 (Photos:48)

Fil de Cassons (2694 m) - bike & hike from Flims
Cassonsgrat/Fil de Cassons is the highest area of Crap da Flem aka Flimserstein. The aerial cablecar to Cassons stopped operating a few years back, so now you either have to hike from Naraus or Bargis to get up there. I started off with the mountain bike around 10:15 AM in Flims, heading up towards Fidaz and then Bargis. At the...
Published by 25 August 2019, 09h21 (Photos:38 | Geodata:1)

Cassonsgrat - Segnesboden - Rheinschlucht
Ein wunderbarer Tag in den Bündner Bergen: Die heutige Wanderung bietet landschaftlich imposante und abwechslungsreiche Eindrücke, fordert einiges an Kondition, ist aber dafür technisch gesehen eher leicht. Ursprünglich will ich an diesem wunderbaren Oktober-Tag eigentlich von Elm über den Segnespass nach Flims wandern. Da...
Published by 15 October 2018, 14h21 (Photos:20)

Pinut - Flimserstein (2694) - Am Südrand des UNESCO-Welterbes
Das eigentliche Ziel der heutigen Wanderung war das südliche Ende des UNESCO-Weltnaturerbes "Tektonikarena Sardona". Da dieses wenige hundert Meter vom Ausstieg des Pinut-Klettersteiges (siehe hier oder hier) entfernt liegt, war die Aufstiegsroute gesetzt. Mit Bahn und Bus via Flims nach Fidaz-Pinut. Anscheinend reisen nicht...
Published by 9 June 2017, 08h42 (Photos:24)
Surselva

T4-

WT4

1 Jan 17

Fil de Cassons 2694m, Überschreitung
Überschreitung des Fil de Cassons ab Flims - Cassons Grat - Bargis - Flims Der heutige Tag reizt, früh aus den Federn zu kommen und einen unvergesslichen Start ins 2017 zu erleben. Mit Grödel, Schneeschuhen und Pickel ausgerüstet starten wir bei Dunkelheit in Flims Dorf und steigen unter den Sesselbahnen Flims-Foppa-Naraus...
Published by 2 January 2017, 21h17 (Photos:35)

bei Nebel über den Flimserstein...
Unter der stillgelegten "Cassons-Seilbahn" auf den Fil de Cassons Seit die historische Seilbahn Naraus-Cassonsgrat nicht mehr im Betrieb ist (stillgelegt am 25.10.15) ist es legitim unter einer Seilbahn hoch auf die Alp aufzusteigen. Da es einige Jahre her ist, wo wir das letzte Mal über den Flimserstein gewandert sind, war es...
Published by 23 October 2016, 14h13 (Photos:17)

Fil de Cassons
C'est en faisant mes courses la veille au soir qu'il me vient l'idée de rompre plus de 2 mois sans randonnée, la faute à un bras dans le plâtre m'ayant handicapé tout l'été : dans les rayons, viande séchée et gâteau aux noix me font regarder la météo et me convainquent de prendre la direction de la Surselva...
Published by 22 October 2016, 18h31 (Photos:24 | Comments:1)

Rundtour zum Cassonsgrat (il Fil 2694 m) ab/bis Flims an einem Traumtag im November
Bei meiner Tour zum Piz Tschep zwei Monate zuvor hatte der gegenüberliegende mächtige Flimserstein mit seinen jähen Abstürzen bereits mein Interesse geweckt. Dass es noch in derselben Saison möglich sein würde, ihn näher zu erkunden, damit hatte ich eigentlich nicht mehr gerechnet. Dass zur Zeit so gut wie sämtliche...
Published by 11 November 2015, 10h34 (Photos:75)

Gross Schiben
Die Gross Schiben wird vom nahen und höheren Piz Sardona überragt, der auch noch die 3000er Marke knackt und darum deutlich bekannter ist. Doch weil die Gross Schiben der höchste Punkt des herrlichen Weisstannentals ist, gehört sie dennoch zu den begehrenswerten Zielen, besonders für die Einheimischen. Nun hatte ja Kollege...
Published by 5 July 2015, 20h19 (Photos:16)
St.Gallen

T5+

PD

II

30 Jun 15

Dolf, hesch e Schibe?
Zuallererst: Eine Schibe - genauer: die Gross Schiben - hatte ich schlussendlich nicht (im Sack); Umkehr in der Mitte des E-Grates. Als Wegpunkt ist sie dennoch aufgeführt, da ich doch interessante Einblicke gewann. Eine Tour, die eintägig wohl nur Ende Juni (Anfang des Betriebs der Cassonsgrat-Bahn) bis Mitte Juli (dh...
Published by 1 July 2015, 21h33 (Photos:18)