Fuorcla Raschaglius 2551 m
8367 ft.
---
Pass in

38 hike reports

, 31 photo(s). Last visited :

27 Sep 19


Geo-Tags: CH-GR
Photos (31)
---
By Publication date · Last favs · By Popularity · Last Comment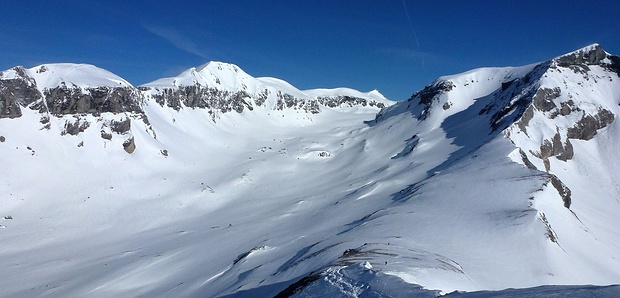 Hier gut ersichtlich die Ebene von Segnas Sura und weiter oben der Segnas-Gletscher / Glatschiu dil Segnas © Bombo
---
Reports (38)
---

Klettersteig Pinut bei Flims-Fidaz dann via Fuorcla Raschaglius zurück nach Fidaz
Nach dem ich vor drei Monaten meinen ersten Klettersteig den Diavolo mit Susanne gemeistert habe, wollte ich heute einen weiteren versuchen und danach eine Wanderung unternehmen. Bruno die Hunde und ich sind nach Fidaz gefahren und wollten beim Parkplatz, der in der Nähe des Aufstiegs zum Klettersteig liegt, parkieren. Mein...
Published by 28 September 2019, 13h10 (Photos:48)

Cassonsgrat - Segnesboden - Rheinschlucht
Ein wunderbarer Tag in den Bündner Bergen: Die heutige Wanderung bietet landschaftlich imposante und abwechslungsreiche Eindrücke, fordert einiges an Kondition, ist aber dafür technisch gesehen eher leicht. Ursprünglich will ich an diesem wunderbaren Oktober-Tag eigentlich von Elm über den Segnespass nach Flims wandern. Da...
Published by 15 October 2018, 14h21 (Photos:20)

Fil de Cassons
Until 2015, a cable car made the Fil de Cassons accessible to skiers in the Flims-Laax area. There are already big plans for a futuristic replacement cable car. However, in the meantime, the superb south-southwest slopes of the Fil de Cassons are much quieter, making them an interesting goal for a ski tour. Though there is snow...
Published by 4 December 2017, 23h44 (Photos:51 | Comments:2 | Geodata:1)

Trinserhorn/Piz Dolf 3028, Überschreitung
Lange Rundtour im UNESCO Welterbe Sardonagebiet... Die diversen Berggipfel im Sardonagebiet sind bei uns seit Jahren auf der "to do" Liste. Endlich ist's soweit: heute "erkämpfen" wir und das Trinserhorn in einem Tag. Seit die LSB Cassons den Betrieb eingestellt hat müssen wir mit einem längeren Anmarsch-, bwz. Aufstiegsweg...
Published by 25 June 2017, 20h42 (Photos:56 | Comments:1)

Durch die Tektonik-Arena - von Elm nach Weisstannen
Die Luftseilbahn Elm - Tschinglen-Alp bringt uns schnell hoch zur Bergstation. Es ist angenehm frisch, als wir im 7 Uhr im Schatten losmarschieren. Wir gehen es locker an, wir haben jede Menge Zeit und wollen den Aufstieg geniessen. Nicht verwunderlich also, dass wir von ein paar jungen Berggängern und schnellen Bergläufern...
Published by 29 August 2016, 22h32 (Photos:69 | Comments:5 | Geodata:2)

Martinsloch, Piz Dolf, Piz Sardona und Piz Segnas
Wunderbare Rundtour von Elm durchs Martinsloch zur Fuorcla Raschaglius, Überschreitung des Piz Dolf zum Sardonapass, via Kantonsgrenze zu Piz Sardona und Piz Segnas und über den Segnespass zurück nach Elm. Das Martinsloch habe ich schon zwei Mal besucht, jeweils im Auf- und Abstieg von der Bündner Seite. Den Segnespass habe...
Published by 1 May 2016, 14h46 (Photos:48 | Comments:4)

Piz Sardona & Piz Segnas - (von Elm nach Elm, Tag 1)
Meine Unfähigkeit den (schnellsten) Weg zu nehmen, macht sich auch dieses Mal wieder bezahlt. Aus (un)bekannten Gründen verpasse ich den direkten Weg ab Elm Richtung Nideren zum Segnaspassund gehe stattdessen über Gschwänd und Firstboden nach Nideren. Die zusätzlichen 300 Höhenmeter die ich durch diesen Umweg gemacht...
Published by 30 October 2015, 23h55 (Photos:37)

Gross Schiben
Die Gross Schiben wird vom nahen und höheren Piz Sardona überragt, der auch noch die 3000er Marke knackt und darum deutlich bekannter ist. Doch weil die Gross Schiben der höchste Punkt des herrlichen Weisstannentals ist, gehört sie dennoch zu den begehrenswerten Zielen, besonders für die Einheimischen. Nun hatte ja Kollege...
Published by 5 July 2015, 20h19 (Photos:16)
St.Gallen

T5+

PD

II

30 Jun 15

Dolf, hesch e Schibe?
Zuallererst: Eine Schibe - genauer: die Gross Schiben - hatte ich schlussendlich nicht (im Sack); Umkehr in der Mitte des E-Grates. Als Wegpunkt ist sie dennoch aufgeführt, da ich doch interessante Einblicke gewann. Eine Tour, die eintägig wohl nur Ende Juni (Anfang des Betriebs der Cassonsgrat-Bahn) bis Mitte Juli (dh...
Published by 1 July 2015, 21h33 (Photos:18)

Piz Segnas & Piz Sardona
Skitour Piz Segnas 3099m und Piz Sardona 3056m Eigentlich wäre eine andere Tour geplant gewesen, doch aufgrund der unsicheren Wetterverhältnisse im Süden entschieden wir uns den Tourenführer durch zu blättern. Dabei stiessen wir auf den Piz Segnas. Gemäss Tourenführer kann bei dieser Tour gleich noch der PizSardona...
Published by 14 March 2015, 16h12 (Photos:34 | Geodata:1)