Niesen 2362 m
7747 ft.
---
Peak in

93 hike reports

, 496 photo(s). Last visited :

4 Sep 16


Geo-Tags: Niesenkette, CH-BE
Photos (496)
---
By Publication date · Last favs · By Popularity · Last Comment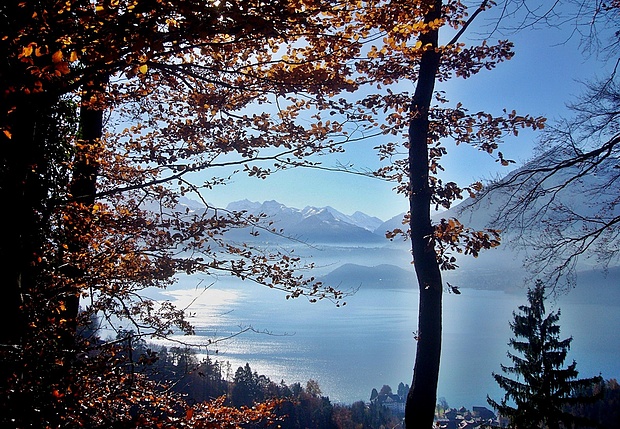 Do 15.11. Welch ein Ausblick ins Kandertal von Aeschlen aus. Der Thunersee hat sich bis an den Fuss des Gehrihorns vergrössert!!! © bidi35
Reports (93)
---

Von Mülenen auf den Niesen mit Abstieg nach Oey
Auf dem Niesen war ich noch nie. Worauf Fränzi sagte: "Auf den allermeisten Bergen warst Du noch nie!" Womit sie natürlich recht hat. Das positive daran: Ideen für neue Ziele werden mir so schnell nicht ausgehen. Gegen neun Uhr erreiche ich Mülenen im Kandertal. Bereits stehen viele Leute bei der Talstation der Niesenbahn...
Published by 7 September 2016, 12h13 (Photos:18 | Comments:2)

Überschreitung Fromberghore zur Drunegalm - mit "knackigen" Wysse Zend
Bis auf den letzten Platz gefüllt ist die Standseilbahn, mit welcher wir bei schönstem Wetter nach Niesen Kulm hochfahren (mazeno musste den nächsten Kurs abwarten …), und hier - leider zum letzten Male für heute das Panorama gegen EMJ betrachten können: immer wieder emporsteigende Wolken bringen uns während der...
Published by 18 July 2016, 15h24 (Photos:77 | Comments:2)

Niesen (2362 m) - am vorletzten Tag des Jahres und noch gar nicht winterlich
Der Niesen ist ein faszinierender Berg. Wer ihn noch nicht kennen sollte, hier ein Foto, das bei anderer Gelegenheit entstanden und auf dem seine ebenmässige Pyramidengestalt besonders gut zu sehen ist. Leider liegt er nicht gerade vor meiner Haustür. Und so ist es nicht verwunderlich, dass ich erst einmal auf seinem Gipfel...
Published by 5 January 2016, 00h33 (Photos:45 | Comments:1)

Niesen Nordwestgrat
Der Niesen, aussichtsreicher Symbolberg der Berner Voralpen, hat dank der Bahn eine Menge Freunde. Ab Mitte November stellt sie den Betrieb ein, aber weil ein paar Militärpersonen das ganze Jahr oben sind, halten die Angestellten der Niesenbahn das Trassee immer offen. Somit trifft man auch in der Wintersaison an Werktagen...
Published by 11 December 2015, 16h59 (Photos:9 | Comments:3)

Niesen ab Wimmis, direkt ab Ahorni
Hochnebeldecke über dem Unterland, der Herbst ist da. Ich suche ein Ziel im BEO, das mit dem ÖV sehr gut erreichbar ist und finde es mit dem Niesen. Ich will ja nur schnell hin und nicht schnell hinauf, deswegen nach Wimmis zur bahnabgewandten Seite des Berges. Kik inspiriert mich mit Niesen NW, von Wimmis nach Reichenbach zum...
Published by 20 October 2015, 21h18 (Photos:45)
| | | |
| --- | --- | --- |
| Berner Voralpen | T2 | 19 Sep 15 |

Niesen : sea to summit, kid & hike
Bon "sea to summit" c'est un peu survendeur, mais le Niesen surplombe vraiment le Lac de Thun et le départ de Wimmis n'est que 65m plus haut que la rive du lac à Spiez...Il s'agissait avant tout d'accompagner Arnaud (11ans et 1mois) dans sa tentative de "record de dénivelé" - non seulement à titre perso mais surtout au niveau...
Published by 24 September 2015, 17h15 (Photos:6 | Geodata:1)
Niesen 2'362m
Der Wetterbericht war viel besser als dann das Wetter um den Niesen tatsächlich war: schon am Vormittag waren bei der Anreise nach Mülenen die Strassen nass. Bei der Auffahrt mit der Bahn - übrigens eine sehenswerte Anlage für sich! - nach Schwandegg schien die Sonne, beim Start unserer Wanderung fielen einige Regentropfen,...
Published by 11 September 2015, 10h25
Simmental

T5+

II

6 Aug 15

Niesen und noch ein bisschen mehr
Niesen, Fromberghore und Drunegalm Ich war schon ein paar Mal auf dem Niesen....aber noch nie zu Fuss. Der Anstieg über die Alp Vordere Ahorni kann wirklich empfohlen werden. Route: Spissi (Wimmis) - Vordere Ahorni - NIesen - NE-Grat - Fromberghore - Drunegalm - Undere Drune - Gseess - Buufeli - Bruchgere - Bärgli -...
Published by 8 August 2015, 17h22 (Photos:34 | Comments:2)
Frutigland

T6

AD

III

2 Jul 15

Niesengrat TOTAL
Beim zweiten Versuch hat die Überschreitung geklappt. Die 37km des gesamten Niesengrates hoch über dem Entschligental vom Niesen bis zum Hahnenmoospass mit 5400m Auf- und 4100m Abstieg konnte ich in 21.5 Stunden bewältigen. Der letzte Zug bringt mich nach Mülenen (691m). Um 20 Minuten nach Mitternacht startet mein...
Published by 7 July 2015, 21h44 (Photos:71 | Comments:21 | Geodata:1)
| | | |
| --- | --- | --- |
| Berner Voralpen | T3 | 21 Dec 14 |

Out of season - Niesen am kürzesten Tag im Jahr
Es war gegen 12 Uhr mittags als mein Körper mir mitteilte er bräuchte mal wieder etwas Bewegung. Am kürzesten Tag im Jahr ist es bis knapp 5 Uhr hell, d.h. noch genug Zeit für einige Höhenmeter um den Kreislauf in Wallung zu bekommen. So bin ich nach Reichenbach, und von dort um 12:35 mit dem Velo die Strasse hoch bis P.959...
Published by 24 December 2014, 20h27 (Photos:3)