Märenschlag 1320 m
4330 ft.
---
Other in

36 hike reports

, 3 photo(s). Last visited :

20 Jun 21


Geo-Tags: CH-OW, Pilatusgebiet
Photos (3)
---
By Publication date · Last favs · By Popularity · Last Comment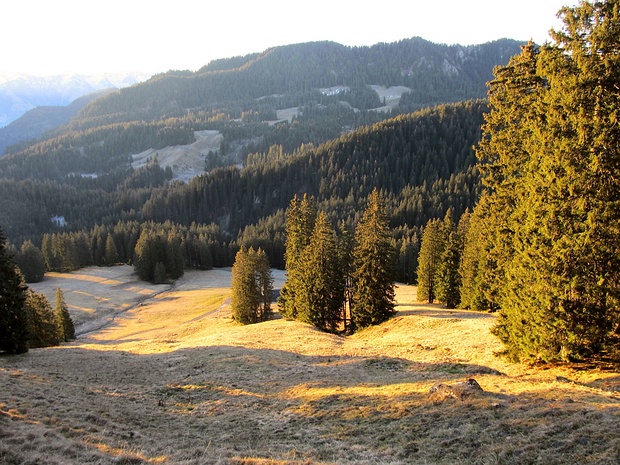 Beim Aufstieg vom Märenschlag Richtung Feld-Alpe ereilen uns nach einer halben Stunde Gehzeit die ersten Sonnenstrahlen © alpstein
---
Reports (36)
---

Mittaggüpfi / Gnepfstein
Geplante Tour: Schybach - Feldalp - Feldnätsch - Nätsch - Mittaggüpfi / Gnepfstein - Tripolihütte - Wängen - Balismatt - Schybach Routenbeschrieb: Wieder einmal westlich vom Pilatus unterwegs. Heute stand eine Bergwanderung auf das Mittaggüpfli zur Auswahl (wenn auch mit etwas Nebel). In Schybach gibt es...
Published by 21 June 2021, 08h59 (Photos:18)

Pilatusgebiet - Widderfeld und Mittaggüpfi von der Südseite
Ein herrlich sonniger und milder Novembertag in der Wildnis der Pilatuskette mit ein paar Kraxelpassagen und einer Kletterstelle. Im Anschluss mit einer Gratwanderung welche mit herrlichen Weit- und Tiefblicken aufwartet. Für diesen Mittwoch ist in den Bergen ein für die Jahreszeit milder Tag mit guter Fernsicht angesagt....
Published by 4 December 2020, 17h19 (Photos:24)

Mittaggüpfi (1917 m.) Stäfeliflue (1922 m.) Blaue Tosse (1802 m.)
Destinazione di oggi il Cantone Obwaldo. Percorsa la stradina che da porta da Alpnach a Lütholdsmatt, proseguiamo poco oltre e lasciamo la macchina nel parcheggio a Schybach (1200 m). Siamo soli soletti, aria frizzante e cielo in parte coperto, ma non abbiamo dovuto attendere molto perché il sole facesse la sua comparsa. A...
Published by 17 May 2020, 20h08 (Photos:70 | Comments:5)

Widderfeld
Wir parkieren den PW in der Nähe von Lütholdsmatt und laufen Richtung Märenschlag um das heutige Ziel Widderfeld zu erreichen. Vor ein paar Tagen war ich schonmal hier, versank auf der Tour häufig in tiefen Löchern unter der Schneedecke weswegen diesmal Scheeschuhe mitgenommen wurden. Die sollten die Tour erleichtern. Bis...
Published by 16 March 2020, 10h36 (Photos:13)
Widderfeld - Rot Dossen - Mittaggüpfi
Die Schneeverhältnisse am Lütholdsmatt liessen sogar die Zufahrt bis Schybach zu von wo aus ich startete um auf Widderfeld zu gehen. Bis Feld-Alp eine nicht allzu grosse Schneeauflage, das sollte sich allerdings in dem flachen Stück hinter Feld-Alp und dem Anstieg zum Widderfeld ändern. Bei queren dieser Moorlandschaft...
Published by 27 April 2020, 08h14
Obwalden

T2

WT3

21 Apr 19

Widderfeld
Widderfeld(der Berg mit 2 Gipfeln) Die Wetterbedingungen waren heute genau richtig für die wohl letzte Schneeschuh-Tour in diesem Winter (oder besser gesagt diesen Frühling). In Alpnach sind die Bauern bereits am Wiesen mähen und wenn man hoch gegen die Lütoldsmatt fährt sieht man schon etwas Grün an den...
Published by 21 April 2019, 19h38 (Photos:19)

Tomlishorn SW-Grat und Widderfeld
Bei angenehmen morgendlichen Temperaturen laufen wir los vom Parkplatz Schybach, Den Sagenwald mit seinen vielen Heidelbeersträuchern empor, erreichen wir bald darauf die verlassene Alp Schy. Durch den darauffolgenden Schywald erreichen wir nach 300 Hm. den Birchboden und folgen weiter dem markierten Bergweg bis zur Alp Tumli,...
Published by 1 June 2017, 21h11 (Photos:54 | Comments:4)

Tomlishorn über SW-Grat & Widderfeld via Stollenloch
Fünf Jahre, nachdem ich mit meinem ältesten Sohn dasTomlishorn& Widderfeldbestiegen habe, machen wir uns wieder auf den Weg zu diesen zwei tollen Pilatus-Gipfeln. Dieses Mal als Übungstour für ein fernes Wunschziel, meines Sohnes: Einmal einen richtig grossen Berg zu besteigen :-) Wir starten in Schybach und wandern...
Published by 26 May 2017, 10h59 (Photos:37 | Comments:2 | Geodata:1)

Matthorn, Tomlishorn SW-Grat und Widderfeld via Stollenloch
Die Pilatusregion ist immer wieder einen Besuch wert. Dieses Mal stand der Tomlishorn SW-Grat auf dem Plan mit wunderschönen Kraxeleien im T5-Bereich. Im Anschluss daran wollte ich die mir ebenfalls noch unbekannte Route via Stollenloch auf's Widderfeld ausprobieren. Da ich beim Pilatus Kulm gestartet bin, hat es sich anerboten...
Published by 5 June 2017, 08h53 (Photos:76)

Tomlishorn SW ridge + Widderfeld Stollenloch
I got together a group of four hikers for a scramble on the Tomlishorn south west ridge (also sometimes known as "Tomlishorn south ridge" or "Tomligrat"). Representing Hikr, after she responded to my post in the "Treffpunkt" community, was Domino. In 2009, ironknee had to write "der Südwestgrat des Tomlishorn ist auf hikr noch...
Published by 2 April 2017, 12h22 (Photos:63 | Geodata:1)