Märenschlag 1320 m
4330 ft.
---
Other in

31 hike reports

, 3 photo(s). Last visited :

21 Apr 19


Geo-Tags: CH-OW, Pilatusgebiet
Photos (3)
---
By Publication date · Last favs · By Popularity · Last Comment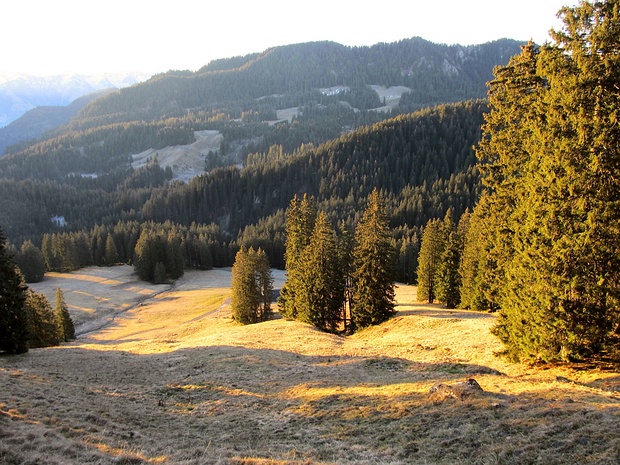 Beim Aufstieg vom Märenschlag Richtung Feld-Alpe ereilen uns nach einer halben Stunde Gehzeit die ersten Sonnenstrahlen © alpstein
---
Reports (31)
---
Obwalden

T2

WT3

21 Apr 19

Widderfeld
Widderfeld(der Berg mit 2 Gipfeln) Die Wetterbedingungen waren heute genau richtig für die wohl letzte Schneeschuh-Tour in diesem Winter (oder besser gesagt diesen Frühling). In Alpnach sind die Bauern bereits am Wiesen mähen und wenn man hoch gegen die Lütoldsmatt fährt sieht man schon etwas Grün an den...
Published by 21 April 2019, 19h38 (Photos:19)

Tomlishorn SW-Grat und Widderfeld
Bei angenehmen morgendlichen Temperaturen laufen wir los vom Parkplatz Schybach, Den Sagenwald mit seinen vielen Heidelbeersträuchern empor, erreichen wir bald darauf die verlassene Alp Schy. Durch den darauffolgenden Schywald erreichen wir nach 300 Hm. den Birchboden und folgen weiter dem markierten Bergweg bis zur Alp Tumli,...
Published by 1 June 2017, 21h11 (Photos:54 | Comments:4)

Tomlishorn über SW-Grat & Widderfeld via Stollenloch
Fünf Jahre, nachdem ich mit meinem ältesten Sohn das Tomlishorn & Widderfeld bestiegen habe, machen wir uns wieder auf den Weg zu diesen zwei tollen Pilatus-Gipfeln. Dieses Mal als Übungstour für ein fernes Wunschziel, meines Sohnes: Einmal einen richtig grossen Berg zu besteigen :-) Wir starten in Schybach und...
Published by 26 May 2017, 10h59 (Photos:37 | Comments:2 | Geodata:1)

Matthorn, Tomlishorn SW-Grat und Widderfeld via Stollenloch
Die Pilatusregion ist immer wieder einen Besuch wert. Dieses Mal stand der Tomlishorn SW-Grat auf dem Plan mit wunderschönen Kraxeleien im T5-Bereich. Im Anschluss daran wollte ich die mir ebenfalls noch unbekannte Route via Stollenloch auf's Widderfeld ausprobieren. Da ich beim Pilatus Kulm gestartet bin, hat es sich anerboten...
Published by 5 June 2017, 08h53 (Photos:76)

Tomlishorn SW ridge + Widderfeld Stollenloch
I got together a group of four hikers for a scramble on the Tomlishorn south west ridge (also sometimes known as "Tomlishorn south ridge" or "Tomligrat"). Representing Hikr, after she responded to my post in the "Treffpunkt" community, was Domino. In 2009, ironknee had to write "der Südwestgrat des Tomlishorn ist auf hikr noch...
Published by 2 April 2017, 12h22 (Photos:63 | Geodata:1)

Mittaggüpfi - Adieu 2016!
Das Mittaggüpfi ist ein leicht erreichbarer Aussichtsgipfel im Pilatusmassiv. Nachdem ich vor einigen Jahren den Widderfeld besucht hatte, kamen wir an diesem sonnigen "Winter"-Tag in den Genuss seiner westlichen Gefährten. Was für ein schöner Moment, wenn man merkt, dass man in Alpnach die falsche Strasse erwischt hat und...
Published by 9 January 2017, 18h00 (Photos:10)

Mittaggüpfi (1917 m) und immer noch kein Winter
"Das war's noch nicht" kann man angesichts der Wetterprognosen sagen. Zumindest bis Neujahr können wir an ausgesuchten Orten weiterhin dem Herbstwandern frönen. Neuschnee im Osten am Stephanstag, ja das kann es um diese Jahreszeit geben, ließ uns nochmals den Kanton Obwalden aufsuchen, wo wir vor 1 ½ Wochen einen...
Published by 28 December 2016, 17h53 (Photos:36 | Comments:4)

Tripoli-Hütte / Mittaggüpfi
Was für ein Prachtstag oberhalb der Nebelgrenze. Pure Sonne und strahlend blauer Himmel. Auf der Fahrt von Seon nach Luzern (die meiste Zeit unter der Nebeldecke) haben wir immer wieder einen bewölkten Himmel gesehen. Ja, super: die ganze Woche schönes Wetter und am Sonntag wieder bewölkt. Und in Alpnach dann ein unglaublich...
Published by 18 December 2016, 19h50 (Photos:20)

Steinbockbeobachtungen am Widderfeld 2076m
Die Südhänge des Pilatusmassivs entwickeln sich im Frühwinter 2016 zum Renner unter den Hikrn: Auch wir wollten in den Genuss der sonnigen Wiesen kommen und die Aussicht auf die Beobachtung von Steinböcken macht die Tourführung der Tour fast schon zur Pflicht. Leider konnten wir den tollen Samstag arbeitsbedingt nicht...
Published by 11 December 2016, 18h52 (Photos:38)

Rundtour über das Mittaggüpfi (1917 m) – Infos zur Forschung über die Alpendohlen am Pilatus
Der heutige Tag mit dichtem Nebel über dem Mittelland lud geradezu ein, eine Bergtour zu machen, zumal die Südhänge in den Voralpen bis weit über 2000 m hinauf schneefrei sind. Ich entschied mich für eine Rundtour über das Mittaggüpfi, das die Pilatuskette gegen Westen fortsetzt. Mein Start war etwas oberhalb der...
Published by 5 December 2016, 19h56 (Photos:19 | Comments:2 | Geodata:1)