Alp Munt 2234 m
7328 ft.
---
Other in

41 hike reports

, 3 photo(s). Last visited :

9 Mar 22


Geo-Tags: CH-GR
Photos (3)
---
By Publication date · Last favs · By Popularity · Last Comment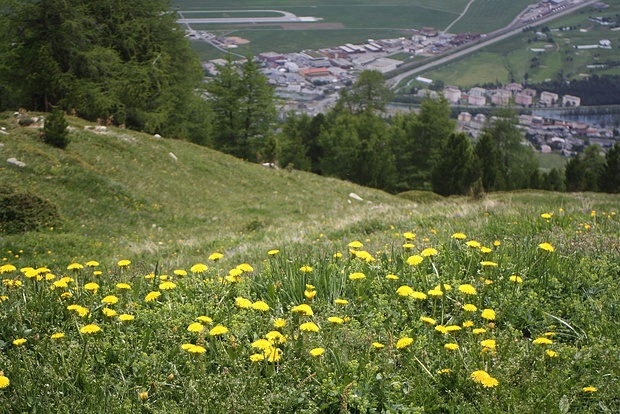 Bald stehe ich wieder in der Zivilisation. Von der blumenreichen Alp Munt (2234m) ist es nur noch ein kurzer Abstieg nach Samedan (1721m). © Sputnik
---
Reports (41)
---

Skitour an einem herrlichen Märztag von Samedan zum Piz Padella, Übergang am Grat zum Pizzatsch
Anmerkung: leider hatte ich das Ladegerät für den Kamera-Akku vergessen, sodass ich mit dem Smartphone fotografieren musste. Der Anstieg begann über eine Piste oberhalb von Samedan. Darüber erreichte ich Bergwald, in den eine Skiaufstiegsspur führte. Die offizielle Skiroute führt laut Karte weiter östlich empor. Wegen...
Published by 19 March 2022, 18h09 (Photos:44)
| | | |
| --- | --- | --- |
| Oberengadin | PD- | 28 Feb 22 |

Skitour auf den Aussichtsberg oberhalb von Samedan im Engadin | Cho d'Valletta 2496 m
Die Wahl für unsere nächste Skitour fiel auf den Cho d'Valletta, einen Berg, oberhalb von Samedan im Engadin. Bei bestem Wetter starteten wir also an der Talstation des Samedaner Schleppliftes. Aufgrund der südlich ausgerichteten Hanglage stellte sich uns, als erste Herausforderung, die Frage auf welcher Aufstiegsroute uns mehr...
Published by 4 March 2022, 17h01 (Photos:2)
Oberengadin

T4+

PD-

I

19 Oct 21

Herbsttour von Samedan auf den Piz Ot (3247 m)
Der Piz Ot liess mich erst im zweiten Anlauf auf seinen Gipfel. Vor langer Zeit bin ich auf ca. 2950 m im knietiefen Schnee auf dem vorgelagerten Felssporn umgekehrt. Nachdem ich es wegen Neuschnees vor neun Tagen nicht auf den Barglen geschafft habe, hätte ich nicht gedacht, dieses Jahr noch einmal auf einem 3000er zu stehen....
Published by 20 October 2021, 15h57 (Photos:12 | Geodata:1)
Oberengadin

T5

II

16 Oct 21

Piz Ot zum Sonnenaufgang - Trais Fluors - Padella
Ein eiskalter aber traumhafter Herbstmorgen im Engadin - eine geologisch spannende Rundtour über Gipfel und Grate Der Piz Ot dürfte einer der markantesten und formschönsten Gipfel über dem Oberengadiner Hochtal sein. Mein letzter Besuch liegt 21 Jahre zurück. Mehr als ein halbes Leben... Obwohl ich des Kurierens einer...
Published by 20 October 2021, 20h24 (Photos:17)
PIZ PADELLA im Herbst (mit Video)
Tourenvideo auf https://youtu.be/c9y5V4meufc Der Piz Padella bietet eine beeindruckende Aussicht über die weite Talebene des Oberengadins und die Berge um St. Moritz herum. Die Gondelbahn von Celerina nach Marguns verkürzt den Aufstieg wesentlich. Vom Bahnhof Celerina laufen wir in Richtung der vom Bahnhof aus bereits...
Published by 10 October 2021, 11h37 (Photos:2 | Geodata:1)
PIZ OT – unverhoffter 3000er am Wegrand (mit Video)
Tourenvideo auf https://youtu.be/D6WIOOTiD9g Eigentlich wollten wir von Samedan auf den Piz Padella steigen. Beim Aufstieg vom Bahnhof über die Kirche St. Peter zur Alp Munt begegneten wir aber bald schon den ersten verlockenden blauen Wegweisern zum Piz Ot. Diese setzten in uns Sehnsüchte nach einem Dreitausender frei, die...
Published by 11 August 2021, 14h21 (Photos:1)
Piz Ot und Piz Padella von Samedan
Aufstieg von der Kirche St. Peter Richtung Val Survin, Aufstieg parallel zum Skilift. Bei p.1896 rechts und steiler Aufstieg bis p.2046 und weiter zur Alp Muntatsch. Ich bin der einzige Mensch unterwegs und das soll bis zum Gipfel Piz Ot auch so bleiben, obwohl die Bedingungen ideal zum Wandern sind (trocken, sonnig-bewölkt,...
Published by 6 August 2021, 20h47
| | | |
| --- | --- | --- |
| Oberengadin | WT5 | 19 Dec 20 |

Piz Ot ... fast
Die Kollegen konnten sich noch nicht frei nehmen. So war ich von Bever aus allein unterwegs. Abmarsch 5 Uhr am Hotel. Als die Sonne aufging, war ich schon auf 2500m. Und weil ich allein unterwegs war, nahm ich bis Margunin auch nicht den vermutlich schöneren Weg durch das Valletta da Bever, sondern wählte die Route oberhalb von...
Published by 26 December 2020, 14h07 (Photos:3)
Oberengadin

F

PD+

30 Nov 19

Piz Padella - 2855 m
Tra pentolini e tegumini.... Noi optiamo per un polveroso Piz PADELLA in super compagnia! Dal parcheggio (q. 1756 m), seguire gli skilift fino al loro termine, indi prendere il sentiero che si addentra nel bosco a sinistra (faccia a monte). Seguendo le indicazioni per il Piz Padella, proseguire fino ad uscire dal bosco nei...
Published by 3 December 2019, 15h48 (Photos:37 | Comments:6)
Oberengadin

T4

I

13 Oct 19

Piz Padella (2855 m) & Pizzatsch (2882 m)
Piz Padella (2855 m) is a mountain peak west of Samedan. A white-red-white (wrw) marked trail goes to the summit. I started the hike at 8:35 AM in Samedan. I followed the signs in direction Margunin and Piz Padella. The trail goes fairly steep uphill through the forest. At Margunin there is a great view to surrounding...
Published by 13 October 2019, 18h17 (Photos:32 | Geodata:1)