Mürtschenstock - Ruchen 2441 m
8006 ft.
---
Peak in

36 hike reports

, 726 photo(s). Last visited :

15 Aug 20


Geo-Tags: CH-GL, Schilt-Mürtschengruppe
Photos (726)
---
By Publication date · Last favs · By Popularity · Last Comment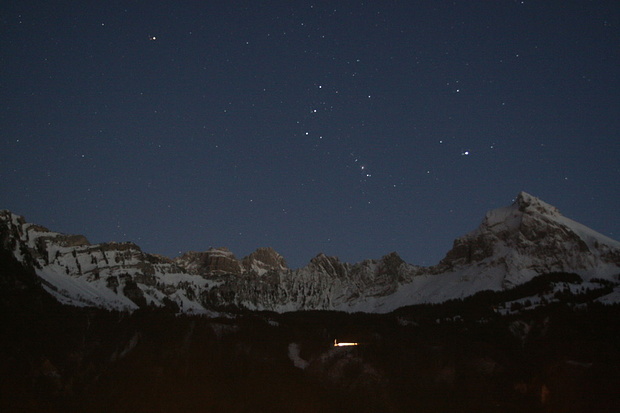 Mürtschen, Fronaplstock (right) and Orion seen from Näfels (and I'm sure Sputnik can tell us more details about the stars in the sky :-) © 360
---
Reports (36)
---
Mürtschenstock Ruchen
Einige Berichte existieren bereits und beschreiben die Route über die Westflanke und den Südgrat auf den Mürtschenstock Ruchen hervorragend. Hier schildere ich meine bebilderten Eindrücke. Ein Ausweichen auf die linke Graskuppe zum Einstieg in die Westflanke war für mich vorteilhaft und angenehmer als das Geröll im...
Published by 2 October 2020, 19h06 (Photos:6 | Geodata:1)

Mürtschenstock - Ruchen Westwand
Die Tour wurde hier vom Sanierer Stockloch schon schön beschrieben. Danke für das Sanieren! Zustieg Talalpsee - Alp Hummel (T3) Mit dem Auto zum Talalpsee, das einzig wichtige ist hier dass man genug Münz dabei hat für den Parkautomat anfänglich der Bergstrasse bei Filzbach. Beim noch stillen Talalpsee folgen wir dem...
Published by 23 May 2020, 19h08 (Photos:12 | Comments:3)

Mürtschstock Überschreitung solo
Die Mürtschstock Überschreitung ist hier auf Hikr ja schon mehrmals beschrieben (und auch schon schnell gemacht) und stand eine ganze Zeit auf meiner To-Do Liste bis ich es letztes Jahr das erste mal gemacht habe. Letztes Jahr im Oktober war ich dann ganz klassisch mit einem Kollegen unterwegs. Auch hatte es schon etwas...
Published by 26 September 2019, 12h35 (Photos:4 | Comments:4)

Mürtschen-Durchschreitung N-S
Nach der Auskundschaft vom Schijenstock, vor zwei Tagen, bin ich völlig überzogen von einer Überschreitung des Mürtschen, so ein prächtiger Berg. Anfahrt Mit dem Auto nach Filzbach, wo ein Schild zur Talalp verweist nach oben bis zur Alp gefahren. Leider war es ein misslicher Start, da ich das erste mal auf der Talalp...
Published by 28 September 2018, 11h27 (Photos:39 | Comments:6)

Mürtschenstock Ruchen
Obwohl die Sesselbahn schon läuft und das Personal vor Ort ist, dürfen wir erst Punkt acht Uhr einsteigen. Von der Bergstation Habergschwänd wandere ich zuerst auf dem Wander-, später auf dem Bergwanderweg zur Alp Hummel. Die Älplerin warnt mich freundlicherweise, bevor sie ihre Geissen zu sich ruft. Auf rund 1670 m ü. M....
Published by 28 August 2018, 20h59 (Photos:16 | Comments:6 | Geodata:1)
Überschreitung N-S der Mürtschenstöcke (Update)
Nachfolgend ein Infoupdate anlässlich der gestrigen Begehung: Überschreitung N-S via Fingerriss Persönlich am schwierigsten empfand ich die Wegfindung bis zum Stock, danach ist sie - auch anhand der hervorragenden Dokumentation auf hikr.org und auch bei chmoser.ch - ziemlich einfach Im Anstieg zum Stock...
Published by 6 August 2017, 10h18

Mürtschenstock-Überschreitung
Once more: Die die Überschreitung des Mürtschenstocks – das Highlight der Ostschweiz Für mich ist es der dritte Streich, für Kletter-Kollegen 3614adrian der zweite. Die Mürtschenstock-Überschreitung gehört nach wie vor zu den Top-Favoriten für die schönste Bergtour in der Ostschweiz! Wilde, einsame Gipfel in...
Published by 19 June 2017, 21h21 (Photos:58 | Comments:3)

Mürtschenstock Ruchen
When driving below on the A3, the Mürtschenstock doesn't look like a mountain that can be scrambled up. Yet while the full ridge traverse is indeed a highly regarded undertaking for climbers, the normal route onto the highest summit (Ruchen) is actually within reach of alpine hikers. The starting point of Talalp can be reached by...
Published by 21 June 2017, 20h16 (Photos:45 | Comments:4 | Geodata:1)

Adlerflug mit Südgrat zum Ruchen
Die Kletterroute Adlerflug beim Mürtschen ist schon lange ein Projekt von Dina und Eli. Zusammen mit Christian gingen wir am Samstag morgen mit Auto zur Alp Talalpsee. Mit schweren Gepäck dem Wanderweg entlang, an den zwei Seeen vorbei. Bei der Mürtschenfurggel fanden wir eine geeignete Stelle für unser Basecamp. Wanderzeit...
Published by 14 June 2017, 08h38 (Photos:56 | Comments:6 | Geodata:3)

No volveré - Ruchen-Mürtschen-Querüberschreitung Ost - West
Kaum eine Route wurde in HIKR häufiger erwähnt (zB. hier) und doch noch nie beschrieben als die ominöse R. 1028 auf den Ruchen Mürtschen via Ostflanke. So habe ich mich heute aufgemacht, um zu beweisen, dass diese Ost-West-Überschreitung machbar ist. In "La Hija del Mariachi"* singt Rosario "No volveré" (Ich werde...
Published by 30 September 2016, 18h10 (Photos:18 | Comments:1)