Breitfeld 1998 m
6553 ft.
---
Other in

23 hike reports

, 4 photo(s). Last visited :

3 Dec 20


Geo-Tags: CH-GL
Photos (4)
---
By Publication date · Last favs · By Popularity · Last Comment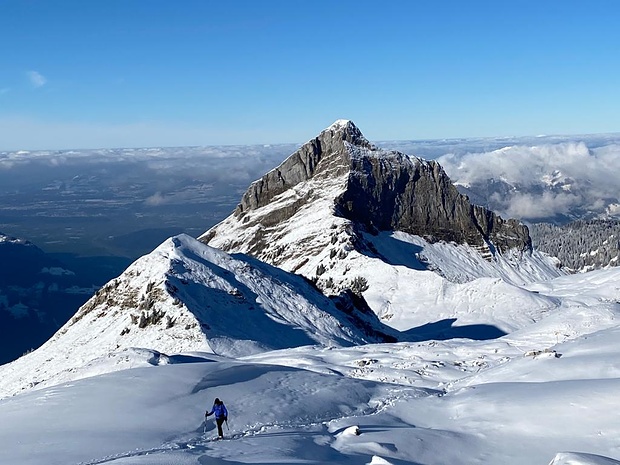 Ab der Säule mit einem Notfallschlitten hat Susanne das spuren übernommen (Foto von Susanne) © Flylu
---
Reports (23)
---

Mit den Schneeschuhen zum Tristli 2286 müM. Die Wintersaison ist eröffnet
Für den Donnerstag wurde ein Zwischenhoch prognostiziert und es soll auch der schönste Tag der Woche werden. Tage zuvor hat es geschneit und sogar bis in tiefe Lagen. Da Susanne und ich mit den Hunden eine Schneeschuhtor zum Tristli auf dem Plan haben mussten wir zuerst abklären, ob die Zufahrtsstrasse befahrbar ist. Susanne...
Published by 6 December 2020, 17h10 (Photos:26 | Comments:10)

Pfingsten 2020, GL|SG, 1|4: Schilt - Tristli - Fronalpstock
Noch vor dem Einchecken im fantastisch gelegenen und sehr empfehlenswerten Seminarhotel Lihn in Filzbach absolvieren wir eine längere Tour im Gebiet Fronalp. Dazu fahren wir ab Mollis auf der kurvenreichen Strasse lange hoch bis zum Ausgangspunkt des - ehemaligen - Naturfreundehauses Fronalp, heute, nach einer Erweiterung, als...
Published by 7 June 2020, 21h50 (Photos:56 | Comments:4 | Geodata:1)

Glarner Fronalpstock und Schilt/Tristli ab Naturfreundehaus Fronalp
Howdy, Es gibt einen im Kanton Schwyz. Es gibt einen im Kanton Glarus. Den Fronalpstock. Beide haben sie spannende Aufstiege. Beide bieten sie ein eindrückliches Panorama. Wirkliches Gipfel-Gefühl vermittelt aber nur jener im Kanton Glarus. Das wird umso schöner, wenn man den Gipfel für sich alleine hat. Willkommen zum...
Published by 29 July 2019, 00h54 (Photos:48 | Comments:14)

Abwechslungsreiche Wanderung auf Schilt, Tristli und Schwarzstöckli
Die Anfahrt mit einem grösseren Auto zum Naturfreundehaus Fronalp ist bereits ein Erlebnis für sich. Die Strasse ist steil und eng und die Aussicht wird immer besser. Beim Naturfreundehaus gibt es einige wenige Parkplätze. An diesem Mittwoch Morgen ist die Parkplatzsituation aber kein Problem und ausser mir hat es nur noch ein...
Published by 26 April 2020, 19h19 (Photos:10 | Geodata:1)

Schilt bei schönstem Wetter
Im Vorfeld meiner Tourwoche sah ich den Bericht Schilt 2299m und Gufelstock 2436m von Bergamotte. Sofort schrieb ich ihm kurz und erkundigte mich noch etwas genauer über Schwierigkeiten etc. Den heute sollte der erste Tag auf einem Gipfel sein mit dem Splitboard. Nicht der allererste Gipfel, aber der erste den ich in eigen Regie...
Published by 9 April 2018, 16h53 (Photos:19 | Comments:5)
Mit den Schneeschuhen zum Schilt, 2299m
Oben blau unten grau, dazu liegt ab ca 1500m schon ordentlich Schnee. Für eine Skitour scheint uns doch noch etwas wenig Schnee zu liegen, so packen wir die Schneeschuhe ein um dem Schilt eine Besuch abzustatten und machen uns auf den Weg zum Naturfreundehaus Fronalp oberhalb Mollis GL. Die Strasse hinauf ist noch fast...
Published by 19 November 2017, 16h24 (Photos:35)

Siwellen, Tristli and Schilt - bike & hike from Ennenda
Start of the hike at 7:30 in Ennenda at the train station. I brought my mountain bike along. Going uphill, I mostly walked the bike though. The road to Ennetberg and even further up is paved and in excellent condition. I parked the bike at elevation 1325 m. From there, I continued on the white-red-white marked trail to...
Published by 5 July 2017, 21h43 (Photos:22 | Comments:4 | Geodata:1)

Rässegg Westgrat
Spontane Wiederholung dieser Tour aufs Rässegg, da mir noch ein paar gute Photos fehlten. Abstieg nach Mollis statt Ennenda. Glarus - Kleiner Schlafstein Start vom Bahnhof Glarus und über Ennetrösligen auf dem Wanderweg Richtung Hüttenkopf. Vom Wanderweg auf den NOK Mastenweg abbiegen. Gerade bei dem Abzweig hat es auf...
Published by 20 June 2017, 17h15 (Photos:26 | Comments:2 | Geodata:1)

Schilt, 2298m
Frühzeitig stellten wir das Auto beim PP des Skilift Schilt P1157 ab. Platz hat es noch genügend, das wird sich im Laufe des Tages sicher noch ändern. Wir schnallen die Skier an und steigen Richtung Naturfreundehaus Fronalp P1389 hoch. Ziel ist es bei Mittelstafel P1583 zu sein bevor der Skilift läuft. Doch weit gefehlt,...
Published by 20 February 2017, 21h55 (Photos:26)

Schwarzstöckli und Siwellen
Vor Weihnachten hatte ich noch einen Tag frei und verabreichte mir schon vorab ein kleines Weihnachtsgeschenk in Form einer Bergtour bei allerbestem Spätherbstwetter. Da an Heiligabend der Dienst schon früh beginnen sollte, war ich auf der Suche nach einer Tour mit bester Erreichbarkeit und ohne größere Höhenunterschiede bei...
Published by 28 December 2016, 17h27 (Photos:28)