Le Moléson 2002 m
6567 ft.
---
Peak in

43 hike reports

, 146 photo(s). Last visited :

8 Oct 16


Geo-Tags: CH-FR
Photos (146)
---
By Publication date · Last favs · By Popularity · Last Comment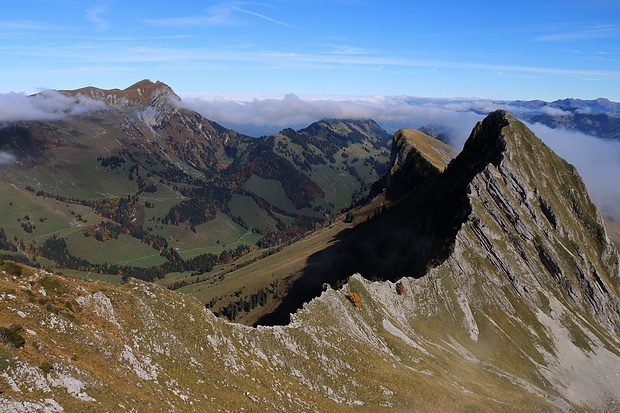 Herrliche Grataussicht in die Freiburger Voralpen. Links ist der Le Moléson (2002,3m), rechts stehen Grand Sex (1908m) und Vanil Blanc (1826m). © Sputnik
Reports (43)
---

Le Moléson 2002m.ü.M. (Klettersteig)
Trotz ausgiebiger Feierlichkeiten am Vorabend stand heute eine weitere Bergtour auf dem Programm. Die erste halbe Stunde des Tages war, zugegeben, kein Genuss. Kaffee schwarz weckte meine Lebensgeister. Am Bahnhof Fribourg traf ich Alex, den ich seit längerer Zeit nicht mehr gesehen habe. Es war höchste Zeit für eine gemeinsame...
Published by 16 October 2016, 18h25 (Photos:10)

Le Moléson (Bulle - Moléson - Albeuve)
Der Moléson ist ein wahrhaftiges Symbol der Freiburger Voralpen: vgl. La Gruyère Von der Autobahn aus Richtung Fribourg/Freiburg könnte der Berg mit der exponierten Bergstation problemlos als Schauplatz eines James Bond Films durchgehen. Wenn man mit dem Zug von Basel kommend über Bern nach Bulle reist, dann nimmt die...
Published by 15 September 2016, 13h13 (Photos:31)

Le Moléson (2002m)
Einfacher Halbtagsausflug auf den Moléson, einen markanten Friburger Voralpen-Gipfel. Mit der Standseilbahn bis zur Mittelstation Plan-Francey. Von dort über den breiten, gut markierten und viel begangenen Wanderweg an der Nordseite ein Stück weit um den Berg herum und dann in mässiger Steigung durch die NW-Flanke...
Published by 30 September 2016, 22h42 (Photos:12)

Le Moléson - Tremetta - Belle Chaux - Col de Lys - Le Sciernes d'Albeuve
Recht früh bin ich zu dieser Wanderung gestartet, mit dem Effekt, dass ich vor der Seilbahn auf den Moléson noch eine halbe Stunde warten durfte, ehe der Betrieb losging. Dann noch 10 Minuten mit Standseilbahn und Schwebebahn. Endlich einen Kaffee im Bergrestaurant, Akklimatisierung war ja nötig. Die Aussicht war beim...
Published by 23 July 2016, 12h44 (Photos:21 | Geodata:1)

Klettersteig Le Moléson "Le Pillier"
Der Le Moléson liegt im Kt. Fribourg. Es soll mal ein ruhiger Steig sein, der KS Moléson bietet zwei Varianten an: "Le Pillier" als K4 und "La Face" als K5. Diese Klettersteige erfreuen sich grosser beliebtheit, dementsprechend hatte es viele Leute dort. Anfahrt: Ist gar nicht so einfach um zur Standseilbahn zu gelangen. Ich...
Published by 3 August 2016, 17h03 (Photos:4)

Ausweichtour auf den Moléson 2002m
Nachdem unser geplantes Klettern in den Gastlosen wegen Nebels nicht möglich war (wir waren schon vor Ort und mussten wieder umdrehen), suchten wir auf die Schnelle eine Ausweichtour: Der Moléson steht so schön auffällig von der Autobahnraststätte Fribourg sichtbar da und da mussten wir natürlich mal hoch. Also die paar KM...
Published by 16 August 2016, 21h30 (Photos:7)
Moléson
sehr schöne Tour ohne Schwierigkeiten. Weitblick über Genfersee, Jura, Alpen. 400 m Klettergarten mit 2 Routen auf den Gipfel wären vorhanden und werden auch eifrig genutzt.
Published by 1 October 2015, 08h18 (Photos:5 | Geodata:1)

Le Moléson 2002,3m
EIN SPANNENDER KLETTERSTEIG IM KANTON FREIBURG. Auf den Aussichtsberg Moléson in den Freiburger Alpen wollte ich schon lange einmal. Man kann ihn per Luftseilbahn erreichen oder über einen der gut angelegten Bergwanderwege. Die spannendest Variante ist jedoch über einen der beiden Klettersteige von der...
Published by 12 October 2015, 21h49 (Photos:43)

Le Moléson: via ferrata du Pilier + Teysachaux
After having done the via ferrata of "the face" on Le Moléson last year, I went back for the via ferrata of "the pillar". The two routes run next to each other up the north face of the Moléson. Le Pilier is slightly easier (K4-) but the difference is not massive. The via ferrata du Pilier is a mix between rather mucky ledges and...
Published by 30 June 2015, 21h13 (Photos:13 | Geodata:1)

Le Moléson: via ferrata La Face
Another sunny September weekend gave me the chance to tick some more via ferratas off my list. I made use of an open invitation on CouchSurfing from Eloïse and Patrick, a friendly couple living in Hauteville on the shores of the Lac de la Gruyère. Together, we made our way to the most famous mountain in the area: Le Moléson....
Published by 30 September 2014, 19h47 (Photos:30)