Plan-Francey - Restaurant-Hotel 1528 m
5012 ft.
---
Hut in

17 hike reports

, 2 photo(s). Last visited :

27 Aug 16


Geo-Tags: CH-FR
Photos (2)
---
By Publication date · Last favs · By Popularity · Last Comment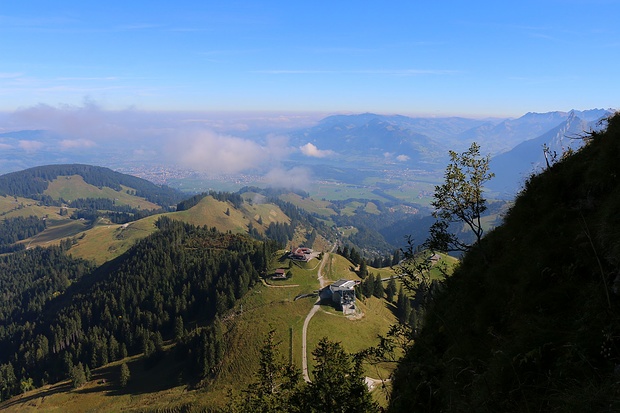 Aussicht vom unteren Teil der Nordostkante auf den Ausgangpunkt Plan-Francey (1517m) und dem darüber liegenden Restaurant. © Sputnik
---
Reports (17)
---

Sur le Chemin panorama alpin : Vingt-quatrième étape, de Gruyères aux Paccots
English version here Il était temps que je reprenne ma randonnée du lac de Constance au Léman, l'ayant ignorée totalement depuis la dernière semaine de juin. Entre temps, j'ai fait quelques randos sympathiques autour de Lucerne et ai passé deux semaines dans le Parc national des Pyrénées et, je dois l'avouer, ma...
Published by 28 August 2016, 19h44 (Photos:7)

Ausweichtour auf den Moléson 2002m
Nachdem unser geplantes Klettern in den Gastlosen wegen Nebels nicht möglich war (wir waren schon vor Ort und mussten wieder umdrehen), suchten wir auf die Schnelle eine Ausweichtour: Der Moléson steht so schön auffällig von der Autobahnraststätte Fribourg sichtbar da und da mussten wir natürlich mal hoch. Also die paar KM...
Published by 16 August 2016, 21h30 (Photos:7)
Moléson
sehr schöne Tour ohne Schwierigkeiten. Weitblick über Genfersee, Jura, Alpen. 400 m Klettergarten mit 2 Routen auf den Gipfel wären vorhanden und werden auch eifrig genutzt.
Published by 1 October 2015, 08h18 (Photos:5 | Geodata:1)

Le Moléson: via ferrata du Pilier + Teysachaux
After having done the via ferrata of "the face" on Le Moléson last year, I went back for the via ferrata of "the pillar". The two routes run next to each other up the north face of the Moléson. Le Pilier is slightly easier (K4-) but the difference is not massive. The via ferrata du Pilier is a mix between rather mucky ledges and...
Published by 30 June 2015, 21h13 (Photos:13 | Geodata:1)

Le Moléson: via ferrata La Face
Another sunny September weekend gave me the chance to tick some more via ferratas off my list. I made use of an open invitation on CouchSurfing from Eloïse and Patrick, a friendly couple living in Hauteville on the shores of the Lac de la Gruyère. Together, we made our way to the most famous mountain in the area: Le Moléson....
Published by 30 September 2014, 19h47 (Photos:30)

Klettersteig an der Nordseite des Moléson
Nach der tollen Wanderung im letzten Jahr wollte ich den Moléson Gipfel dieses Jahr auch mit dem Klettersteig erreichen. Von Plan-Francey wandern wir zum Einstieg des Klettersteigs. Ein steiler aber nicht allzu langer Pfad führt von der Bergstation Plan-Francey dorthin. Unten am Fels sieht die Nordwand schon ziemlich...
Published by 3 August 2014, 23h31 (Photos:3)
Fribourg

T6

PD

II

17 Jul 13

Formtest am Teys: über den N-Grat auf den Teysachaux
Wer "Alle Achttausender" auf dem Programm hat, denkt natürlich nicht in erster Linie an den Teysachaux. Bei "Allen Schwachtausendern"(bedauerlicherweise kam ein geplantes Projektbei Panico, alle Gipfel unter 2000m zu besteigen und zu beschreiben, nicht zustande, weil schon bald deutlich wurde, dass es sich unabsehbar in die...
Published by 17 July 2013, 23h52 (Photos:16 | Comments:2)

Moléson Spezial: Über zwei Zähne
Zwischen den Zähnen findet man ja normalerweise am ehesten Speisereste. So auch im Greyerzerland - auf der Route um den Sattel "Entre deux Dents" findet sich zumindest im Sommer jede Menge Kraut und Gemüse. Immerhin vegetarische Kost... Das grosse Kreuz auf dem kleinen Zahn (P. 1535) ist von Neirivue aus gut sichtbar und ist...
Published by 22 June 2013, 18h33 (Photos:13 | Comments:1)

Via ferrata Le Moléson - La Face
Le Moléson, der Hausberg des Greyerzerlandes ist bestens bekannt. Einerseits als alleinstehender Wanderberg mit guter Sicht weit herum und andererseits wegen der absolut markanten und hässlichen Bergststion. Durch die schattige Nordwand des Le Moléson führen zwei Klettersteige. Die Route Le Pillier ist von der Schwierigkeit...
Published by 10 June 2013, 12h54 (Photos:33)
Fribourg

T4+

II

D-

7 Jun 13
Start in die Kraxelsaison am Moléson und Dent de Lys
Endlich endlich kommt der Sommer und der Schnee rückt immer in höhere Gefilde, dass wollte ich natürlich sofort ausnützen daher beschloss ich wieder mal eine Kraxeltour zu machen und die zuerst noch mit einem Klettersteig zu kombinieren, auf ins Waadtland... Nach einer Zugs-Odysee, bei der ich in Bulle auhc noch einen...
Published by 11 June 2013, 22h53 (Photos:52)