Bi den Seelenen 2170 m
7118 ft.
---
Lake in

26 hike reports

, 26 photo(s). Last visited :

15 Nov 18


Geo-Tags: CH-GL
---
Photos (26)
---
By Publication date · Last favs · By Popularity · Last Comment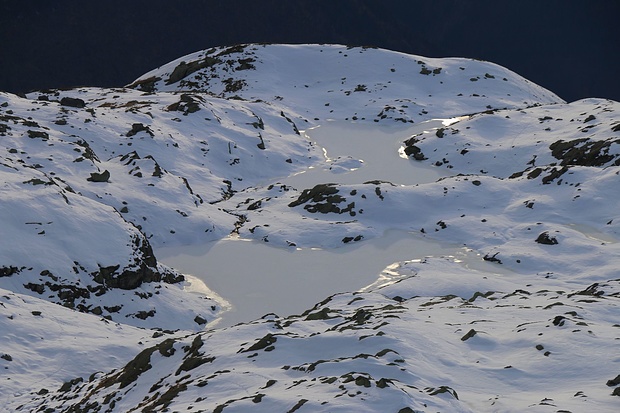 Die Gufelstockseen, die auch "Bi de Seelenen" genannt werden. Der grösste See liegt auf 2170m Höhe. © Sputnik
Reports (26)
---

Alten Weg gesucht - Gufelstock (2436 m) - Plattenstock - Ober Gheist
Die Nebel-Obergrenze soll bei 1200 m liegen, drüber Sonne pur. Da kommt eine Wanderung in der Gufelstock-Südflanke gerade recht. Ab Engi folgte ich alles dem markierten Bergweg nach Gufeli-Oberstafel, dieser verläuft auf der Ost-(=Morgensonnen-)Seite. Im Tal lag Raureif, doch schon beim Ferienheim stieg die Temperatur auf...
Published by 15 November 2018, 18h11 (Photos:13 | Comments:2)

Gufelstock & Schwarzstöckli - hike from Bärenboden
Nice hike to Gufelstock & Schwarzstöckli. It was partially cloudy in the early morning, but it became nice and sunny before noon. Generally, I followed the wrw marked trails. Exception: The trail from Gufelstock via Höch, and Chli Höch to Heustock is marked white-blue-white. But it is not (yet) included as such on the...
Published by 21 October 2018, 19h24 (Photos:23 | Comments:3 | Geodata:1)

Vom Gufelstock 2425 müM zum Tristli 2285 müM
Der Ursprung dieser Wanderung ist, nochmals an diesen Ort zurück zu kehren wo ich mit Fly das letzte Mal biwakiert hatte um nun Abschied zu nehmen (siehe Bericht unten). So fuhr ich und Skip von Ennenda mit der Aeugsten Bahn hoch nach Bärenboden und machte anschliessend in der Aeugsten Hütte zuerst einen Kaffeehalt. Auf der...
Published by 13 October 2018, 19h57 (Photos:50 | Comments:5)

Schilt via Gitziturm und Gufelstock
Ich wandere im morgendlichen Schatten vom Bärenboden nach Alpegligen. Dort nehme ich den Bergweg Richtung Holzflue und verlasse ihn an geeigneter Stelle hangaufwärts (Bild). Ein paar Gämsen flüchten vor Berggängern, die sich schon unter dem Gitziturm befinden. Etwas später treffe ich ebenfalls am Fusse des Gitziturms ein...
Published by 25 June 2018, 19h36 (Photos:32 | Comments:6 | Geodata:1)

Lange Fessis-Runde: Schafleger - Gufelstock (2436 m)
Die Wetterprognose verspricht trockenes Wetter am Vormittag, dann zunehmende Regen-Wahrscheinlichkeit. Das erlaubt nur eine Wanderung, bei der man jederzeit abbrechen und Richtung Tal absteigen kann. So starte ich bei der Wart zwischen Schwanden und Engi und steige dort weglos den Hang hinauf zur Funkantenne. Ab dort hat es...
Published by 22 May 2018, 17h30 (Photos:19 | Comments:1)

Gufelstock (2436m)
Bei der Hinfahrt rasselte noch der Regen auf's Auto. Deshalb gab es in der Äugstenhütte erstmals einen Kaffee mit Aprikosen Weihe. Der steile Aufstieg im Nebel zu den Chrummböden fiel etwas leichter, weil man nicht von der Sonne verbrannt wurde und nicht genau sah, wie weit es noch ging. :-) Allerdings strömte uns zum...
Published by 9 August 2016, 21h50 (Photos:14)

Glitschige Grattour am Gufelstock
Den Grat vom Gufelstock zum Heustock habe ich mir auf der Karte schon ein paar Mal angeschaut - und natürlich gleich auch vorgenommen. Die Schwierigkeit des Grats wird sehr unterschiedlich bewertet. Für David Coulin ("Die schönsten Gratwanderungen") ist es ein T2-Spaziergang, andere tippen auf T3+. Ich tendiere ganz klar zu...
Published by 9 September 2015, 14h29 (Photos:9 | Comments:1)

Biwakieren "bi den Seelenen" und Sonnenaufgang auf dem Gufelstock 2436 müM
Ich hatte vor wenigen Tagen einen neuen Biwaksack gekauft und den wollte ich jetzt so schnell wie möglich ausprobieren. Ich musste nicht lange überlegen wo denn dieses Testgelände sein sollte. Der Wetterbericht hatte kein Gewitter gemeldet und so packte ich meinen Rucksack, meinen neuen Biwaksack und natürlich kam auch mein...
Published by 24 October 2015, 22h28 (Photos:67 | Comments:2)

Gufelstock - Schwarzstöckli - Schilt
Mit der Äugstenbahn geht es bequem von Ennenda nach Bärenboden hinauf. Nach wenigen Minuten Fussmarsch erreichen wir die Äugstenhütte, wo wir einen Kaffee geniessen. Steil geht es dann hoch. Mit Gelbem Eisenhut, Fingerhut, Breitkölbchen, Weisszunge und andern schönen Blumen werden wir für die Anstrengung belohnt. Und im...
Published by 12 July 2015, 20h58 (Photos:63 | Geodata:1)

Gipfelhüpfen über Ennenda
Es gibt kaum einen Ort im Glarnerland, wo ich einen so umfasssenden Eindruck dieses Kantons bekomme wie auf den einsamen Plateaus hoch über Ennenda. Dank der privat betriebenen Äugstenbahn darf der Wanderer auf 1400m beginnen: 1000Hm über dem Zigerschlitz, 1000 Hm unter den hübschen kleinen Gipfeln, die ich heute der Reihe...
Published by 14 June 2015, 13h53 (Photos:6 | Comments:2)