Ober Stafel 1816 m
5956 ft.
---
Other in

9 hike reports

, 1 photo(s). Last visited :

25 Sep 18
Photos (1)
---
By Publication date · Last favs · By Popularity · Last Comment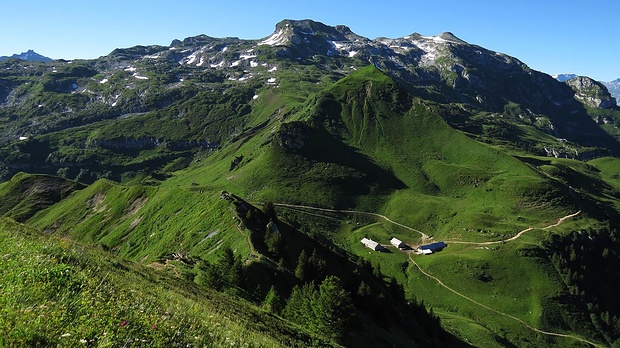 Rückblick über den Zelsegg, unten liegt schön Ober Stafel, darüber der Färistock umrahmt von Siwellen und Schilt. © Kauk0r
---
Reports (9)
---

Vom Backen bescheidener Brötchen - Fronalpstock (2124 m)
Seit dem 16. September bin ich ein Ex-Pilot. Wie Monty Pythons Ex-Parrot kann auch ich nicht mehr fliegen. Aber nur, weil ich das Permit-to-Fly meines Tragschraubers habe verfallen lassen. Doch seit dem 16. August bin ich auch anderweitig gegroundet. Als Folge eines Unfalls darf ich für mehrere Monate weder Schwimmen noch...
Published by 25 September 2018, 16h17 (Photos:8 | Comments:15)

Fronalpstock im schönen Kanton Glarus
Morgenstund hat Gold im Mund! Nachdem ich bereits vor einigen Wochen den Fronalpstock im Kanton Schwyz bestiegen hatte,machte ich mich dieses Mal auf ins schöne Glarnerland. Mollis verlasse ich um kurz vor 7 und lege die letzten 20 Minuten Abenteuerfahrt bis zumNaturfreundehaus Fronalpstock zurück. Während Wiggis und...
Published by 13 July 2018, 19h09 (Photos:10 | Comments:3)

Bikebergsteigen - Mollis bis Murg via Fronalpstock
Gewisse Touren müssen einfach mal ausprobiert werden. Nicht immer ein Erfolg, aber dennoch immer ein Abenteuer. Mit dem e-Bike hoch von Mollis zum Fronalpstock-Sattel. Ab da zu Fuss in 17min auf den Glarner Fronalpstock. "Nicht ausrutschen" wurde gemahnt vom Vater mit den zwei Jugendlichen bevor der Abstieg begann vom...
Published by 18 October 2017, 19h48 (Photos:14 | Geodata:1)

Siwellen, Tristli and Schilt - bike & hike from Ennenda
Start of the hike at 7:30 in Ennenda at the train station. I brought my mountain bike along. Going uphill, I mostly walked the bike though. The road to Ennetberg and even further up is paved and in excellent condition. I parked the bike at elevation 1325 m. From there, I continued on the white-red-white marked trail to...
Published by 5 July 2017, 21h43 (Photos:22 | Comments:4 | Geodata:1)

Fünfliber-Tour
Schon einmal fuhr ich ins Mürtschental. Da dachte ich das nächste mal gehe ich von Mollis hoch zum Schilt und dann runter. Wusste nicht das die Tour so bekannt ist unter den Namen Fünfliber-Tour. Mit dem reservierten Bus ging es Richtung Naturfreudehaus. Die Bügellifte fuhren gemäss Angabe. Im harten, Windverblasenen Schnee...
Published by 3 February 2017, 14h44 (Photos:14 | Comments:2 | Geodata:1)

Schwarzstöckli und Siwellen
Vor Weihnachten hatte ich noch einen Tag frei und verabreichte mir schon vorab ein kleines Weihnachtsgeschenk in Form einer Bergtour bei allerbestem Spätherbstwetter. Da an Heiligabend der Dienst schon früh beginnen sollte, war ich auf der Suche nach einer Tour mit bester Erreichbarkeit und ohne größere Höhenunterschiede bei...
Published by 28 December 2016, 17h27 (Photos:28)

Fronalpstock (GL) und Freunde
Der Bergbursche wandert wieder. Denn auf die Berge will ich steigen! Nachdem ich bereits 17 Gipfel der Schiltgruppe (Bericht auf hikr folgt, in meinem Blog bereits online) erwandert habe, möchte ich nun die Sammlung weitestgehend vervollständigen. Und dazu gehört eben auch der Fronalpstock. Er ist genügend beschrieben,...
Published by 18 September 2016, 18h16 (Photos:12 | Comments:2)

Fronalpstock und seine kleinen Trabanten
Das Knie hatte die Belastungsprobe am Gulmen gut überstanden, das Wetter war weiterhin bestens...folglich muss es nochmal eine weitere Testtour sein. Dieses Mal war das etwas anspruchsvollere Gelände gefragt, um weitere Testparameter zu erheben. Weiterhin denke ich, dass ich es mit Höhenmetern nicht übertreiben sollte, von der...
Published by 21 July 2016, 18h17 (Photos:28)

Fronalpstock
Ich bekam einen Tag Frei und das Wetter war super, also ab ins Glarnerland, genauer gesagt hoch zum Fronalpstock. Da ich las, das man mit dem Auto besser an einem Wochentag hoch zum Naturfreundehaus Fronalp fahren sollte, war heute optimal. Tatsächlich traf ich nur auf 2 kreuzende Autos. Die Strasse ist relativ schmal. Diese Tour...
Published by 3 May 2017, 21h59 (Photos:8)