Les Diablerets - Sommet des Diablerets 3210 m
10529 ft.
---
Peak in

29 hike reports

, 179 photo(s). Last visited :

10 Mar 15


Geo-Tags: CH-VD, CH-VS
Routes (1)
---
Photos (179)
---
By Publication date · Last favs · By Popularity · Last Comment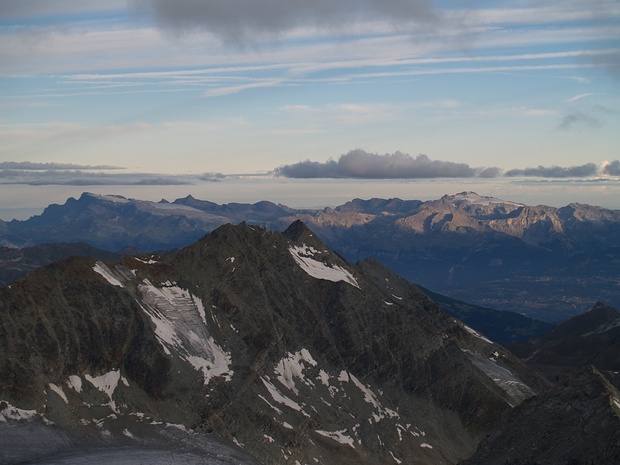 Blick zurück: Dort scheint es noch besseres Wetter zu geben... Allerdings kenne ich nur die Bege, auf denen ich selber schon war... Meine zu kennen, denn ganz sicher bin ich z.B. beim Arpelistock nicht ;-) © MunggaLoch
Reports (29)
---
Waadtländer Alpen

F

WT4

F

10 Mar 15

rund um Gsteig 2|4: le Dôme - Sommet des Diablerets
Nach einem "opulenten" Frühstück - sogar Rösti bereitet uns die Hausherrin zu - fahren wir erst mit dem PW auf den Col du Pillon, und danach mit der LSB hoch zur von Mario Botta gestalteten Bergstation. Hier, auf der Bergstation Sex Rouge, bei schönstem Wetter, doch unangenehm starkem und kühlem Wind, inmitten...
Published by 15 March 2015, 13h35 (Photos:47)
| | | |
| --- | --- | --- |
| Waadtländer Alpen | F | 6 Jul 14 |

Le Sommet des Diablerets
After two via ferratas on Saturday (Cascade du Dar and Tête aux Chamois) and a night at the Diablerets SAC hut, our SAC Uto group prepared for an easy glacier hike onto the eponymoussummit of the Diablerets massif. At 3210m, it is also the highest point of canton Vaud. --- We are blessed with a well-timed spell of good...
Published by 10 July 2014, 20h23 (Photos:37)
Waadtländer Alpen

PD-

PD

24 Apr 14
Gar nicht so diabolisch...
Am höchsten Gipfel der Waadt gibts auch spät im Jahr noch eine Tagestour für ÖV-Touristen. Mit den Bähnli kann bis zum Sex Rouge gefahren werden und so sind es nur noch gut 400 Höhenmeter zum Gipfel. Dieser bietet eine wunderbare Rundsicht und bei guten Verhältnisse auch eine ebensolche Abfahrt. Dabei ist die Variante,...
Published by 28 April 2014, 17h03 (Photos:16)
| | | |
| --- | --- | --- |
| Waadtländer Alpen | PD | 17 Apr 14 |

Glacier du Tsanfleuron und Sommet des Diablerets
Unvergesslicher Sonnenuntergang auf dem Scex Rouge, Gletschermessungen und ein Skitürchen auf les Diablerets Tags zuvor am östlichsten Ende der Schweiz auf den Gletschern unterwegs, nun auf den westlichsten Gletschern. Da wirDonnerstags schon früh morgens (vor Ankunft der Skitouristen) messen mussten, erhielten wir das...
Published by 18 April 2014, 16h04 (Photos:23 | Comments:1)
Waadtländer Alpen

F

I

1 Oct 13

Welschlandtour Teil I - Auf dem höchsten Waadtländer
''Gipfel der Teufelshörner'' heisst der Höchste Berg des Kantons Waadt frei ins Deutsche übersetzt. Die Fantasie spinnt bei einem solchen Namen manch schaurigen Gedanken und man stellt sich eine recht wilde und unheilvolle Berggestalt darunter vor. Von Süden betrachtet scheint diese Vorurteil bei den steil abfallenden Flanken...
Published by 2 October 2013, 23h14 (Photos:10)
Waadtländer Alpen

T5

F

I

1 Oct 13

L'experience Romandie: Les Diablerets und Vanil Noir
Zwei Tage - Zwei Kantonshöhepunkte - Zwei Bergfreaks. Ein herbstlicher Ausflug in die Romandie bei unsicherem Wetter, der sich jedoch mehr als lohnte! Welch ungutes Gefühl mich beschlich, als ich am Dienstagmorgen mit dem Auto über den Brünig fuhr: Nebelschwaden und strömender Regen, das konnte ja "heiter" werden. In der...
Published by 3 October 2013, 20h47 (Photos:26)
Waadtländer Alpen

F

I

20 Aug 13

Les Diablerets 3210m
Die 1400 Höhenmeter vom Col du Pillon bisSex Rouge könnte man sich auch erarbeiten, doch heute liessen wir es gemütlich angehen und nahmen die erste Luftseilbahn um neun Uhr bis Tête au Chamois wo erst umgestiegen wird, bevor man die Bergstation Sex Rouge erreicht. Eine giftige Bise empfing uns an der Bergstation, doch...
Published by 21 August 2013, 21h07 (Photos:51)
| | | |
| --- | --- | --- |
| Waadtländer Alpen | F | 27 Jul 13 |

Les Diablerets
Sommet des Diablerets 3210m Bei dieser Gluthitze gibt es nur eine Flucht nach oben. Die Diablerets ist für diesen Zweck eine ideale Tour. Die meisten (hitzigen) Höhenmeter werden mit der Luftseilbahn zurückgelegt. Route: Sex Rouge (Bergstation) - Le Dôme - Sommet des Diablerets - Tête de Barme - Le Dôme - Sex...
Published by 3 August 2013, 21h10 (Photos:16)
Waadtländer Alpen

F

I

21 Jul 13
Kantonshöhepunkt VD : Sommet des Diablerets ( 3210m )
Wer mal in die eisige Welt der Hochtouren reinschnuppern möchte ist am Bergmassiv Les Diablerets gut aufgehoben. Der Vorteil : die Seilbahn Glacier 3000 gondelt einen hinauf auf gut 2950m, direkt ins Skigebiet. Für Gipfel - und Kantonshöhepunktesammler bietet sich einem, gar nicht weit von der Bergstation Sex Rouge entfernt,...
Published by 23 July 2013, 18h38 (Photos:25 | Comments:2 | Geodata:1)
Waadtländer Alpen

I

PD-

18 Apr 13

Sommit Les Diablerets 3209m
Mit der Seilbahn auf Scex Rouge gefahren (Halbtagsabonnement gültig). Von dort runter auf der Piste auf das Gletscherplateau geschwungen. Nun die Felle aufgezogen und auf Le Dòme gestiegen. Dem Grat entlang folgend zum Fixseil und unschwer, ein wenig exponiert zum Sattel und zum Glacier des Diablerets geklettert (etwa 30m,...
Published by 19 April 2013, 16h22 (Photos:7)