Lai / Lenzerheide 1476 m
4841 ft.
---
Locality in

28 hike reports

, 13 photo(s). Last visited :

24 Sep 16


Geo-Tags: CH-GR
Photos (13)
---
By Publication date · Last favs · By Popularity · Last Comment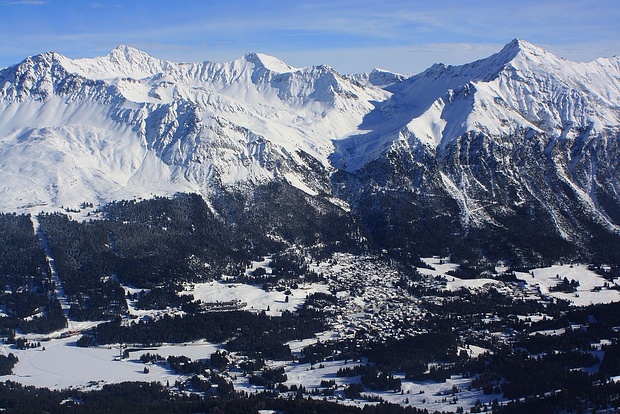 Piz Danis (2497m): Das Feriendorf Lenzerheide / Lai (1476m) liegt einen Kilometer tiefer unterhalb eines schönen Bergpanoramas. Die Gipfel von links nach rechts sind: Parpaner Rothorn Westgipfel (2861m), Aroser Rothorn (2980m), Pizza Naira (2870m) und Lenzer Horn (2906m). © Sputnik
Reports (28)
---
Lenzerheide

T4+

I

24 Sep 16

Pizza Naira and Aroser Rothorn
I started out in Lenzerheide, hiking up towards Alp Sanaspans on the marked trail. During the first part through the residential area I had some difficulty finding the right way, but eventually I made it onto the trail to Alp Sanaspans (T2, maybe T3 in a few places). From Alp Sanaspans on the marked trail in direction...
Published by 25 September 2016, 15h15 (Photos:39 | Geodata:1)
Crap la Pala 2'151m
Trotz nicht gerade freundlicher Wolkenstimmung am Morgen wagten wir die Fahrt auf die Lenzerheide und weiter nach Tgantieni; und unser Mut sollte belohnt werden: das Wetter wurde immer besser, sodass wir eine schöne sonnige Tour machen konnten. Vom Parkplatz Tgantieni führt zuerst eine Strasse, dann ein schöner Wanderweg hinauf...
Published by 2 September 2016, 12h04

Parpaner Rothorn
Parpaner Rothorn (2899m) Start: Parpan Obertor (1515m) Peak: Parpaner Rothorn East Peak (2899m) End: Lai (1473m) Route: https://goo.gl/RhUakV Full photos: https://goo.gl/photos/KtoKk2RJiQKwf6VE9   I've been looking for a higher altitude hike around Zurich for a while, and one that...
Published by 7 August 2016, 22h06 (Photos:1 | Geodata:1)
Lenzerheide

T4+

I

29 Jul 16

Across Lenzer Horn (2906 m)
In this hike to Lenzer Horn (2906 m), I went up from Lenzerheide to Alp Sanaspans, bringing my mountain bike along. Then I left the bike behind, and followed the white-blue-white marked trail to the summit. Afterwards I descended a bit on the east ridge, and realized that a descent on the south-east ridge would be feasible....
Published by 31 July 2016, 13h39 (Photos:25 | Geodata:1)

Stätzer Horn (2575 m) and a few other peaks near Lenzerheide
After so many rainy days it was nice to go hiking in perfect weather again! On this hike I basically followed the ridge from Crap la Pala via Piz Scalottas, Piz Danis, and Stätzer Horn to Fulenberg. The panoramic view to other nearby mountains was absolutely fantastic! I spotted a few animals (a deer, numerous marmots, and...
Published by 10 June 2016, 23h16 (Photos:17 | Comments:2 | Geodata:1)

Vamos a Ramoz - bailamos Sulza!
Unglaublich gute Verhältnisse, zumindest unterhalb von ca. 2700m: Man nehme beste Abstrahlungsverhältnisse und nicht zu warme Temperaturen, ein sehr tragfähiges Fundament als Folge von Föhn/Wärme anfangs April und Kälte danach und dazu in den letzten Tagen wiederholt etwas Neuschnee: Das Ergebnis ist seidenfeiner Sulz fast...
Published by 7 May 2016, 10h59 (Photos:26)
| | | |
| --- | --- | --- |
| Lenzerheide | T5- | 22 Aug 15 |

Lenzer Horn (2906 m) - hinauf auf einen Top-Aussichtsberg
Nach der Tour auf den Piz Surparé am Vortag war heute eigentlich ein Ruhetag vorgesehen. Doch angesichts der schlechteren Wetteraussichten für den Sonntag wollte ich den Samstag nicht einfach verschenken. Von der Projektliste kam mir das Lenzer Horn gerade recht, da der Ausgangspunkt Lenzerheide gut und relativ rasch...
Published by 25 August 2015, 01h53 (Photos:53 | Comments:3)

Von Davos nach Davos über schöne Trails und durch einsame Nächte ...
Es sei an dieser Stelle von einem Berglauf berichtet, welcher mit den Worten "schönster Ultratrail der Alpen" beworben wird. Offiziell handelt es sich um einen Trailrunning-Wettbewerb, aber wer die Strecke durch eine einmalige, teils wilde, teils liebliche und stets prächtige Berglandschaft geniessen will, geht es etwas...
Published by 22 August 2015, 00h34 (Photos:54 | Comments:22)
Piz Scalottas 2'321m
Im Vertrauen darauf, dass der Regen wirklich erst am Nachmittag ins Bündnerland kommt, fuhren wir über Chur und Lenzerheide nach Tgantieni, wo man kostenlos parkieren kann. Von dort wanderten wir auf einem Forstweg Richtung Fops und weiter auf einem schönen Wanderweg zur Alp June (in der Karte nur mit 2'214m markiert). Hier...
Published by 29 August 2014, 20h59
Passeggiata a Lenzerheide
Facile passeggiata ad anello nella località turistica di Lenzerheide tra lago e panoramici pascoli. Il percorso è segnato con i cartelli numerati 745 e la dicitura " panorama". Si svolge su piste ciclabili, vie di paese e stradine sterrate. Parte del percorso coincide con il "Sentiero di Globi", percorso ludico-didattico per...
Published by 3 August 2014, 11h46 (Photos:32 | Geodata:1)