Alpe Sanaspans 2023 m
6635 ft.
---
Hut in

20 hike reports

, 5 photo(s). Last visited :

10 Aug 20


Geo-Tags: CH-GR
Photos (5)
---
By Publication date · Last favs · By Popularity · Last Comment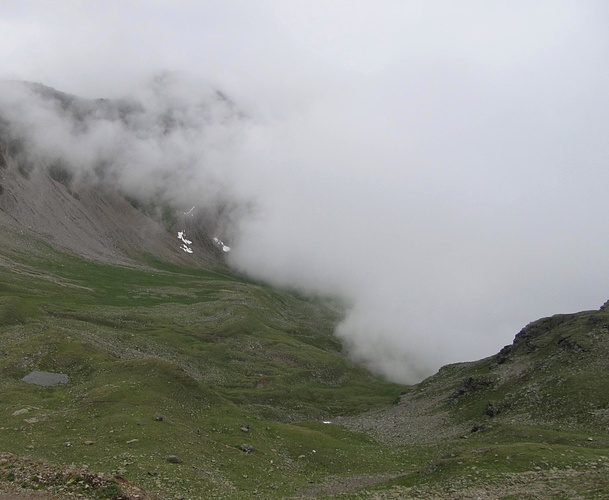 Die Alp Sanspans wurde vom aufsteigenden Nebel verschluckt und keine Viertelstunde später ich auch © alpstein
---
Reports (20)
---
| | | |
| --- | --- | --- |
| Lenzerheide | T5- | 10 Aug 20 |

Lenzer Horn (2906m) - brösmelig, aber mit Ecken und Kanten
Howdy, Egal ob man von Norden oder Süden nach Lenzerheide fährt, das Lenzer Horn fällt sofort auf und darf deshalb zurecht als Hausberg dieses schönen Hochtals bezeichnet werden. Und da ich eine Schwäche für (Haus)Berge habe, die man auch vom Hotel aus sehen kann, ist auch die Wahl für meinen Solowandertag schnell...
Published by 16 August 2020, 00h45 (Photos:42 | Comments:2)

Alp Sanaspans 2023, genüssliche ..............
...............Wanderung zur Alphütte Sanaspans. Ab Lenzerheide Infocenter ist die Alp bestens ausgeschildert. Es geht angenehm durch den kühlen Wald nach oben. Es waren auch viele Familien mit Kindern unterwegs. Als wir bei der Grillstelle inkl.Wasserfall vorbei kommen, wissen wir auch warum. Sehr schön angelegter Platz mit...
Published by 29 August 2020, 17h58 (Photos:15)
Lenzerheide

T5-

I

14 Jul 20

Lenzer Horn (2906m)
Sommerferien auf der Lenzerheide und ausnahmsweise mal wieder eine Solo-Wanderung anstatt biken mit der Familie. :-) Start in der Dämmerung um 05:15. Die ersten Kilometer verlaufen auf breiten Forstwegen von Valbella bis kurz unterhalb der Station Scharmoin und sind entsprechend langweilig. Deshalb habe ich (doch) das Bike...
Published by 29 August 2020, 17h58 (Photos:15)
Albulatal

T5+

AD-

III

WT3

5 Jan 20

Lenzer Horn (2906m) im Winter
Es war wieder einmal traumhaftes Wetter in den Bergen angesagt. Darum beschloss ich aufs Lenzer Horn zu steigen. Ich war mir lange nicht sicher über welchen Grat ich diesen Berg besteigen soll. Ich wählte den Nordostgrat da er nicht so lang ist und auch sicher erreichbar ist. Wir starteten zu zweit um 7:00 in der Lenzerheide....
Published by 6 January 2020, 20h02 (Photos:12)
Lenzerheide

T4+

PD

20 Sep 19

Lenzerhorn und Piz Linard
Absicht: Anhand verschiedener Bilder und Infos müsste ein Übergang vom Lenzerhorn zum Piz Linard doch möglich sein. Und er ist es auch. Teil 1, Lenzerhorn: Um Kräfte zu sparen gehts mit der Bergbahn bis Scharmoin. Von dort folgt man dem markierten, bereits mehrfach beschriebenem Weg über die Alp Sanaspans auf das...
Published by 21 September 2019, 12h21 (Photos:3)

Parpaner Rothorn 2'899 m.s.m.
Altre foto e info su: www.ariafina.ch Altro week-end di bel tempo Oltralpe...che fare? È tutta l'estate che li aspettiamo, non approfittarne sarebbe stupido! Tra le tante possibili mete decidiamo quindi di andare Lenzerheide. La trasferta dura solo 1h 40' e per le 9:10 siamo già a bordo della...
Published by 11 November 2018, 19h40 (Photos:1 | Geodata:1)

Lenzer Horn 2905m (ÖV)
Anreise/Rückreise nach/von Lenzerheide Post mit ÖV Aufstieg/Abstieg via Alp Sanaspans auf Normalweg über NW-Grat Verhältnisse Weg komplett schneefrei, es liegt viel loses Gestein auf dem Weg. Die Route ist durchgehend markiert.
Published by 21 June 2018, 08h04 (Photos:27)
Lenzerheide

T5+

PD

14 Apr 17

Karfreitagstour aufs Lenzer Horn
Seit geraumer Zeit reizt es mich, das Lenzer Horn, den Hausberg meines Wochenendrifugiums, im Winter zu besteigen. Im Sommer 2016 war ich bereits auf dem Gipfel und von der Schönheit und des Abwechslungsreichtums während des Aufstiegs fasziniert. Nun also eine Besteigung bei Firn und Eis. Ist es möglich? Nach Absprache mit...
Published by 18 April 2017, 15h31 (Photos:10)
Lenzerheide

T4+

I

24 Sep 16

Pizza Naira and Aroser Rothorn
I started out in Lenzerheide, hiking up towards Alp Sanaspans on the marked trail. During the first part through the residential area I had some difficulty finding the right way, but eventually I made it onto the trail to Alp Sanaspans (T2, maybe T3 in a few places). From Alp Sanaspans on the marked trail in direction...
Published by 25 September 2016, 15h15 (Photos:39 | Geodata:1)
Lenzerheide

T4+

I

F

29 Jul 16

Across Lenzer Horn (2906 m)
In this hike to Lenzer Horn (2906 m), I went up from Lenzerheide to Alp Sanaspans, bringing my mountain bike along. Then I left the bike behind, and followed the white-blue-white marked trail to the summit. Afterwards I descended a bit on the east ridge, and realized that a descent on the south-east ridge would be feasible....
Published by 31 July 2016, 13h39 (Photos:25 | Geodata:1)