Zwischenstation Morenia 2575 m
8446 ft.
---
Other in

19 hike reports

, 4 photo(s). Last visited :

27 Mar 21
Photos (4)
---
By Publication date · Last favs · By Popularity · Last Comment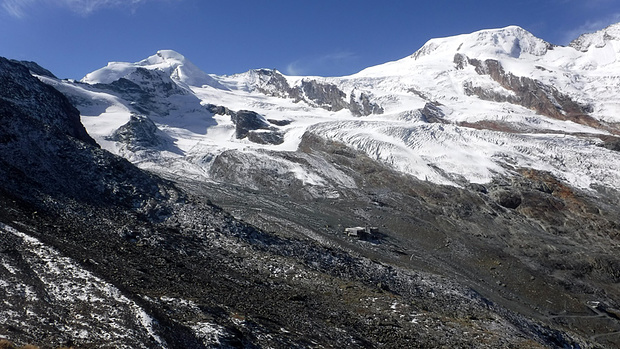 Rückblick vom Einstieg des Klettersteiges zur Bergstation Morenia und der tollen Bergkulisse. © D!nu
---
Reports (19)
---

Allalinhorn
DasAllalinhornhabe ich mit meinem Vater und zwei Kolleginnen bereits im2015 über den Hohlaubgratbestiegen. Dazumal im Herbst als Hochtour. Da wir dasStrahlhornangepeilt haben und die Wettervorhersage am Anreisetag bereits ab dem Mittag bestes Wetter versprach, nahmen wir uns zusätzlich dasAllalinhornüber den Normalweg vor.Bei...
Published by 31 March 2021, 18h14 (Photos:20 | Geodata:1)

Britanniahütte, Klein Allalin, Glacier Trail: unterwegs in der Saaser Gletscherwelt
Der Glacier Trail Mattmark stand schon lange auf meiner Pendenzenliste. Heute war das Wetter stabil, um diese recht alpine Tour zu unternehmen. Ich startete nicht auf der Station Felskinn, sondern bei der Zwischenstation Morenia. Rund um diese Station ist die ganze Landschaft für das Skifahren umgepflügt. Einen Wanderweg von...
Published by 30 August 2019, 21h08 (Photos:18 | Geodata:1)
Oberwallis

T5

PD+

II

25 Jul 19

Allalinhorn (4027 m) Überschreitung - Hohlaubgrat, Normalweg bei Traumwetter
Endlich mal wieder ins Wallis. Leider ist das Wetter ausgerechnet für Samstag und Sonntag schlecht gemeldet, also schauen dass am Freitag direkt die spannendste Tour gemacht wird, welche wir vorhaben. Allalinhorn über den Hohlaubgrat, optional noch mit Alphubel danach und wieder zurück zur Britanniahütte. Tag 1:...
Published by 8 August 2019, 01h08 (Photos:43 | Comments:2)

Strahlhorn (4190m)
Nach der langen Tour aufs Rimpfischhorn am Vortag warteten wir den nächsten Morgen ab um zu entscheiden, wohin die Reise noch führen könnte. Wettermässig war klar: Um den Mittag herum würde Grau das Blau ersetzen und am Nachmittag Niederschlag Einzug halten. Immerhin war mein Kopfweh nun weg und so gaben wir dem Strahlhorn...
Published by 4 May 2019, 14h16 (Photos:12 | Geodata:1)
Mittelwallis

I

PD+

11 May 18

Adlerpass & Allalinpass
Ein weiterer Anlauf für's Strahlhorn steht am Start. Nachdem es im letzten Jahrbei der Anreisein die Britanniahütte auf Lawinengefahrenstufe 3 wechselte und es in der Nacht einen Meter Neuschnee gab, möchte ich es dieses Jahr ein erneutes Mal versuchen. Mit dabei, zwei Powerfrauen :-) Bei meinen zwei bisherigen Britanniahütten...
Published by 13 May 2018, 11h49 (Photos:37 | Comments:2 | Geodata:2)
Mittelwallis

T4

PD

29 Jul 17

K3 Mittaghorn
Bei der Talstation der Spielbodenbahn lösen wir ein Rundreiseticket Spielboden - Morenia mit Plattjen - Saas Fee zu CHF 23.00. Mit dem Seilbahnmitarbeiter der Felskinbahn hatten wir Glück. Dies, da wir erst die Gondel um 10.20 Uhr benutzen und er eine Ausnahme für den Halt bei der Maste 4 machte. Eigentlich waren wir zu spät...
Published by 30 July 2017, 22h21 (Photos:2)

Klein Allalin
Wiebereits beimeiner letzten Skitour regnet es auch dieses Mal als wir am Zielort aus dem Fahrzeug steigen. Dies haben wir bewusst in Kauf genommen, denn der Wetterbericht meldete eine Wetterbesserung innerhalb unseres Anreisetages. Für Sonntag und Montag sollte das rauhe Wetter am Anreisetag sukzessive mit Sonnenschein belohnt...
Published by 27 March 2017, 20h21 (Photos:14 | Geodata:1)
Oberwallis

T3+

AD

4 Aug 16

Mittaghorn Klettersteig
On the final day of my brother's visit to Switzerland, we make use of the "Burgerpass" in Saas-Fee, which gives us free use of the cable cars after staying overnight in the village. We take the "Alpin Express" to the first station at Morenia, where the cable car attendant double-checks that we really intend to get off here,...
Published by 15 August 2016, 20h59 (Photos:25 | Geodata:1)
Mittelwallis

T3

I

PD

25 Sep 15

Via Mittaghorn zur Britannia Hütte
Es steht eine tolle Tour vor der Tür: Allalinhorn via Hohlaubgrat. Mit dabei habe ich drei 4000er Neulinge. Am Tag der Anreise bekletternwir den Mittaghorn Klettersteig, damit ich prüfen kann, ob die Gruppe für den Hohlaubgrat geeignet ist. Ausdauer, Höhenangst und Kletterkünste kann man auf diesem Eintäger über das...
Published by 30 September 2015, 11h39 (Photos:35 | Comments:3 | Geodata:2)

Kalte Hände am Mittaghorn
Unsere geplanten Hochtourentage sind nun in den Schnee gefallen und wir vergnügen uns in den unteren Höhen. Doch sollte es nun auch etwas felsiger werden und da bieten sich die Klettersteige im Saastal an.Heute haben wir uns für das Mittagshorn entschieden.Der Schnee grüsst im obersten Drittel. Auch für Sonntag rechnen wir...
Published by 5 November 2015, 19h08 (Photos:22)