Kaiserstuhl 693 m
2273 ft.
---
Locality in

21 hike reports

, 3 photo(s). Last visited :

11 Aug 20


Geo-Tags: CH-OW
Photos (3)
---
By Publication date · Last favs · By Popularity · Last Comment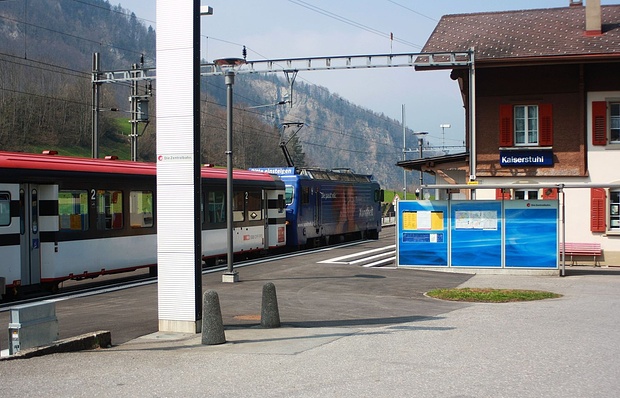 Zufälligerweise erreichte ich gerade den Bahnhof Kaiserstuhl als ein Zug einfuhr der mich gleich nach Luzern ohne eine Sekunde Wartezeit mitnham! © Sputnik
---
Reports (21)
---

Lecki Dossen - Arvidossen - Höh Grat
Bei der angesagten Hitze fiel es mit etwas schwer ein geeignetes Tourenziel zu finden das mit dem ÖV innert nützlicher Frist erreichbar ist. Da erinnerte ich mich an meine vor einigen Jahren unternommene Wanderung auf den Höh Grat. Hier erfolgt fast der ganze Aufstieg im schattenspenden Wald. Kollege Chris67 war sofort mit...
Published by 12 August 2020, 12h11 (Photos:20)

Arvidossen - Höh Grat - Güpfi - Horn
Hike and Bike oberhalb des Lungernsee In Hüttstett deponierten wir unsere Bikes für die rauschende Single-Trail-Abfahrt nach unserer Wanderung auf die Erhebungen Lecki Dossen, Arvidossen, Höh Grat, Güpfi und Horn. Bis nach Hüttstett hatte unsere Bikeshuttle aber ziemlich mit dem soeben gerade stattfindenen Alpaufzug zu...
Published by 30 May 2020, 20h55 (Photos:15 | Geodata:1)

Güpfi - Höh Grat - Arvidossen
Die Überschreitung des Grates vom Güpfi über Höh Grat bis Arvidossen weist keine grossen Schwierigkeiten auf. Dennoch sind Trittsicherheit und Schwinderfreiheit gefragt. Der Wanderer wird mit herrlichen Tiefblicken auf den Lungernsee belohnt. Skitour oder Wanderung – das war heute die Frage. Schnee hatte es auch schon...
Published by 19 May 2020, 16h01 (Photos:21)

Sarner Aa I, vom Lungernsee bis zum Sarnersee
Bei der Station Kaiserstuhl mit integriertem Coiffeursalon gehe ich zuerst an den Lungernsee. Das Wetter ist sonnig und die Landschaft beeindruckt mit dem Mix aus Wasser, Bergen und den vielen Bäumen. Am Schatten ist es noch recht kühl, ist doch alles von Raureif überzogen. So ergeben sich schöne Kontraste der Landschaft...
Published by 12 November 2019, 15h01 (Photos:33)

Höh Grat
Il fallait trouver une randonnée de remplacement et j'avais une idée de parcours en partant du Brünigpass jusqu'à Giswil. Mais une contrainte était de faire une boucle, donc le départ (et l'arrivée) allait se faire depuis Kaiserstuhl (693m). Les premiers kilomètres suivent une route en dur jusqu'à Brunnenmad (1180m). On...
Published by 23 June 2019, 23h05 (Photos:12 | Geodata:1)

Von Kaiserstuhl nach Lungern (via Ankenhubel - Feldmoos); Infos zum Lungernsee
Für die Strecke von Kaiserstuhl nach Lungern hat man, wenn man dem See entlang geht, höchstens 3/4 Stunden. Ich machte einen kleinen Umweg von 3 Stunden über den westlichen Grat zwischen Lungernsee und dem Gebiet Fluonalp/Dundelegg, d.h.den Äschligrat. Ich bestieg den "Ankenhubel", einen kleinen Gipfel auf diesem Grat und ging...
Published by 30 March 2017, 17h23 (Photos:16 | Geodata:1)

Brienzergrat XL (Kaiserstuhl OW - Harder Kulm)
36km, 3500m ascent, 2900m descent, some 20 summits, 16h45, following the spine of the Brienzer Rothorn massif, including some of the best grass ridges in the Alps. Preface There's a fun exchange of comments in another Hikr report:   Übernachtet habe ich im Hotel Rothorn-Kulm, wie das wohl alle tun (Nik...
Published by 10 July 2016, 16h45 (Photos:87 | Comments:4 | Geodata:1)

Rund um den Lungernsee
Ein weiterer Tippin meinerSammlung der Seeumrundungen: DieUmrundung des Lungernsee. Wir starteten in Kaiserstuhl: Meine drei Kinder auf dem Kickboard und ich zu Fuss. Die Seeumrundung eignet sich für diese Kombination, dennmehr als die Hälfte ist asphaltiert. Zuerst überqueren wir die "Staumauer" des Sees. Diese...
Published by 3 January 2016, 18h44 (Photos:30 | Geodata:1)

Höh Grat (1922m) und Güpfi (2043m): Von Kaiserstuhl nach Lungern
Oder "Höh Grat 1922m - Güpfi 2043m ohne Guggiföhn". Denn dieser Bericht von chaeppi hat mich dazu inspiriert, seinen Spuren zu folgen und exakt dieselbe Wanderung zu machen. Die verhältnismässig einfache Anreise und die Aussicht auf eine schöne Grat-Überschreitung machten die Tour sehr attraktiv. Bezüglich des Windes hatte...
Published by 13 December 2015, 20h03 (Photos:52 | Comments:2)

Höh Grat 1922m - Güpfi 2043m bei Guggiföhn
SRF Meteo prognostizierte für heute eine Hochnebel Obergrenze von etwa 900m mit leichter Föhntendenz in den Bergen. Also ideales Wetter für eine Wanderung. Zu den Privilegien des Rentnerlebens gehört dass man bei solchem Wetter spontan ab in die Berge kann ;-) Gleich beim Bahnhof Kaiserstuhl ist der Wanderweg nach...
Published by 3 November 2015, 17h46 (Photos:18 | Comments:5)