Älplihorn 3006 m
9860 ft.
---
Peak in

25 hike reports

, 232 photo(s). Last visited :

17 Oct 21


Geo-Tags: CH-GR
Photos (232)
---
By Publication date · Last favs · By Popularity · Last Comment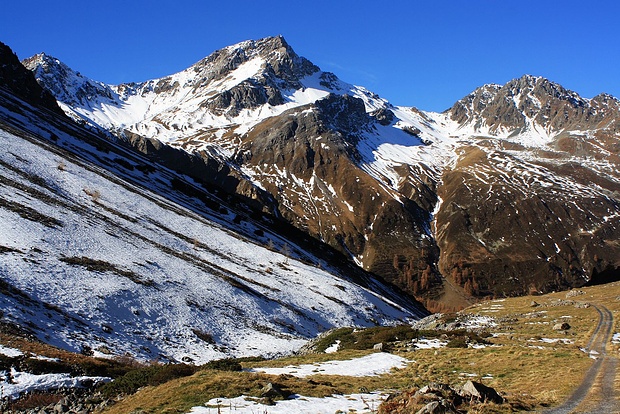 In prächtigen Herbstfarben und ein wenig eingeschneit präsentiert sich das Älplihorn (3005,6m) aus dem Chüealptal. Rechts vom Älplihorn, durch die Leidbachfurgga (2727m) getrennt, steht das Leidbachhorn (2908m), links vom Älplihorn, durch die Bärentällifurgga (2745m) getrennt, der namenlose Gipfel P.2844m. © Sputnik
---
Reports (25)
---

Strel Nordgipfel 2843 m / Älplihorn 3006 m Wintergipfel
Goldene Herbst Abschlusstour 2021 unter dieses Motto stellen wir diese Tour vom 17. Oktober 2021. Der Strel ist ein lang gezogener zerklüfteter Grat mit der höchsten Kotierung von 2844 m. Gesehen haben wir den Kamm schon einige Male von den umliegenden alle höher kotierten Bergen. Dank dem Bericht von Roald (der auf den Tag vor...
Published by 14 November 2021, 21h37 (Photos:40)

Älplihorn
sehr gut beschrieben ist bereits dieser Toureneintrag:Älplihorn 3006 m [hikr.org] Insofern will ich hier nicht rein kopieren und tatsächlich haben wir die Tour auch noch abgewandelt. Wir starteten in Monstein. Dort ist direkt, quasi noch vor dem eigentlichen Ort ein gebührenpflichtiger Parkplatz, 1578m. Für den ganzen...
Published by 31 July 2021, 21h56 (Photos:8)

Älplihorn
Immer wieder bin ich begeistert, wenn eine Tour und das Datum Monate vorher geplant wird und an diesem Wochenende solch hervorragendes Wetter und so super Bedingungen herrschen. Wir reisten sehr früh nach Monstein an. Das lohnt sich, nur schon wegen der Parkplätze. Ausser man möchte durch das ganze Dörfchen laufen ;-)...
Published by 22 February 2021, 10h40 (Photos:13 | Geodata:2)

Älplihorn Wintergipfel 3000 m
Das Älplihorn liegt zwischen dem Sertigtal und Monstein. Der einfachste Aufstieg erfolgt von Süden über den Gratrücken, der keine besonderen Schwierigkeiten aufweist. Gegen das Sertig fallen die Wände umso steiler ab. Möglich wäre auch eine Besteigung via Nord-Grat vom Leidbachhorn, diese Route ist aber wesentlich...
Published by 19 October 2019, 06h50 (Photos:35)

Schneeschuhtour Fanezfurgga und Älplihorn 3005 m
Diese Tourenbeschreibung vereint zwei Varianten: Will man eine einfache Schneeschuhtour gehen, kann man nur bis zur Fanezfurgga laufen, sucht man dagegen alpine Abenteuer kann man gleich das Älplihorn angehen. Der Anfang ist für beide Touren gleich: Vom Parkplatz am Eingang des Örtchens Monstein geht's bis ans Dorfende. Von...
Published by 6 May 2019, 00h05 (Photos:9 | Geodata:1)

Z'Älpli ga
Um das Warmfrontbewölkungsflöppchen vom letzten Freitag auszugleichen, investierte ich in den heutigen Prachtsmittwoch einen Frei-Tag - und kam endlich wieder mal (ganz knapp) auf 3000m und das erste Mal zu einem Monsteiner Bier, dies auf der bekannten Überschreitung des Älplihorn mit Zugabe Chrachenhorn NW-Grat Pt 2517 und...
Published by 14 March 2018, 21h33 (Photos:14 | Comments:2)

Älplihorn 3006 m
Das Älplihorn ist der höchste Berg der Kette zwischen dem Sertigtal und Monstein. Imposant ist sein Anblick aus dem Sertigtal bzw. vom Jakobshorngebiet. Wir starteten in der typischen Walsersiedlung Monstein 1636 m. Ein Wanderweg führt zur Oberalp 1913 m, welche auch ganz in walserischem Stil erbaut worden ist. Dem Wanderweg...
Published by 14 August 2017, 20h55 (Photos:24)

Älplihorn (3006m)
Anreise Mit PW nach Monstein Aufstieg via Bärentälli, Ski tragen nur bis ca. 1850m, vom Vorgipfel zum Hauptgipfel hat es momentan eine gute Spur (ist aber trotzdem ausgesetzt) Abfahrt Via Mitteltälli Momentane Verhältnisse Beste Frühjahresverhältnisse vorgefunden: genügend Schnee, am Morgen nach einer klaren...
Published by 31 March 2017, 09h58 (Photos:54)

ALPLIHORN m. 3005
Da Monstein, saliti lungo la Mitteltalli fino all'inizio della rampa finale, poi alla cima per il tracciato indicato sulla cartina 432b Discesa tutta per noi direttamente dalla cima senza più tornare dalla dorsale. Altri scialpinisti saliti e scesi dalla Barentalli per il tracciato 432a Meteo Oggi giornata splendida...
Published by 12 March 2017, 11h59 (Photos:13 | Geodata:1)

Älplihorn (3006 m) from Sertig
Again perfect weather for hiking! I started in Sertig, and followed the marked trail towards Fanezfurgga. The Ducan valley is very scenic, and I also spotted numerous marmots there. After reaching Fanezfurgga, I traversed into the Bärentälli valley. At the beginning it was very rocky and bumpy terrain, and it may be better to...
Published by 28 August 2016, 14h17 (Photos:37 | Geodata:1)