Älplihorn 3006 m
9860 ft.
---
Peak in

16 hike reports

, 104 photo(s). Last visited :

26 Aug 16


Geo-Tags: CH-GR
Photos (104)
---
By Publication date · Last favs · By Popularity · Last Comment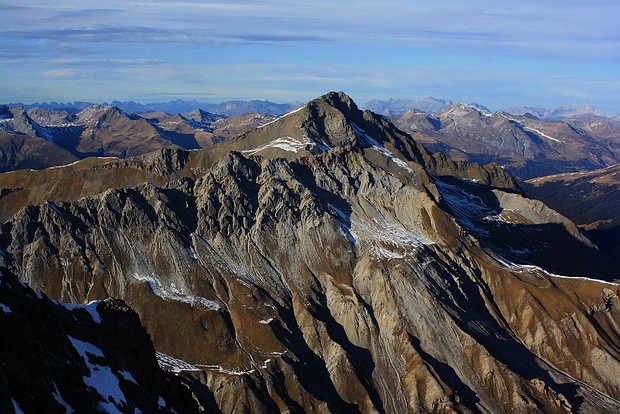 Aussicht vom vom Chlein Ducan / Ducan Pitschen (3004m) zum knapp höheren Älplihorn (3005,6m). © Sputnik
Reports (16)
---

Älplihorn (3006 m) from Sertig
Again perfect weather for hiking! I started in Sertig, and followed the marked trail towards Fanezfurgga. The Ducan valley is very scenic, and I also spotted numerous marmots there. After reaching Fanezfurgga, I traversed into the Bärentälli valley. At the beginning it was very rocky and bumpy terrain, and it may be better to...
Published by 28 August 2016, 14h17 (Photos:37 | Geodata:1)

Älplihorn 3005m
Nachdem nun das Osterwochenende nicht so gelaufen ist wie gewünscht, hole ich nun jetzt mein Skitourenwochenende in Davos nach. Zumal am Montag das Sechseläuten stattfindet, wird es sogar ein verlängertes Wochenende. Mein Ziel war das Älplihorn auf der Route R518a. Frühzeitig fuhr ich nach Monstein, parkierte mein Auto...
Published by 14 April 2015, 23h38 (Photos:35)

Von Monstein auf das Älplihorn 3006müM
Zum zwanzigsten Jahrestag der Praxis hatte mein Chef das ganze Team für zwei Tage nach Davos eingeladen. Einige entschieden sich Ski zu fahren, andere zu Shoppen da ich weder das eine noch das andere gerne mache machte ich alleine eine Schneeschuh Tour, leider auch ohne Fly der mir fehlte. Ich fuhr von Davos mit dem Auto nach...
Published by 10 January 2016, 15h00 (Photos:43 | Comments:2)

Überschreitung Älplihorn (3006m)
Nach der gestrigen Aufwärm- und Genussrunde auf die Fanezfurga folgt heute der Höhepunkt des Monsteiner Kurzurlaubes: die Überschreitung des Älplihorns, meinem erstem Solo Ski 3000er. Leider hat das Wetter über Nacht umgeschlagen und depressive Grautöne prägen den Tag. Bei Start ab Davos Monstein (1619m) kommen zwei...
Published by 4 March 2012, 14h27 (Photos:10)

Älplihorn, 3006 m
Von Monstein über das Bärentälli zum Älplihorn hoch. Es war kalt heute, sehr kalt... an meinem Bart hingen die Eiszapfen nur so herunter. Der Übergang vom Vor- zum Hauptgipfel war gut zu machen. Bis zur schwierigeren Passage konnten die Ski angeschnallt bleiben. Schönes Wetter, stabile Schneeverhältnisse und die Abfahrt...
Published by 12 February 2012, 22h34 (Photos:11)

"Wärmeeinbruch" und schöne Pulverhänge am Älplihorn
Eigentlich hätte ich heute den Foo Fighters helfen sollen, die hätten wohl ein dritten Spurer gut gebrauchen können... Allerdings lag die Schwierigkeit der ursprünglich geplanten Foo-Tour etwas über meinen Verhältnissen und so entschloss ich mich meine eigenen, einfacheren Spuren zu ziehen. Dank dem indirekten Tip von...
Published by 9 February 2012, 20h58 (Photos:20 | Comments:4 | Geodata:1)

Älplihorn 3005 m
Ausgangs- und Endpunkt war die Bahnstation Monstein. Von da ging's zuerst ins Dorf Monstein, dieses ist etwa 280 m höher gelegen als die Bahnstation. Der Weg führte weiter zum Weiler Oberalp. Wenn man nun weiter Richtung Fanezfurgga geht, öffnen sich linker Hand zwei Seitentäler: Zuerst das Mitteltälli, danach das...
Published by 1 November 2011, 21h19 (Photos:9)
Davos

T4+

F

I

AD-

5 Feb 11

Älplihorn 3005,6m
ENDLICH EINE SKITOUR BEI SCHÖNEM WETTER AUF EINEN 3000er! Das Älplihorn ist ein beliebter Ski-3000er, so war eine perfekte Aufstiegsspur durchs Bärentälli vorhanden und als logisches Fazit unzählige Abfahrtsspuren das Mitteltälli hinunter. Der Aufstieg und die Besteigung des höchsten Punktes war der reinste Genuss,...
Published by 6 February 2011, 10h20 (Photos:29 | Comments:3)

Gletscher Ducan 3020m & Älplihorn 3006m
One Day in Paradise - Saisonhighlite 09/10 Zugeben, bei diesen Bedingungen (Achtung: SLF "erheblich!") über den ganzen Tag hinweg neigt man dazu, der ganzen Welt zu sagen: "Ihr habt was verpasst!" Doch so soll jeder sein Ding machen - ich für mein Teil hab auf alle Fälle wahrscheinlich DIE...
Published by 3 April 2010, 11h48 (Photos:46 | Comments:7)

Yes du can! (Gletscher Ducan und Älplihorn)
Der Gletscher Ducan ist eine bekannte (Frühlings-) Skitour. Unter der Woche mit unverspurtem Pulver ab Fanezfurgga und der zusätzlichen Pulverabfahrt vom Älplihorn ergab sich eine lange prächtige Skitour auf zwei 3000er. Gletscherducan 3020 (ZS-) Von Monstein über Fanezmeder-Fanezfurgga-Ducanfurgga auf...
Published by 20 January 2010, 12h31 (Photos:14 | Comments:1)