Foostöckli 2535 m
8315 ft.
---
Peak in

14 hike reports

, 110 photo(s). Last visited :

4 Mar 21


Geo-Tags: CH-GL, CH-SG, Spitzmeilengruppe
Photos (110)
---
By Publication date · Last favs · By Popularity · Last Comment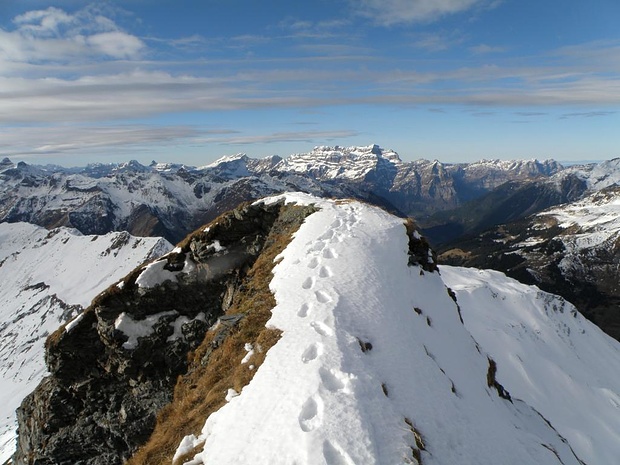 Blick Richtung Westen und somit auf schöneres Wetter. Vorne meine Fussspur, Fly ist geflogen © Flylu
---
Reports (14)
---

Foostöckli kurz und bündig
es ist schon beinahe langweilig. was für eine klassische Skitour bei geringer Lawinengefahr. keinerlei Herausforderung. Schnee direkt ab Elm. dann von der Bergbahnstation Tschinglen bis hinauf zu P. 1173 kein Schnee. das hält sich in Grenzen. danach schön harter Schnee, es läuft sich leicht. ich benötige einen kleinen...
Published by 7 March 2021, 13h45 (Photos:8)

Ruchen/Foostock Ostgrat und die Gipfel um die Raminer Matt
Nicht ohne mein Bike. Den Zustieg ab Talstation der Niderenbahn zur Raminer Matt kann man durchaus zu Fuss unternehmen. Ist auch nicht schlecht, wenn auch etwas einschläfernd. Aber mit dem Bike über die in jüngerer Zeit erstellte Strasse zum Ramin Mittelstafel, anschliessend zur Raminer Matt zu fahren, bringt abends vor...
Published by 26 April 2021, 07h46 (Photos:16)

Survived: Matter Horn im Föhnsturm
Zugegeben, leicht dramatisiert und auch abgekupfert: Erstens ist's nicht der Cervino, sondern nur das Matter- aka Stuelegghorn, und zweitens war der Föhn dann doch nicht so stark, als dass die schöne Gratüberschreitung via Blattengrat, Grüenenspitz zum Foostöckli nicht doch möglich gewesen wäre - ein hübscher Gang über...
Published by 13 June 2020, 10h13 (Photos:14)

Weralper Grat (2445 m), Foostöckli (2535 m), Grünspitz (2360 m), und Fanenstock (2236 m)
Lange, aber sehr schöne Wanderung über Weralper Grat (2445 m), Foostöckli (2535 m), Grünspitz (2360 m), und Fanenstock (2236 m). Nicht nur landschaftlich schön, sondern auch wegen den vielen Bergblumen, vor allem Enziane. Im Aufstieg zum Weralper Grat und auch im Abstieg gab es überall Enziane. In der Weralper Südflanke...
Published by 30 May 2020, 10h32 (Photos:41 | Geodata:1)

Foostöckli und Foostock aus dem Weisstannental
Bei meinen Eltern gibt es einen Bergkalender, auf dem im Oktober dieses Bild abgebildet ist. Beim letzten Besuch wurde damit der Foostock in mein Bergbewußtsein gerückt und blieb dort hartnäckig verhaftet. Unterschiedliche Faktoren führten dazu, dass ich den tollen Herbst weniger als gewünscht oder gehofft mit Bergtouren...
Published by 28 October 2018, 21h33 (Photos:74 | Comments:8)

Grosse Krauchtalrunde
Da wir in der Familie eine Schlafgelegenheit in den Weissenbergen besitzen kann ich bereits um 4:30 loslaufen. Alternativ kann man natürlich auch von Matt aus starten und so noch ein paar zusätzliche Höhenmeter mitnehmen. Nach einem kurzen Abstieg auf der Schlittelbahnstrecke ins Chrauchtal beginnt auch sogleich der erste...
Published by 4 December 2017, 14h36 (Photos:10 | Comments:1 | Geodata:1)

Foostock (2610 m) und Foostöckli (2535 m)
Noch immer: unten Nebel, oben Sonne. Und die Südhänge bis weit hinauf schneefrei. Da versuchte ich mit dem Ruchen/Foostock ein eher ausgefallenes Ziel. Wenns nicht klappen sollte, kann man überall abbrechen und den Fanenstockgrat als Alternative begehen. Mit dem Auto bis zum (inoffiziellen) Parkplatz bei P. 1173 oberhalb...
Published by 16 December 2016, 19h19 (Photos:19 | Comments:4 | Geodata:1)

Winterliche Wanderung zum Foostöckli 2536müM und Fanenstock 2234müM
Für die heutige Tour habe ich mir den Ruchen / Foostock ausgesucht um dann via Fanenstock, den ich bereits im März 2011 mit den Schneeschuhen besuchte abzusteigen. Gegen 07:30 parkierte ich bei der Talstation der Tschinglenbahn im Elm-Zündli. Bei angenehmen kühlen Temperaturen machten Fly und ich uns auf zum Foopass. Der...
Published by 2 December 2016, 13h43 (Photos:49 | Comments:3)

On the ridge from Fanenstock (2235 m) to Foostock (2611 m)
I started this hike in Elm right where the aerial cable way starts (Tschinglenbahn). It was only about 5° C when I started at 8:00 in the morning, and the first 1 h 20 min of the ascent took place in the shade. The trail to Fanenstock (2235 m) is marked white-red-white and is easy to follow (T2). After a short photo stop at...
Published by 17 October 2016, 22h03 (Photos:46 | Comments:1 | Geodata:1)

Rundtour Fanenstock 2235m und Foostock 2611m
Das Gebiet zwischen Fanenstock und Foostock bleibt dank der ausgeprägten Südexposition lange schneefrei und eignet sich deshalb - trotz der stattlichen Höhe - vorzüglich für Herbstwanderungen. Es dominieren grosszügige Weideflächen, die fast überall unschwierig begehbar sind. Aber am schönsten ist ohnehin der lange...
Published by 8 October 2016, 17h48 (Photos:30 | Geodata:1)