Aroser Rothorn 2980 m
9774 ft.
---
Peak in

25 hike reports

, 189 photo(s). Last visited :

4 Jul 19


Geo-Tags: CH-GR
Photos (189)
---
By Publication date · Last favs · By Popularity · Last Comment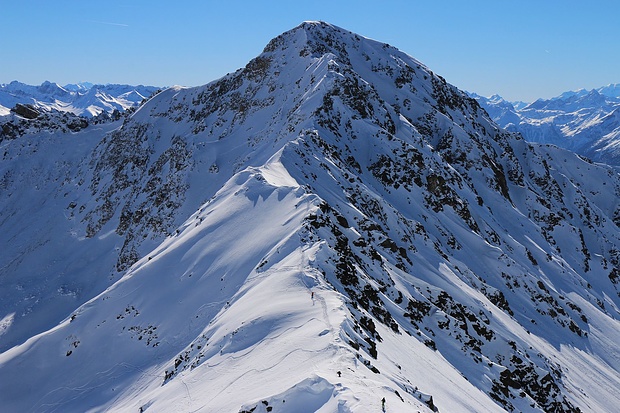 Parpaner Rothorn (2899m): Gipfelaussicht zum Aroser Rothorn (2980,2m) das ich im Anschluss über den Grat bestieg. © Sputnik
---
Reports (25)
---

Gipfelrunde um die Aroser Alp
Nach einem ersten Trailrun zur Ochsenalp soll mein Aufenthalt in Arosa natürlich auch eine schöne Gipfelrunde beinhalten. Wie mir Einheimische versichern, liegt für die Jahreszeit noch aussergewöhnlich viel Schnee. Probleme bereitet er aber keine mehr, von nassen Füssen mal abgesehen. Ohnehin sind die technischen...
Published by 10 July 2019, 16h35 (Photos:19 | Geodata:1)
Lenzerheide

PD

AD

8 Feb 19

2-Tage mit Ramozhütte
Den Tip von Tim via Lenzerheide, Parpaner Rothorn über den Grat zum Aroser Rothorn zu gehen und in der Hütte zu Übernachten war genau richtig. Das Wetter passte gut, auch das LLB mit Stufe 2 gerade passend. Der Grat ist gut zu gehen, speziell wenn er schon gespurt ist wie heute. Scheinbar wird der oft gemacht. Steigeisen und...
Published by 22 February 2019, 19h52 (Photos:28 | Geodata:3)
Lenzerheide

T4+

I

27 Jul 18

Kurztour auf das Aroser Rothorn
Gratroute ohne Zustiegsmühe... Es ist gar nicht so einfach, eine wirklich kurze, aber nicht zu einfache Bergtour zu finden, die noch dazu auf einen ansehlichen Gipfel führt. Beim Aroser Rothorn war ich zuerst skeptisch, ob es nicht zu langweilig würde, denn der Grat vom Parpaner Rothorn war früher mal als Bergweg...
Published by 30 July 2018, 22h11 (Photos:20)

Schanfigg-Umrundung als Tagestour
Von der Idee zur Umsetzung Die Idee das Schanfigg "möglichst weit oben", also nicht auf dem Schanfigger Höhenweg, zu umrunden kam mir, als ich zum ersten Mal die Hochwangkette überschritten habe. Auf dieser Tour hat man den möglichen Routenverlauf nämlich ständig vor Augen. Natürlich ist der Anblick...
Published by 17 August 2017, 06h28 (Photos:10 | Comments:6 | Geodata:1)

Aroser Rothorn 2980
Um 6:30 gings von Arosa los. Das Wetter war gut aber kühl, gut für eine grosse Bergtour. Von Arosa aus wanderten mein Vater und ich zuerst auf gutem breitem Wanderweg zum Schwellisee. Vom Schwellisee geht es auf gutem Bergweg zum Älplisee und von da aus führt ein alpiner Weg zunächst der Plessur entlang der dann gegen links...
Published by 17 July 2017, 18h57 (Photos:6)
Lenzerheide

T4+

I

24 Sep 16

Pizza Naira and Aroser Rothorn
I started out in Lenzerheide, hiking up towards Alp Sanaspans on the marked trail. During the first part through the residential area I had some difficulty finding the right way, but eventually I made it onto the trail to Alp Sanaspans (T2, maybe T3 in a few places). From Alp Sanaspans on the marked trail in direction...
Published by 25 September 2016, 15h15 (Photos:39 | Geodata:1)

Vamos a Ramoz - bailamos Sulza!
Unglaublich gute Verhältnisse, zumindest unterhalb von ca. 2700m: Man nehme beste Abstrahlungsverhältnisse und nicht zu warme Temperaturen, ein sehr tragfähiges Fundament als Folge von Föhn/Wärme anfangs April und Kälte danach und dazu in den letzten Tagen wiederholt etwas Neuschnee: Das Ergebnis ist seidenfeiner Sulz fast...
Published by 7 May 2016, 10h59 (Photos:26)
Schanfigg

T4-

AD

19 Mar 16

Parpaner Rothorn 2899m und Aroser Rothorn 2980,2m
AROSER ROTHORN - EINE SKITOUR MIT GENUSS. Prächtiges Wetter, lawinensichere Verhältnisse an einem Wochenende - da wollte ich unbedingt auf die Ski. Da ich das defektes Fell von der letzten Tour noch nicht ersetzen konnte, sollte sie wenig Skiaufstieg haben aber dafür eine um so längere Abfahrt. Ein geeigneter Berg dafür...
Published by 21 March 2016, 21h32 (Photos:40 | Comments:2)

Aroser Rothorn 2980m
fact sheet: bergtour auf den ribu aroser rothorn 2980m (prominenz 1349m) in den plessuralpen in graubünden. von 27.-28.09.2014; im alleingang. anfahrt per ÖV; start am bahnhof von arosa; tag 1: aufstieg zum schwellisee; tag 2: aufstieg über den erzhornsattel zum aroser rothorn; abstieg über den NW-grat und dann teils...
Published by 29 September 2014, 20h59 (Photos:1)
Schanfigg

T5

PD+

II

22 Jul 13
Über zackige Grate von Arosa nach Lenzerheide
Zu dritt inklusive Lokführer fahre ich um 5.15 Uhr mit der neuen Allegra -Holper-Kombination von Chur nach Arosa. Um 6.15 fülle ich am Bahnhofbrunnen nochmal meinen Tank und laufe hinunter zur Brücke beim Müliboden, einem sehr schönen Teil von Arosa. Via Fahrstrasse gelange ich zum Sender und in Wegspuren zur kühnen Hütte...
Published by 24 July 2013, 17h22