Piz Raschil / Stätzer Horn 2575 m
8446 ft.
---
Peak in

11 hike reports

, 16 photo(s). Last visited :

8 Jun 14


Geo-Tags: CH-GR
Photos (16)
---
By Publication date · Last favs · By Popularity · Last Comment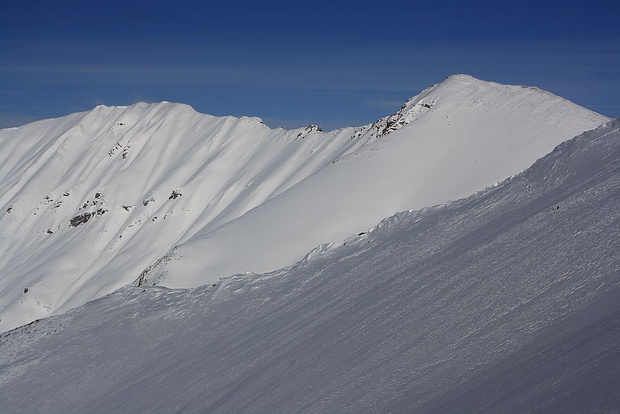 Unterwegs auf dem Piz Danis Westgrat hat man eine prächtige Sicht nach Norden zum Piz Raschil / Stätzer Horn (rechts; 2574,5m) und Fulenberg (links; 2572m). © Sputnik
Reports (11)
---

"Warm-Up-Tour": Piz Danis (2497 m) und Stätzer Horn (2575 m)
Die sommerlichen Temperaturen laden ja regelrecht dazu ein, die Bergschuhe aus dem Winterstauraum zu befreien und dieWandersaison 2014 etwas früher als geplant einzuläuten!Und was würde sich dazu besser anbieten als die altbekannte Gipfel-Runde quasi vor der Haustüre? Die Stätzerhornkettekann in ihrer gesamten Länge...
Published by 11 June 2014, 23h34 (Photos:18)
Lenzerheide

T3

PD+

24 Jan 13

Piz Danis 2497m und Piz Raschil / Stätzer Horn 2574,5m
ÜBERSCHREITUNG VOM PIZ DANIS UND BESTEIGUNG VOM STÄTZER HORN OHNE BENUTZUNG VON SEILBAHNEN. Die Skitour war chaotisch bevor ich sie überhaupt antreten konnte. Noch etwas verschlafen hörte ich die Gleisdurchsage im Zug während der Einfahrt in Zürich. Deshalb stieg ich in den falschen Zug und bemerkte dies unterwegs als ich...
Published by 25 January 2013, 16h18 (Photos:36 | Comments:4)

Über 5 Gipfel - Von Piz Scalottas nach Brambrüesch...
Am Wochenende vom 12. August wollte ich die Gratüberschreitung vom Piz Scalottas nach Brambrüesch machen, da ich diese letztes Jahr schon im Kopf hatte, aber leider nicht realisieren konnte...   Früh am Morgen gingen mein Bruder und ich in Chur auf das Postauto Richtung Lenzerheide. Von der Post Lenzerheide war es...
Published by 20 August 2012, 21h30 (Photos:7)

Fulhorn-Stätzerhorn-Piz Danis
Lulubusihat im Frühling die Aussicht vom Fulenberg gerühmt. Auf der Suche nach einer eintägigen Gratwanderung mit ÖV, die auch für gemütlichere Wandernde genussreich ist, kam mir seine Empfehlung in den Sinn. So liess ich mich von der Pradaschier Sesselbahn nach Pargitsch hoch tragen und folgte dann dem immer wieder anders...
Published by 10 September 2011, 14h59 (Photos:5)
| | | |
| --- | --- | --- |
| Lenzerheide | T3+ | 13 Jun 09 |

Stätzer Horn (2574 Meter) - Gratüberschreitung
Dieses Wochenende wollte ich wieder einmal eine Tour im Bündnerland machen. Ich war mir aber lange Zeit nicht sicher, wo ich hinauf wollte. Calanda oder Stätzerhornüberschreitung? Kurz nach Ziegelbrücke entschied ich mich für die Stätzerhornüberschreitung, da die Calanda eigentlich ein...
Published by 14 June 2009, 10h49 (Photos:20 | Comments:1)
Lenzerheide

T2

WT4

26 Apr 09

Piz Rascil/Stätzer Horn 2575m
In cerca di un posto senza pioggia ci siamo spinti fino al Passo di Lenzerheide, più di due ore di macchina ma ne è valsa la pena: niente acqua, anche se nuvoloso e nel pomeriggio l'uscita di un pò di sole ci ha permesso di fare anche un giro in paese. L'intenzione è quella di salire al Piz...
Published by 29 April 2009, 18h02 (Photos:51)

Panorama-Grat um das Stätzer Horn (2574m)
Ein 10km langer Gratzug trennt das Hochtal der Lenzerheide vom Domleschg. Dank seiner zentralen Lage geniesst man bei der Überschreitung eine hervorragendes Panorama: fast alle Gipfel, die in Graubünden Rang und Name haben, bekommt man zu Gesicht. Weil die markierte Gratroute T3+ nicht übersteigt, ist sie sehr populär....
Published by 9 September 2008, 20h22 (Photos:16)

Piz Scalottas- Dreibündenstein Gratüberschreitung
Hike classification: 3 stars (nice, but not special) This hike follows marked mountain paths. The ascent from Lenzerheide to Piz Scalottas is marked and not interesting. The hike along the ridge to Fulbergegg offers nice views, but is also somewhat degraded due to presence of ski infrastructure. Some slightly exposed parts are...
Published by 3 July 2007, 23h25 (Photos:7)

Stätzer Horn (2575m)
Alp Nova - Sattel 2330m - Stätzer Horn - Alp Nova - Lenzerheide. Das Stätzer Horn hat für die Skitouristen ein ähnlich ungünstiges Los wie der Titlis. Beide sind wunderbare Skiberge aber durch die gipfelnahen Bergbahnen nicht besonders populär. Unter gewissen Umständen ist die Besteigung aber...
Published by 20 February 2007, 00h26 (Photos:5)

Piz Scalottas (2322) - Piz Danis (2497) - Piz Raschil (2574)
Eine sehr schöne Bergwanderung, und dies erst noch zu dieser Jahreszeit. Start in Sartons auf 1680m. Aufstieg über Alp Lavoz geradewegs zum Piz Scalottas. Leider ist dieser schöne Gipfel total verbaut. Weiter alles dem Grat entlang zum Piz Danis und anschliessend auf dem Grat weiter zum Piz Raschil (auch...
Published by 29 November 2006, 08h51 (Photos:8)