Piz Raschil / Stätzer Horn 2575 m
8446 ft.
---
Peak in

17 hike reports

, 33 photo(s). Last visited :

10 Sep 16


Geo-Tags: CH-GR
Photos (33)
---
By Publication date · Last favs · By Popularity · Last Comment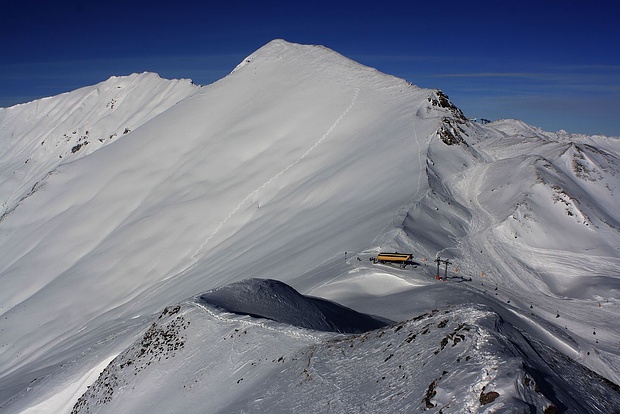 Aussicht vom Piz Danis Nordgratbuckel P.2399m hinüber zum Piz Raschil / Stätzer Horn (2574,5m). Dahinter ist der im Winter sehr selten besuchte Fulenberg (2575m). © Sputnik
Reports (17)
---

Fulhorn - Stätzerhorn
Schöne Rundwanderung über lange Grate und idyllische Alpen Der lange Kamm vom Fulhorn zum Stätzerhorn sticht aus verschiedenenPerspektiven ins Auge und ist dank einem durchgehenden Wanderweg einfach begehbar. Packt man die Runde aus dem Domleschg an, ergibt sich eine schöne Tour abseits der vielbegangenen Wege. Das...
Published by 12 September 2016, 08h20 (Photos:11)

Gratwanderung zum Stätzer Horn, 2575m
Unsere diesjährige Vereinsreise führte uns ins Gebiet Lenzerheide. Obwohl alle Teilnehmer sportlich sind; wandern ist halt doch etwas eigenes und somit für einige eher ungewohnt. Die Herausforderung besteht deshalb jeweils darin, ein über 2 Tage verteiltes, ausgewogenes Programm zu gestalten, wo etwas Sportlichkeit, aber auch...
Published by 9 September 2016, 07h02 (Photos:23 | Comments:2)

Stätzer Horn (2575 m) and a few other peaks near Lenzerheide
After so many rainy days it was nice to go hiking in perfect weather again! On this hike I basically followed the ridge from Crap la Pala via Piz Scalottas, Piz Danis, and Stätzer Horn to Fulenberg. The panoramic view to other nearby mountains was absolutely fantastic! I spotted a few animals (a deer, numerous marmots, and...
Published by 10 June 2016, 23h16 (Photos:17 | Comments:2 | Geodata:1)

Fulhorn (2529m), Fulenberg (2572m) und StätzerHorn (2575m) - feine Grattour ab Feldis nach Valbella
Zwei Tage zuvor auf dem Stätzer Horn hatte ich den Eindruck, dass der schöne und schon länger auf meiner to-do-Liste stehende, vom Fulhorn herüberführende Grat noch bzw. schon wieder machbar sein müsste: Zeigten sich die S/W-Expositionen doch bereits wieder weitgehend aper.   Starten wollte ich freilich von der...
Published by 21 November 2015, 19h18 (Photos:57 | Comments:4)

Stätzer Horn (2575 m)
Seit langer Zeit das erste Mal wieder auf dem Stätzer Horn. Ich kann nicht sagen, dass ich der Lenzerheide, meinem Ausgangspunkt, grosse Sympathie entgegenbringe, das sich ja u.a. dadurch "auszeichnet", die umgebenden Berge den Bedürfnissen des Ski-Tourismus "angepasst" zu haben. Lieber wäre ich in Feldis gestartet,...
Published by 8 November 2015, 23h59 (Photos:34 | Comments:4)

Auf hübschem Grat von Lenzerheide nach Chur
Den letzten schöne Sommertag (31.8.) hatte ich leider mit Arbeit vergeudet, aber der 1. September versprach mindestens bis ca. 15 Uhr trockenes Wetter. Und weil es im Osten länger halten sollte, war der Ausgangspunkt Chur schon fast gegeben. Mit dem Postauto ging es zum Startort Lenzerheide und von dort mit dem Sessellift auf...
Published by 1 September 2015, 20h25 (Photos:10)

"Warm-Up-Tour": Piz Danis (2497 m) und Stätzer Horn (2575 m)
Die sommerlichen Temperaturen laden ja regelrecht dazu ein, die Bergschuhe aus dem Winterstauraum zu befreien und dieWandersaison 2014 etwas früher als geplant einzuläuten!Und was würde sich dazu besser anbieten als die altbekannte Gipfel-Runde quasi vor der Haustüre? Die Stätzerhornkettekann in ihrer gesamten Länge...
Published by 11 June 2014, 23h34 (Photos:18)
Lenzerheide

T3

PD+

24 Jan 13

Piz Danis 2497m und Piz Raschil / Stätzer Horn 2574,5m
ÜBERSCHREITUNG VOM PIZ DANIS UND BESTEIGUNG VOM STÄTZER HORN OHNE BENUTZUNG VON SEILBAHNEN. Die Skitour war chaotisch bevor ich sie überhaupt antreten konnte. Noch etwas verschlafen hörte ich die Gleisdurchsage im Zug während der Einfahrt in Zürich. Deshalb stieg ich in den falschen Zug und bemerkte dies unterwegs als ich...
Published by 25 January 2013, 16h18 (Photos:36 | Comments:4)

Über 5 Gipfel - Von Piz Scalottas nach Brambrüesch...
Am Wochenende vom 12. August wollte ich die Gratüberschreitung vom Piz Scalottas nach Brambrüesch machen, da ich diese letztes Jahr schon im Kopf hatte, aber leider nicht realisieren konnte...   Früh am Morgen gingen mein Bruder und ich in Chur auf das Postauto Richtung Lenzerheide. Von der Post Lenzerheide war es...
Published by 20 August 2012, 21h30 (Photos:7)

Fulhorn-Stätzerhorn-Piz Danis
Lulubusihat im Frühling die Aussicht vom Fulenberg gerühmt. Auf der Suche nach einer eintägigen Gratwanderung mit ÖV, die auch für gemütlichere Wandernde genussreich ist, kam mir seine Empfehlung in den Sinn. So liess ich mich von der Pradaschier Sesselbahn nach Pargitsch hoch tragen und folgte dann dem immer wieder anders...
Published by 10 September 2011, 14h59 (Photos:5)