Sentisch Horn 2827 m
9273 ft.
---
Peak in

17 hike reports

, 79 photo(s). Last visited :

14 Oct 17


Geo-Tags: CH-GR
Photos (79)
---
By Publication date · Last favs · By Popularity · Last Comment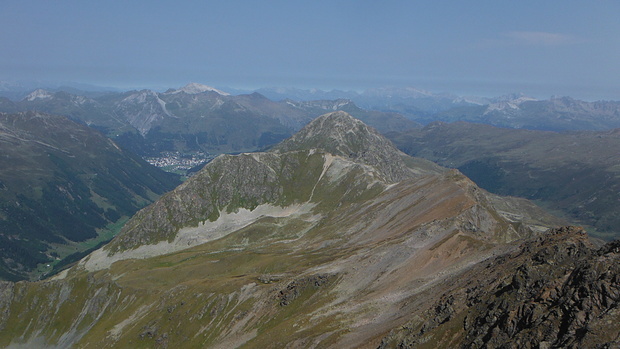 Towards Davos - view from the summit of Chlein Schwarzhorn. BTW. The hazy layer of dust above is apparently due to the wildfires in Canada. © Roald
---
Reports (17)
---

Sentisch Horn 2827 m
Das Sentischhorn liegt in der Schwarzhornkette zwischen Flüelatal und Dischmatal. Die heute viel befahrene Pass-Strasse querten wir gleich nach dem Parkplatz, da mussten wir gut aufpassen, da viele Motorrad- und Autofahrer dieses kurvenarme Teil-Stück der Pass-Strasse zum ausprobieren ihrer Pferdestärken nutzten…. Wir...
Published by 14 October 2017, 16h33 (Photos:20)

Backcountry ski tour to Sentisch Horn (2826 m)
I started off at the Flüela pass road in Tschuggen (close to Davos). The parking lot was already quite full at 8:30 when I arrived there, with several cars parked along the road as well. The temperature was around -7°C with a little bit of wind, so it felt quite cold. Finally at 9:00 o'clock I was ready to go, and I quickly...
Published by 21 April 2017, 18h59 (Photos:16 | Geodata:1)

Frühjahrspulver am Sentischhorn
Kurzfristig konnte ich in der Woche nach Ostern nochmal nach Davos. Nachdem es Dienstag und Mittwoch sehr winterlich war und bis ins Tal hinunter geschneit hat, herrscht heute bester Sonnenschein. Also die Ski ins Auto und los nach Tschuggen. Eisig ist es als wir unsere Spuren in den jungfräulichen Schnee legen. Herrlich geht...
Published by 15 August 2017, 17h35 (Photos:5)

Sentischhorn, 2827 m
Das Wetter schien durch den aufkommenden Föhn zu halten als wir von Tschuggen gegen das Wägerhus aufstiegen. Von dort über Mälchasten auf die Hochebene bei Punkt 2338. Da der Nordhang zum Sentischhorn gespurt war, stiegen wir über diesen auf der Route 534 b hoch zum Grat, welcher zum Sentischorn führt. Die Harscheisen...
Published by 28 March 2016, 17h47 (Photos:15)
Sentisch Horn 2827 m - Einsam über dem Flüelapass
Die Umgebung vonDavos ist bei schönem Wetter nicht gerade bekannt für einsame Bergwanderungen. Wer dennoch Lust verspürt, einen Berg alleinefür sich zu haben, der suche auf hikr.org. einen Gipfel aus, welcher praktisch nur über Einträge in den Wintermonaten verfügt und schon kann es losgehen. Das Sentisch Horn ist so ein...
Published by 8 August 2015, 18h29 (Photos:16 | Comments:2)

Sentischhorn 2827m
Die Ostertage wollten wir in Davos verbringen, so drängt sich die eine oder andere Skitour im Flüelatal regelrecht auf. Da wir direkt aus dem 'Unterland' angereist waren, planten wir eine kürzere Skitour – das Sentischhorn sollte es sein. Für diese Tour ist der Parkplatz Tschuggen P1964 der ideale Ausgangspunkt. Es...
Published by 22 April 2014, 23h31 (Photos:21)

Sentischhorn 2827m
Sentischhorn, eine gemütliche Tour bei Sonne pur und besten Verhältnissen. Beim Parkplatz Tschuggen P 1964 im Flüelatal war bereits recht 'viel Betrieb'. Ein quirliges Durcheinander, da wurden Felle angeschnallt, Tourenpartner gesucht, LVS eingeschaltet, Rucksäcke zurechtgezurrt und und und. Aufgrund der eisigen...
Published by 17 March 2013, 22h00 (Photos:43)

Sentisch Horn 2827 - formschöne Gipfelpyramide im Flüelatal
Das morgendliche "Gute-Wetter-Fenster" wollte heute im schönen Flüelatal ausgenutzt werden. Der Föhn blies kräftig von Süden her und lies uns am gut frequentiertenParkplatz leicht frösteln. Der guten Laune konnte das Gebläse jedoch nichts anhaben :-). Den Aufstieg begannen wir sogleich südlich der Passstrasse und...
Published by 18 March 2012, 17h33 (Photos:55)

Sentisch Horn 2827
Von Tschuggen geht's zuerst ein paar Züge der Strasse entlang, dann steigen wir bald einmal über einen kurzen Steilhang hinauf zum Tälli. Hier wird's etwas flacher, heute zieht die Spur in ausgedehntem Linksbogen hinauf zum Sattel. Dort queren wir hinüber zum Gipfelaufbau des Sentischhorns. Da noch etwas wenig Schnee liegt und...
Published by 29 December 2011, 15h38 (Photos:19)
Sentischhorn (Snowboardtour)
Eigentlich war eine Tour auf den Piz Segnas vom Skigebiet Flims aus geplant. Da die Bahn nach Cassons jedoch nicht in Betrieb war, musste diese Variante verworfen werden. Wir wählten das Sentischhorn (SLF Tourenlehrpfad) als neues Ziel aus, was sich als guter Entscheid herausstellte. Teilnehmer waren Mai, Sandra, Rafi,...
Published by 6 February 2011, 19h47 (Photos:10)