Bärlaui-Cheer 1435 m
4707 ft.
---
Other in

11 hike reports

, 3 photo(s). Last visited :

30 Sep 20
Photos (3)
---
By Publication date · Last favs · By Popularity · Last Comment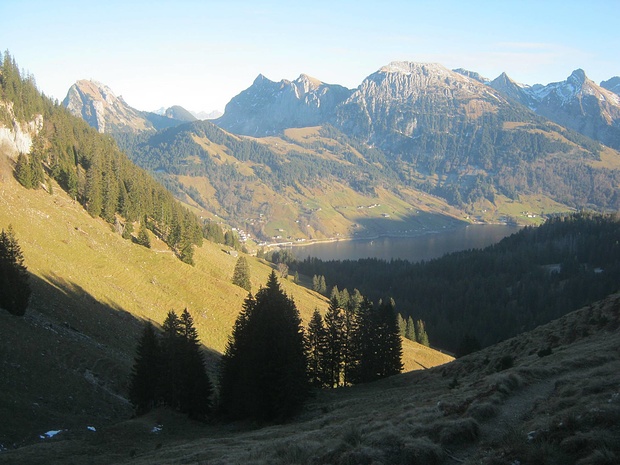 Vom RinderweidSattel: im schattigen Vordergrund rechts beginnt die östliche UmQuerung des P.1514/1513. Den Wegweiser (Bärlaui-Cheer) sieht man von hier aus nicht - er versteckt sich hinten den Bäumen © Kaj
---
Reports (11)
---

Auf alten Wegen auf den Gross Aubrig
Schon lange wollte melo mal auf den Gross Aubrig. Heute konnten wir einen schönen Spätsommertag nutzen um den Gross Aubrig zu besteigen. Gestartet sind wird beim grossen Parkplatz am nordwestlichen Ende vom Wägitalersee. Für einige 100 Meter gehen wir im Gegenuhrzeiger auf der Strasse dem See entlang. Doch schon bald zweigt...
Published by 20 November 2020, 21h14 (Photos:6 | Comments:2 | Geodata:1)

Gross Aubrig & Chli Mutzenstein
Heute begleiteten mich zwei meiner Kinder zu einer tollen Rundwanderung im Aubrig Gebiet. Der Chli Aubrig war bereits schon ein Gipfelziel einer unserer Schneeschuhtouren. Vom Chli Aubrig hat man einen tollen Ausblick auf dengrossen Bruder, welcher heute als erstes Tagesziel angepeilt wurde. Auf dem Parkplatz am Ende der Staumauer...
Published by 26 July 2020, 17h47 (Photos:27 | Geodata:1)

Chli Aubrig - Gross Aubrig
Eigentlich war es an diesem Hitzetag schon fast zu warm zum Wandern. Trotzdem wollten Kollege Chris67 und ich diesen schönen Tag für eine Wanderung vom Sihlsee zum Wägitalersee nutzen. Gleich bei der Busstation Euthal-Drusberg sind die Wanderwege beschriftet. Wir folgten dem einfachen Wanderweg durch das Chilentobel nach...
Published by 6 June 2019, 12h59 (Photos:20)

Über dem Nebelmeer auf dem Gross Aubrig
Wie so oft im Herbst und Winter ist Zürich von einer dicken Nebelsuppe eingehüllt. Was gibt es da besseres als eine kleine Wanderung oberhalb des Nebelmeers? Gestartet bin ich kurz nach dem Mittag beim grossen Parkplatz am nordwestlichen Ende vom Wägitalersee. Für einige 100 Meter gehe ich im Gegenuhrzeiger auf der Strasse...
Published by 4 January 2019, 23h33 (Photos:9 | Geodata:1)

Gross Aubrig (1695 m) - the snow is almost gone
Afternoon hike to Gross Aubrig. Yesterday while biking at Wägitalersee, I saw that there was only a little bit of snow left at the top of Gross Aubrig. And today the ascent from Schrä via Bärlaui was nearly possible without having to walk through snow. It was a bit muddy here and there, but actually less than I had expected....
Published by 22 April 2018, 21h53 (Photos:27 | Geodata:1)

Wägital: Gross Aubrig
Bis mittags schien noch fantastisch die Sonne, dann zogen Wolken auf und gegen Nachmittag bekam ich noch die ersten Regentropfen ab. Der Weg von Innerthal hoch zum Aubrig ist traditionell sehr feucht und schlammig. Heute kamen noch einzelne Schneeansammlungen hinzu, aber bis zum Gipfel ohne Schneeschuhe zu bewältigen, wenn auch...
Published by 4 April 2018, 19h25 (Photos:12)

Wägital: Gross und Chli Aubrig
Solch einen Tag lasse ich mir nicht entgehen. Sonnenschein pur, über 20 Grad und eine tolle Sicht. Da liegt es nahe eine Tour zu wählen, die feine Aussichten bereithält - die beiden Aubrigs im Wägital haben dafür gute Argumente. Startpunkt ist Innerthal Staumauer, Anreise mit dem Postbus. Der Aufstieg zum Gross Aubrig war...
Published by 5 October 2017, 20h45 (Photos:9)

Gross Aubrig
Wir schreiten schon kurz vor acht Uhr über die Staumauer des Wägitalersees. Der Aufstieg zu den Hütten bei Schrä führt durch eine Rinne, die mehr ein Bachbett als ein Wanderweg ist. Zum Glück ist es trocken, denn einige Passagen im Schräwald sind so schon recht morastig. Vorbei an der Alp Bärlaui erreichen wir auf dem...
Published by 5 June 2017, 17h29 (Photos:18 | Geodata:1)

Aubrig im Doppelpack
Die Wetterprognose für den Auffahrts-Brückentag versprach perfektes Wanderwetter; Grund genug um eine kleine Wanderung zu machen. Trotz der aktuellen Hitzetagen machte uns jedoch die Schneesituation in den höher gelegenen Gebieten doch noch etwas Sorge und die Routenauswahl gestaltete sich schwierig. Schlussendlich haben...
Published by 30 May 2017, 22h22 (Photos:16 | Geodata:1)

Rund um den Salzläckiwald
Prolog Was tun, wenn der Wetterbericht vom Regen spricht, vom Föhn und all den undankbaren Kapriolen des aprilschen Wetterzinnobers. Ich muss raus, ich brauche meinen Auslauf (sagt meine Freundin zumindest immer). Nach meinem Experiment am Federispitz wollte ich dieses Wochenende sicher gehen, nicht wieder bis zur Hüfte...
Published by 8 May 2017, 22h33 (Photos:5)