Alpwirtschaft Sigel 1590 m
5215 ft.
---
Hut in

15 hike reports

, 8 photo(s). Last visited :

22 Nov 20
Photos (8)
---
By Publication date · Last favs · By Popularity · Last Comment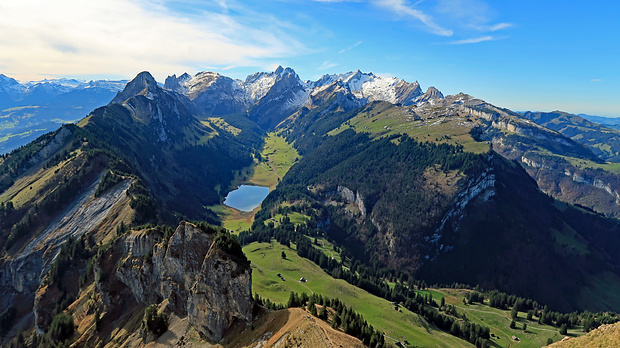 die schönste Aussicht auf den Alpstein hat man vom Hohen Kasten aus, es gibt kein schöneres Plätzchen um den Alpstein zu bewundern! © erico
---
Reports (15)
---

Round Alp Sigel
I decide to go and try going around Alp Sigel and maybe climbing up to Bogartenluecke and going up to the ridge. There was rather a bit more snow than I expected, even from the beginning. I had packed poles, axe and crampons. The most useful thing was the poles this time, since the paths were not very steep but the snow was a bit...
Published by 24 November 2020, 09h52 (Photos:2 | Geodata:1)

Marwees-Überschreitung - ein traumhafter Spätsommertag im Alpstein
Es sind mittlerweile 18 Jahre her, dass Esther58 und ich im Alpstein gemeinsam Alpinwanderluft geschnuppert haben. Von einem SAC-Mitglied der Sektion St. Gallen wurde uns seinerzeit die Marwees als Einsteigertour empfohlen. Es war eine der ersten Bergtouren im Alpstein, den wir kennen und sofort lieben gelernt haben. Jeder Besuch...
Published by 10 September 2020, 12h26 (Photos:48)

Sonnenuntergang auf der Alp Sigel
Manchmal ist es besser, man wählt nicht den Tag mit der bessten Wettervorhersage. Für Dienstag war schlecht, für Donnerstag sehr gut. Aus persönlichen Gründen musste ich jedoch den Mittwoch wählen. Am Nachmittag regnete es in Brülisau auch noch recht fest. Um 17 Uhr beim Abmarsch war aber eher sonnig. Ich hoffte für...
Published by 6 September 2020, 19h46 (Photos:19 | Comments:1 | Geodata:2)

Feierabendrunde Marwees und Hundstein
Ja ich gebs zu, für eine reine Feierabendrunde ist es etwas viel... Nachdem es Ende Juni nicht geklappt hatte (Marwees - das war anders geplant...), versuchte ich es heute nochmals. Bis 13:15 sass ich im Büro und so wurde es doch eine Art Feierabend-Tour. Eigentlich müsste es zeitlich reichen. Aber das App zeigte entgegen...
Published by 11 August 2020, 19h45 (Photos:15 | Geodata:1)

Marwees - das war anders geplant...
...ganz anders war es geplant! Schon der Tag war eigentlich "gestern" gewesen. Aber ich liess mich für einen geschäftlichen Termin überreden und dachte, es sei heute nicht so viel schlechter als gestern ;-) Am Morgen regnete es schon zu Hause. Das Wetterradar sagte aber nur ca. 10 Uhr in Appenzell etwas Regen voraus. Dann...
Published by 26 June 2020, 17h45 (Photos:11 | Geodata:1)

Alp Sigel
Diesen wunderschönen Frühlingstag wollte ich wieder einmal für eine Wanderung auf die Alp Sigel nutzen. Da ich in den Corona Zeiten immer noch etwas Mühe bekunde den ÖV zu benutzen, fuhr ich mit dem PW nach Brülisau. Gleich gegenüber des Parkplatz bei der Kirche ist der Wanderweg zur Alp Sigel beschriftet. Dem nicht zu...
Published by 18 May 2020, 19h54 (Photos:21)

Abendwanderung Alp Sigel
"Alle Jahre wieder", mind. einmal auf die Alp Sigel. Eigentlich nur um zu schauen, ob es noch Schnee im Zahmen Gocht hat ;-) Nein, hat es nicht mehr... T.G.-M. und ich wanderten um 18 Uhr in Brülisau los, es war schön warm. Um ca. 19:45 auf der Alp Sigel war es leicht windig aber sehr schön. Den Sonnenuntergang liessen...
Published by 8 May 2020, 08h32 (Photos:6 | Geodata:2)

Alp Sigel (1743 m) - aus dem Nebel über das Wolkenmeer
Wandern mit WOW-Effekt habe ich am Wochenende auf HIKR gelesen. Das wollte ich heute doch auch mal ausprobieren. Während es beim Kollegen beim Versuch blieb, hat es bei mir heute vorzüglich geklappt. Die Wetterprognosen waren sich einig, dass die Hochnebelgrenze zwischen 1100 und 1500 m liegen sollte. Bei etwa 1350 m pendelte...
Published by 20 November 2019, 19h31 (Photos:37 | Comments:2)

Roslenfirst + Mutschen - Traum über den Wolken
Die Hitzewelle der letzten Woche war vorbei und die Gewitterphase vom Wochenende ebenfalls. Auch wenn keine Sonne pur versprochen war, habe ich den Montag gerne für eine Tour genutzt. Einfach raus in die Berge war die Devise. Der Ausflug in das Appenzellerland hat sich zu 100% gelohnt. Aus dem dichten Nebel in die Sonne zu kommen...
Published by 30 July 2019, 19h32 (Photos:38 | Comments:2)

Alp Sigel wolkenlos, Nordgipfel 1743m
Herbstwanderung mit Sonnenschein über 1000m... Unser Ziel für heute war eine schneefreie Herbstwanderung in der Sonne ohne allzuweit anreisen zu müssen. Nach Studium einiger Webcams in der Zentralschweiz sowie im Kt. Graubünden kristallisierte sich sehr schnell das Alpsteingebiet als lohnendes Ziel heraus. Wir starteten...
Published by 4 November 2018, 19h46 (Photos:16)