Sardonapass 2770 m
9086 ft.
---
Pass in

18 hike reports

, 13 photo(s). Last visited :

12 Sep 15


Geo-Tags: CH-GR, CH-SG
Photos (13)
---
By Publication date · Last favs · By Popularity · Last Comment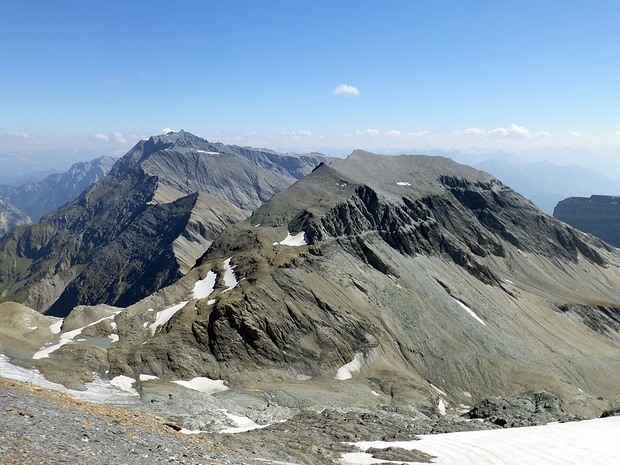 Schöner Ausblick von der T2-Wanderung: Links der gezackte Grat vom Piz Sax zum Tristelhorn, ganz hinten der Ringelspitz. Rechts im Bild Piz Dolf und ganz rechts im Schatten der Flimser Stein. © Schlomsch
Reports (18)
---

Martinsloch, Piz Dolf, Piz Sardona und Piz Segnas
Wunderbare Rundtour von Elm durchs Martinsloch zur Fuorcla Raschaglius, Überschreitung des Piz Dolf zum Sardonapass, via Kantonsgrenze zu Piz Sardona und Piz Segnas und über den Segnespass zurück nach Elm. Das Martinsloch habe ich schon zwei Mal besucht, jeweils im Auf- und Abstieg von der Bündner Seite. Den Segnespass habe...
Published by 1 May 2016, 14h46 (Photos:48 | Comments:4)

Gross Schiben
Die Gross Schiben wird vom nahen und höheren Piz Sardona überragt, der auch noch die 3000er Marke knackt und darum deutlich bekannter ist. Doch weil die Gross Schiben der höchste Punkt des herrlichen Weisstannentals ist, gehört sie dennoch zu den begehrenswerten Zielen, besonders für die Einheimischen. Nun hatte ja Kollege...
Published by 5 July 2015, 20h19 (Photos:16)

Flimser 3000-er Tour in der Tektonikarena-Sardona
Auf den Tag genau vor drei Jahren habe ich diese Tour zum ersten Mal gemacht. Das habe ich jedoch erst beim durchblättern des Gipfelbuches auf dem Piz Sardona festgestellt! Der Sommer 2014 ist ja wettermässig einigermassen speziell. Man muss die guten Tage wirklich abpassen und sofort starten wenn es dann endlich einmal...
Published by 20 August 2014, 12h01 (Photos:18 | Comments:1)

Piz Dolf / Trinserhorn 3028m
Ende Juli / Anfang August verbrachten wir zwei Wochen Familienferien in einer Ferienwohnungin Laax Murschetg. Das Programm war natürlich vor allem unseren Söhnen (2 1/2 Jahre und 6 Jahre) angepasst. Spielplätze, Laaxersee, Caumasee, Crestasee, Steine suchen, ein Besuch mit viel Action in der Freestyle-Academy, Bräteln und...
Published by 10 October 2014, 16h28 (Photos:26 | Comments:3)

Piz Sardona (3055m)
Das schlechte Wetter am Sonntag verunmöglichte unsere Tour auf den Oberalpstock. Eine Alternative war gefragt, möglichst eine Hochtour und an einem Tag durchführbar. Meine Wahl fiel auf den Piz Sardona. Sollte der Gletscher nicht mehr schneebedeckt sein, hätten wir mit dem Trinserhorn eine valable Alternative. Sardonapass...
Published by 10 August 2014, 13h38 (Photos:15)

Trinserhorn - Überschreitung
Kurzweiliges Bergvergnügen Zweckmäßiger Ausgangspunkt für die Besteigung des Trinserhorns ist der Cassonsgrat (2678 m). Die zu leistenden Höhenmeter halten sich dann in Grenzen (ca. 750 mit allen Gegenanstiegen). Die ÖV-Anreise nach Flims war nicht sehr angenehm (zumindest für einen ICE-verwöhnten Eisenbahnfreund...)...
Published by 25 July 2014, 00h30 (Photos:21)

Atlas 2927m, Piz Segnas 3098m und Piz Sardona 3056m - klasse Überschreitung von Klassikern
Die beiden Klassiker Piz Segnas und Piz Sardona standen schon lange auf meiner Liste. Offen war jedoch die Frage, wie es wohl am besten gelingt, diese beiden in eine möglichst abwechslungsreiche und auch herausfordernde Tagestour für Liebhaber des oberen T-Bereiches einzubinden. Der kompromisslose Sieger: eine abwechslungsreiche...
Published by 12 September 2013, 17h01 (Photos:39 | Comments:2 | Geodata:1)
Segnas pass and Piz Dolf (3028 m) in perfect weather!
August 1st, 2013 was an absolutely wonderful day for hiking, and it was my first hike to the Segnas pass with a really close view to the Martinsloch.   First I took the chair lift from Flims to Foppa, and then the next chair lift to Naraus, where my hike started at about 09:15 in the morning. I followed the trail past...
Published by 17 November 2014, 23h37 (Photos:33 | Geodata:1)

Piz Dolf / Trinserhorn, 3028m
Es waren einige Tage Verwandten-Besuch in der Nähe von Flims angesagt. Noch nicht wissend, wie das Programm der einzelnen Tage lauten würde, jedoch wohl wissend, dass das Wetter für Silvester gut sein soll und auch die Lawinengefahr zurückgehen soll, packte ich mal vorsorglich meine Schneeschuhe und passendes Equipment ein ......
Published by 2 January 2013, 16h00 (Photos:30 | Comments:2)

Piz Dolf / Trinserhorn 3028m (Abfahrt Bargis)
Aus 3 mach 1 - Qualiltät vor Quantität Wer sich als Tourengänger in das Skigebiet von Flims begibt, wird vermutlich das 3000er-Trio Piz Segnas, Piz Sardona und Piz Dolf als Tourenziele herausgeschrieben haben. Obwohl diese Touren als "Klassiker" gelten, darf die Steilheit der einzelnen Varianten nicht unterschätzt werden,...
Published by 11 March 2012, 14h57 (Photos:15 | Comments:2)