Aroser Rothorn 2980 m
9774 ft.
---
Peak in

21 hike reports

, 124 photo(s). Last visited :

24 Sep 16


Geo-Tags: CH-GR
Photos (124)
---
By Publication date · Last favs · By Popularity · Last Comment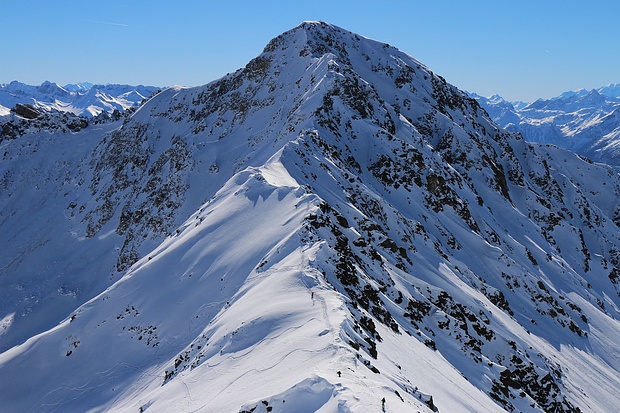 Parpaner Rothorn (2899m): Gipfelaussicht zum Aroser Rothorn (2980,2m) das ich im Anschluss über den Grat bestieg. © Sputnik
Reports (21)
---
Lenzerheide

T4+

I

24 Sep 16

Pizza Naira and Aroser Rothorn
I started out in Lenzerheide, hiking up towards Alp Sanaspans on the marked trail. During the first part through the residential area I had some difficulty finding the right way, but eventually I made it onto the trail to Alp Sanaspans (T2, maybe T3 in a few places). From Alp Sanaspans on the marked trail in direction...
Published by 25 September 2016, 15h15 (Photos:39 | Geodata:1)

Vamos a Ramoz - bailamos Sulza!
Unglaublich gute Verhältnisse, zumindest unterhalb von ca. 2700m: Man nehme beste Abstrahlungsverhältnisse und nicht zu warme Temperaturen, ein sehr tragfähiges Fundament als Folge von Föhn/Wärme anfangs April und Kälte danach und dazu in den letzten Tagen wiederholt etwas Neuschnee: Das Ergebnis ist seidenfeiner Sulz fast...
Published by 7 May 2016, 10h59 (Photos:26)
Schanfigg

T4-

AD

19 Mar 16

Parpaner Rothorn 2899m und Aroser Rothorn 2980,2m
AROSER ROTHORN - EINE SKITOUR MIT GENUSS. Prächtiges Wetter, lawinensichere Verhältnisse an einem Wochenende - da wollte ich unbedingt auf die Ski. Da ich das defektes Fell von der letzten Tour noch nicht ersetzen konnte, sollte sie wenig Skiaufstieg haben aber dafür eine um so längere Abfahrt. Ein geeigneter Berg dafür...
Published by 21 March 2016, 21h32 (Photos:40 | Comments:2)

Aroser Rothorn 2980m
fact sheet: bergtour auf den ribu aroser rothorn 2980m (prominenz 1349m) in den plessuralpen in graubünden. von 27.-28.09.2014; im alleingang. anfahrt per ÖV; start am bahnhof von arosa; tag 1: aufstieg zum schwellisee; tag 2: aufstieg über den erzhornsattel zum aroser rothorn; abstieg über den NW-grat und dann teils...
Published by 29 September 2014, 20h59 (Photos:1)
Schanfigg

T5

PD+

II

22 Jul 13
Über zackige Grate von Arosa nach Lenzerheide
Zu dritt inklusive Lokführer fahre ich um 5.15 Uhr mit der neuen Allegra -Holper-Kombination von Chur nach Arosa. Um 6.15 fülle ich am Bahnhofbrunnen nochmal meinen Tank und laufe hinunter zur Brücke beim Müliboden, einem sehr schönen Teil von Arosa. Via Fahrstrasse gelange ich zum Sender und in Wegspuren zur kühnen Hütte...
Published by 24 July 2013, 17h22
Lenzerheide

T5+

III

6 Oct 12

Rothörner und andere bunte Berge
Durch die Berichte von Schlumpf(zum Bericht) und Delta(zum Bericht) auf die Idee gebracht und wegen eines immer noch beleidigten Knies in umgekehrter Reihenfolge habe ich diese mit meinem treuen Kletter- und Bergkameraden Paul (der noch nicht hier auf Hikr vertreten ist) teils nachgestiegen. Eigentlich wollten wir ursprünglich...
Published by 7 October 2012, 17h00 (Photos:97 | Geodata:1)
Schanfigg

T5+

II

5 Oct 12

Aroser Rothorn (2980m) und Lenzer Horn (2906m)
Das Aroser Rothorn steht schon lange auf meiner Wunschliste. Im SAC-Führer "Alpinwandern" finde ich eine Route hinüber aufs Lenzer Horn. Mein Interesse ist geweckt. Arosa - Aroser Rothorn - T3 In Arosa angekommen stelle ich fest, dass das Aroser Rothorn schneebedeckt ist. Viel scheint es aber nicht zu sein. Ich beschliesse,...
Published by 7 October 2012, 19h44 (Photos:36 | Comments:3 | Geodata:1)

Die Rothörner und das Lenzer Horn
Eine lohnende Grattour auf fünf Gipfel über der Lenzerheide Die Lenzerheide ist mir aus meiner Kindheit ein guter Begriff. Hier habe ich damals das Skifahren gelernt - und die Berge um Umkreis bestaunt. Noch nie habe ich die Region allerdings erwandert. Dabei gibt es eine Vielzahl von gut begehbaren, aussichtsreichenGraten...
Published by 3 September 2012, 19h47 (Photos:59)
| | | |
| --- | --- | --- |
| Lenzerheide | T5- | 28 Jun 12 |
Von der Heid ins Schanfigg oder: Erzhorn über die Rothörner
Endlich hats geklappt, nach einem erfolglosen, kraftlosen Versuch im letzten September. Dank dem hohen Start nicht allzu anstrengende Sammlung dreier Dreitausender, wobei auch der Hauptgipfel des Parpaner bestiegen wird. Wahnisnnsaussicht auf dem Aroser RH, das Erzhorn ist einiges spannender und beschert und neben einer...
Published by 1 July 2012, 17h18
Lenzerheide

T5

II

28 Jun 12

Parpaner 2899m & Aroser Rothorn 2980m, Erzhorn 2924m
Genussvolle, einsameGrattour inmitten bekannten Touristenregionen Die Tour liegt bereits schon wieder einen Monat zurück, in Erinnerung ist sie aber dank perfekten Bedingungen und super Stimmung als wären wir erst gestern dort gewesen. Momentan happerts einfach ein wenig mit der Motivation zum Bericht schreiben...
Published by 28 July 2012, 13h17 (Photos:24 | Comments:1 | Geodata:1)