Glannachopf 2232 m
7321 ft.
---
Peak in

29 hike reports

, 200 photo(s). Last visited :

20 Sep 19


Geo-Tags: Alvier Gruppe, CH-SG
Photos (200)
---
By Publication date · Last favs · By Popularity · Last Comment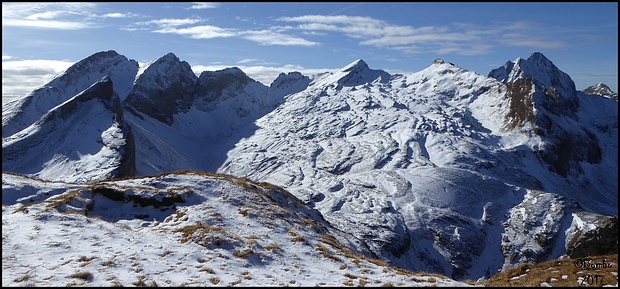 Gross und Chli Fulfirst, Rosswis, Sichli, Gamsberg Im Vordergrund links unser nächstes Ziel: Glannachopf © Bombo
---
Reports (29)
---

Fulfirst (2383 m) und Umgebung
Heute wollte ich mein neues Gadget ausprobieren: ein E-MTB. Es gibt viele Routen, wo es praktisch wäre, wenn ein gewisser Teil davon im Auf- und vor allem im Abstieg per Bike gemacht werden kann. Zudem erlaubt die elektrische Steighilfe bei der Tourenplanung einiges an Reserve bei der Höhendifferenz. Da ich mich langsam an die...
Published by 20 September 2019, 17h46 (Photos:14)

Fulfirsten zum Margelchopf
Eine enorme Hitzewelle hatte das Leben die Woche über gelähmt, zum Glück neigte sie sich pünktlich vom dem Wochenende dem Ende entgegen...zuvor aber sollte es am Freitag nochmal schön aufheizen. Die Vorhersagen waren etwas diffus, genauso wie das Wetter letzendlich. Von Gewitter am Morgen bis erst am Abend und viel Sonne war...
Published by 31 July 2019, 00h25 (Photos:44 | Comments:3)

Vollmondskitour Glannachopf 2232m
Beim letzten Vollmond besuchten wir bereits unweit vom heutigen Ziel den "Hurst" im Sevelerberg. Nun, beim Supervollmond fassten wir den "Glannachopf" im Buchserberg ins Auge. Gestartet sind wir recht spät erst gegen 20:00 Uhr beim Berghaus im Malbun. Die Sicht auf den Mond war zeitweise von Wolken verdeckt. Anfangs folgten...
Published by 23 February 2019, 21h22 (Photos:7)

Rundtour zum Glannachopf 2232m
Geplant war eine anspruchsvollere Überschreitung im Glarnerland. Doch im Zigerschlitz lag so viel Restfeuchtigkeit, dass ich direkt weiterfuhr Richtung Seez- und Rheintal. Hier wartete mit dem Glannachopf ebenfalls ein lohnender, aber harmloser Gipfel. Daneben habe ich noch allerhand andere... naja, nennen wir sie Erhebungen in...
Published by 8 June 2018, 18h19 (Photos:18 | Comments:2 | Geodata:1)

Margelchopf 2164m Rundtour
Sonnseitige Margelchopf-Runde Es ist Spätherbst, es hat weit hinunter geschneit und dennoch wollen wir deutlich über der Baumgrenze uns ein wenig austoben. Gesucht sind wie so oft in dieser Jahreszeit Südflanken-Touren, welche einem herz- und körpererwärmend trockenen Fusses hoch zum Gipfel führen. Fündig sind wir beim...
Published by 1 November 2017, 19h50 (Photos:20 | Comments:3 | Geodata:1)

die Krux mit dem I
Ausflug auf den Werdenberg Die Gipfel werden bereits ausgiebig beschrieben, mit allen denklichen und undenklichen Routen. Das Gestein war uns allerdings zu brüchig und so halten wir uns an die Normalanstiege. Als kleine Zugabe haben wir dafür noch den Forenchopf ausgegraben. Dies im wahrsten Sinne des Wortes. Den Weg...
Published by 7 November 2016, 06h53 (Photos:32)

Glannachopf
Vom renovierten Berghaus Malbun, dessen Zufahrt im oberen Teil auch neu gestaltet wurde, hinauf zum Obersäss. Viele Wanderer geniessen heute diesen herrlichen Tag in diesem Gebiet. Am Hahnenspiel vorbei auf den Sisitzgrat. Dort entschliessen wir uns doch anders und queren auf wunderschönen Almwiesen zum Glannachopf hinüber....
Published by 17 July 2016, 16h32 (Photos:11)

Fulfirst
        Infos, Eindrücke, Notizen: - Start um 07:45 Uhr beim Berghaus, im Gegensatz zum Wochenende hatte man heute noch reichlich Platz. Trotzdem waren auf praktisch alle Gipfelziele Tourengänger unterwegs. - Alle Touren müssten...
Published by 18 March 2016, 17h17 (Photos:13 | Geodata:1)
St.Gallen

T4

PD+

20 Dec 15

Glannachopf- (2232 m) vom Buchser Malbun aus
Der Glannachopf ist ein Gipfel der Alvierkette, eine Bergkuppe oberhalb der Glanna, auf dem Grenzgrat zur Alp Isisiz (Gr), in der Mitte zwischen den Gipfeln Chlin Fulfirst und Margelchopf. Er wird im Winter auch von Touren Skifahrern besucht.   Auch am 20, Dezember 2015 hatte es wie auch im Dezember 2016 in den Bergen...
Published by 14 January 2017, 18h59 (Photos:38 | Geodata:1)

Glannachopf, Chli & Gross Fulfirst
When the Föhn is doing its thing, it's always a good idea to head to the Ostschweiz. On this occasion, I made my first exploration of the Alvierkette. ---- After parking the car at the Berghaus Malbun (6 CHF, and four of those you can get back when you consume something at the restaurant), the ascend starts along a small...
Published by 8 October 2015, 21h27 (Photos:30 | Geodata:1)