Fleckistock / Rot Stock 3417 m
11208 ft.
---
Peak in

19 hike reports

, 316 photo(s). Last visited :

31 Aug 16


Geo-Tags: CH-UR
Photos (316)
---
By Publication date · Last favs · By Popularity · Last Comment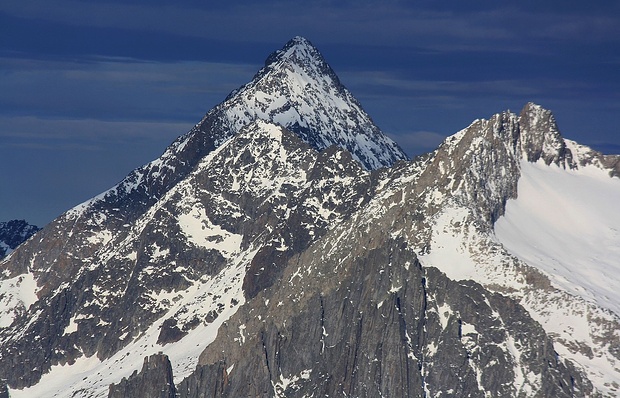 Aussicht vom Gemsstock (2961m) im Zoom auf den Fleckistock / Rot Stock (3416,5m), dem höchsten Gipfel der vollständig auf Urnergebiet steht. Rechts davor ist das Rorspitzli (3220m). © Sputnik
Reports (19)
---

Fleckistock 3417m
Der Fleckistock ist trotz fragwürdiger Felsqualität ein recht beliebtes Tourenziel ab Voralphütte. Seine Eigenschaft als höchster reinrassiger Urner dürfte ihren Teil dazu beitragen. Und entsprechend umfassend präsentiert sich das Gipfelpanorama. Böse Stimmen hingegen bezeichnen ihn einfach als die höchste Schutthalde der...
Published by 1 September 2016, 12h16 (Photos:20 | Comments:1)
Fleckistock über kompletten SW-Grat
Der dominanteste auf der östlichen Talseite des Voralptales ist neben dem markant gezackten Salbitschijen wohl der Fleckistock. Eine Felsbastion, die in alle Himmelsrichtungen Grate und Rippen entsendet und dazwischen schuttig-brüchige Flanken beheimatet. Seit dem massiven Felsausbruch im Südgrat des Fleckistockes wurde der ehe...
Published by 21 July 2016, 17h22 (Photos:6)

Fleckistock NE-Wand Couloir "Sickinelli"
Meiental aka "Little Chamonix"! Die Berge sind steil, saftige Höhendifferenzen garantiert und eingeklemmt zwischen wilden Felsformationen findet man eine Vielzahl sehr anspruchsvoller Skiabfahrten, die im Unterschied zu Chamonix nie oder nur äusserst selten befahren werden. Unter dem Strich also ein Traumgelände, das jenseits...
Published by 15 March 2015, 21h46 (Photos:19 | Comments:4)

Fleckistock 3417 m (couloir south west)
...........Visto che questa è una comunità vera, affiatata, pulita, che ha come scopo principale il nutrire l'animo con le bellezze della natura, La Wood Gang ha deciso di compiere il primo esperimento veramente social di tutte le relazioni comparse fino ad ora su questo meraviglioso, unico, imprescindibile sito di montagna. A...
Published by 30 March 2014, 10h48 (Photos:23 | Comments:19 | Geodata:1)

Fleckistock (3417m)
Der Plan, den höchsten Urner zu erklimmen, entstand recht kurzfristig. Wir wollten den Samstag für eine möglichst heftige Tour auf einen möglichst hohen Gipfel in unserer Umgebung ohne Gletschersumpf-Einsinkereien nutzen. Statt erneut auf den Bristen zu kraxeln, entschieden wir uns für den Fleckistock, dies so ganz unter...
Published by 4 August 2013, 14h00 (Photos:38 | Comments:1)

Fleckistock 3417m
Auf dem höchsten Urner - Fleckistock 3417m Ergänzend zum Bericht von unseren Bergkameraden MaeNi hier noch ein paar Fotos von meiner Seite. Schade konnte Schusli die Gipfeltour nicht absolvieren, aber die Hexe wollte ihr auf der Voralphütte lieber in den Rücken schiessen. Ein ander Mal wieder - dann aber gesund und...
Published by 15 September 2013, 15h28 (Photos:22 | Geodata:1)

Auf des Urners höchstem Gipfel - Fleckistock 3'417m
"Was lange währt, wird endlich gut." Das gilt auch für den Fleckistock, den wir doch schon einige Male geplant hatten und wegen Schlechtwetter nicht realisieren konnten. Aber vergangenes Wochende hat es endlich geklappt und wir dürfen auf eine wirklich tolle und unvergessliche Tour zurückblicken. Aber fangen wir doch da...
Published by 5 August 2013, 19h48 (Photos:65 | Comments:4 | Geodata:1)

Fleckistock - Top of Uri
Der 3417 Meter hohe Fleckistock gilt als der höchste Berg innerhalb des Kanton Uri; die Bergkette Sustenhorn-Galenstock ist zwar verbreitet höher, liegt aber an der Grenze zu anderen Kantonen. Auf dem Normalweg ab der Voralpkurve der Göscheneralpstrasse via Voralphütte SAC über die SW-Rippe und dem S-Grat sind 2100...
Published by 22 August 2012, 16h50 (Photos:51 | Geodata:1)

Fleckistock SW-Flanke rauf&runter
Am höchsten "ungeteilten" Urner mit Skikanten zu kratzen, das stand schon einmal auf dem Programm, doch damals glaubten wir nicht so recht an eine Befahrungsmöglichkeit direkt vom Gipfel. So strich ich diesen Berg aus meiner "Winter to do-list". Als Chris mich darauf aufmerksam machte, dass er plante, die SW-Flanke des...
Published by 18 March 2012, 15h06 (Photos:39 | Comments:2)
Fleckistock
Der Flecki stand schon lange auf meiner Liste. Nun bot sich am 3. September 2011 eine perfekte Gelegenheit, absolut wolkenlos und höchstwahrscheinlich schneefrei bis auf den Gipfel. Ausgehend von der Göscheneralpstrasse auf genau 1,400 Metern konnte ich das Auto parkieren und marschierte Richtung Voralphütte (2,126 Meter)....
Published by 9 June 2012, 07h07 (Photos:8)